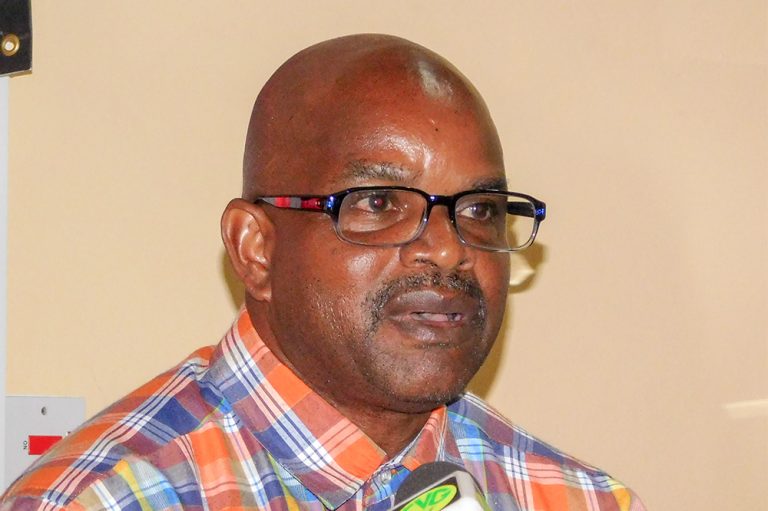 Weak will among workers allowed government to press ahead on vaccine policy says union president
If Vincentian workers were more strong-willed, then perhaps the government would not have been able to enforce its vaccine mandate, which will impact almost 5900 employees of the State, come November 19. 
This is the view of Elroy Boucher, the president of the Public Service Union (PSU), who blames "the lack of will of the people" for allowing government to put the final piece of legal framework in place, that will require certain categories of workers to prove they have received at least one dose of a COVID-19 vaccine. 
The requirement is outlined in SR&O No 28 of 2021 — The Public Health (Public bodies Special Measures) Rules 2021, which was officially gazetted on October 19. Failure to prove that they have been vaccinated against COVID-19 will result in workers not being allowed to enter their respective workplaces, and will be treated as being absent from duty without leave.
The SR&O comes into force exactly one month after its gazetted date. 
"When the Union took industrial action, if we would've had at least 75%, three quarters of the workers that are in the regular public service or nursing, wherever, standing up against this, we are convinced that it could have been halted. So that lack of will is what has really empowered, in my mind, empowered the government to proceed in the way that they're actually doing," Boucher told SEARCHLIGHT this week. 
The trade unionist said while the PSU supports its members being vaccinated, it continues to stand against mandatory vaccination. 
Some local unions, including the PSU have chastised the government for not putting any mechanisms in place to accept liability in the event of injuries caused as a result of workers taking a COVID-19 vaccine. 
It is also felt that the government should absorb costs related to frequent testing, in cases where employees who have been granted exemptions must be tested regularly for COVID-19. 
Now that the SR&O has been published, the recourse for trade unions is likely to be a legal one. 
But Boucher said that given attempts to file injunctions in Guyana and Antigua, which have failed, the PSU will not be going that route at this time. 
"But…I'm sure that there will be some legal action taken to address this matter because people are going to file for exemptions, whether religious or medical. And…I don't have that confidence in the process so I know people are going to be turned down for one reason or the other. Clearly, that should pave the way for some traditional review or some legal intervention…" he said.
 
The PSU president noted however, that trade unions cannot "throw your hands up in the air and say, you know, you have done everything". 
But he added that the action taken by his union so far required the support of workers "who really are the backbone and the strength of the union". 
Of the categories of workers for which the SR&O applies, the 2000 teachers and ancillary staff at schools make up the largest group, followed by health care employees of which there are approximately 1400, then police officers (including firemen and members of the Coast Guard), numbering approximately 1250. 
Health care employees include those performing clinical or non-clinical services including administrative staff, security guards, cooks, cleaners, attendants or any other ancillary staff; and home helpers providing care for the elderly under the programme operated by the Ministry of social development.
Boucher noted that the majority of workers in the Public service have still not been vaccinated. 
Therefore, if these workers decided that they wanted to take a stand against mandatory vaccination and decided they were not going to adhere to the SR&O, then it would send a clear message. 
"…The system will clearly crash and that is one way —of course, all across the globe — that's one of the stances that people are taking. The system will crash but again, it's up to the people themselves; if everybody decides you're not going to do this…but I guess that's a wish because I'm not sure whether the strength is there to really take action," he said. 
Station Sergeant Brenton Smith, the president of the Police Welfare Association told SEARCHLIGHT yesterday that his organisation met on Tuesday to discuss the recent developments and maintain their stance against mandatory vaccination. 
He did not indicate whether the Police Welfare Association intended to take any action, legal or otherwise, at this particular time. 
Calls by SEARCHLIGHT to Oswald Robinson, president of the St Vincent and the Grenadines Teachers Union (SVGTU) went directly to voicemail. 
However, in a release issued on October 25, Robinson called on members to "stand firm" in the face of the government's mandatory vaccination policy for teachers, referring to the situation as a "staged crisis". 
Much like the PSU and Police Welfare Association, Robinson indicated in his message to members that his union also remains resolute that it does not support mandatory vaccination.
"Our members should be given the God given right to choose. We categorically reject the Government's mandatory vaccination policy which threatens our livelihood and that of our dependent relatives," the Teachers Union president said in his message. "It is unethical for any Government to unilaterally change the working conditions of its employees under the disguise of a Public Health Emergency. We are reminding all our members to stand firm on your grounds and not be swayed by coercion or threats of any kind. Stand with your Teachers' Union. You are protected under the Trade Union Act."