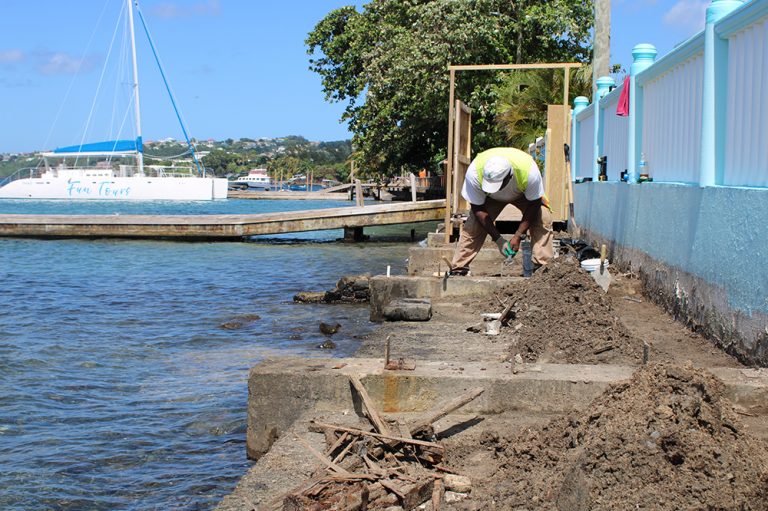 Villa boardwalk now closed to public access
The public will be restricted from accessing the Villa boardwalk now that work to rehabilitate the deteriorating area has commenced. 
The Ministry of Transport, Works, Lands and Physical Planning, in association with the Ministry of Tourism, Civil Aviation, Sustainable Development and Culture, and the National Parks Rivers and Beaches Authority, has asked that the road entry to the Young Island Dock be used as the principal access by the public. 
Work on the boardwalk itself began in earnest last week, and the access point near Mariner's Inn has been fenced off to facilitate it. 
When this stretch of boardwalk is complete, workers from C. F. Sandy & Sons Construction Ltd will begin construction on the second section of boardwalk between the Aquatic Club jetty and Paradise Beach Hotel. 
The entire project is estimated to span five months. 
Foreman John Sandy, explained on October 20, that the first week of the project involved the approximately 12 workers building a shed for storage of materials, an office, and a small structure for watchman duties. 
 He confirmed that the Boardwalk was in a bad state, noting that some of the material was rotting, and they had discovered that the beams were deteriorating. 
 Sandy said they had ordered a shipment of greenheart wood from Guyana, which is not available in bulk on island. This choice of wood, the foreman said, will stave off a decline in the boardwalk in the future. Further, they are increasing the size to an inch and a half, up from one inch, to make it more durable. 
In addition to the restrictions the Ministry of Transport and Works has also announced that as at November 1, work will be begin on the Windward Highway Villa Rehabilitation Project. 
Therefore the section of the highway in front of the French Verandah and Bungalow restaurants will be reduced to one lane of traffic. 
The project will include the construction of a new retaining wall, bus layby and sidewalk and is expected to be completed in six months.