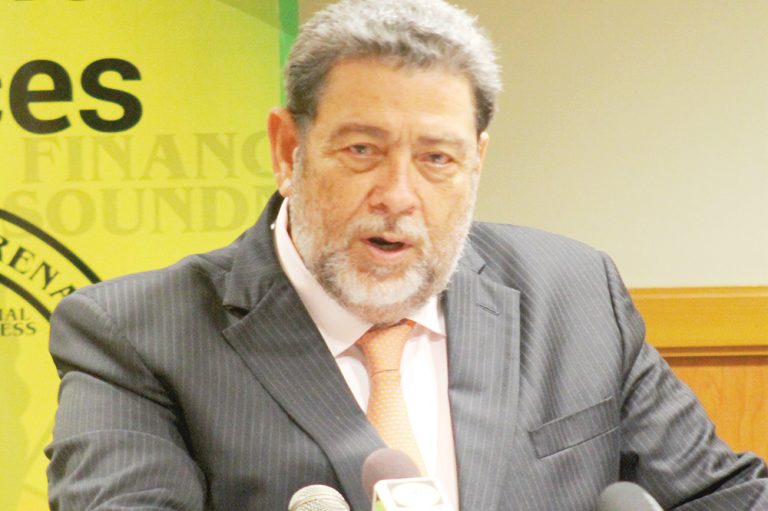 Don't let anybody divert you from the public's interest – PM
As this country continues to experience challenges from the COVID-19 pandemic and recent volcanic eruptions, Prime Minister Dr Ralph Gonsalves used his Independence address on Wednesday to nudge citizens to make the choice to get vaccinated. 
Instead of attending the usual independence parade on the grounds of Victoria Park decked out in blue, gold and green on Wednesday, October 27, persons tuned in to radio and television for the Prime Minister's annual address, which was delivered from the Cabinet room. 
And as he spoke of the challenges that this country has been facing within the past year, Gonsalves told citizens that "it is up to us to build back better and stronger". 
"We must not shoot ourselves in the foot, metaphorically speaking. Our tasks ahead are immense. Let us do our very best. I reiterate; now is not the time for useless bickering or the pursuance of divisive personal agendas, inclusive of vaunted vanities, divorced from the real condition of our people's life and living. I say to the general public, to all my brothers and sisters, to citizens all, do not allow anyone to mislead you, or divert you from the public interests at this time of peril and uncertainty." 
Gonsalves made mention of several initiatives that his government has undertaken to assist Vincentians in these times of COVID-19 and the eruptions of La Soufriere. 
And he proffered that there was no government in the region which has sought to protect its people, particularly the poor and vulnerable, more than the government of SVG has done, "at a time of resource squeeze". 
"Even at a time of this resource scarcity, my government, with God's grace has stretched forth its helping hands in solidarity. And we will continue so to do but we must take the vaccine in order to get back to a semblance of normalcy in life, living and production," the prime minister said in his address. 
Gonsalves attributed the government's ability to navigate the disasters to seven factors. 
These, he said, were:
1 the pursuance of a Fiscal Responsibility framework, which was articulated and published prior to the pandemic.
2 the availability of monies from the contingency fund, which was established over three years ago…
3 the decision by the government to place a US$20 million soft loan from the World Bank in the Catastrophic Deferred Drawdown Option (CAT DDO) instead of spending it in the Election year 2020. 
4 a windfall of revenues from alien land holding licence fees and stamp duties of over $60 million arising from private property transactions among wealthy persons on Mustique.
5 a reasonable level of grants and supports in 2020 and 2021, from regional and global families. 
6 relative economic sustainability in the extremely difficult circumstances as a consequence of the government's decision, during the pandemic, not to lock down the country or to impose curfews or state of emergency or to initiate any draconian Chinese measures, as advocated by some less than thoughtful persons. 
7 the resilience, good sense and especial efforts of the majority of Vincentians at home and abroad…to lift SVG higher despite the divisive pull on attitude and actions of a recalcitrant minority. 
However, the prime minister warned that this same level of "fiscal cushions" may not exist over the next 18 months. 
"The size of the contingencies fund will be less. The drawdowns we are making monthly currently exceed the replenishments. There is unlikely to be a revenue windfall from Mustique of a similar magnitude or at all," he said. "Grants are likely to be less, and the CAT DDO monies will be all exhausted. Although we may be able to secure some substitute funds from the World Bank, those monies will be less flexible, to be used, and less prompt". 
Gonsalves added that this means "we must get the economy back to a level of normalcy and this demands, among other things, given the ravages of the gamma and delta variants, a vaccination rate of 90% or more of the eligible population 12 years of age and older". 
He further noted that if this level of vaccination is not achieved, along with a corresponding economic recovery, then the government will be unlikely to meet its monthly commitments, which include the payment of salaries, wages and pensions. 
"It is as simple as that. I know the arithmetic. Believe me, please, this is not scaremongering. I have never been involved in scaremongering and I will never do that," Gonsalves said in his address. "At the same time, I feel sure that our people will respond sensibly, responsibly and with greater urgency than before. So, I am optimistic about our immediate future and the years beyond. We are possessed of the possibilities and strengths to advance creatively and meaningfully towards a sustainable development". 
The prime minister also said "it is all up to us, or at least the vast majority of us who truly grasp the challenges of the real world, a world not of fanciful imaginings, or self deceptions, but the real world, which we must face truthfully, and with commitment. We must do nothing to desecrate our future. Building back SVG stronger and better is a great cause, and great causes have never been won by doubtful men and women. Let us all be builders of our homeland, with God's amazing grace…"