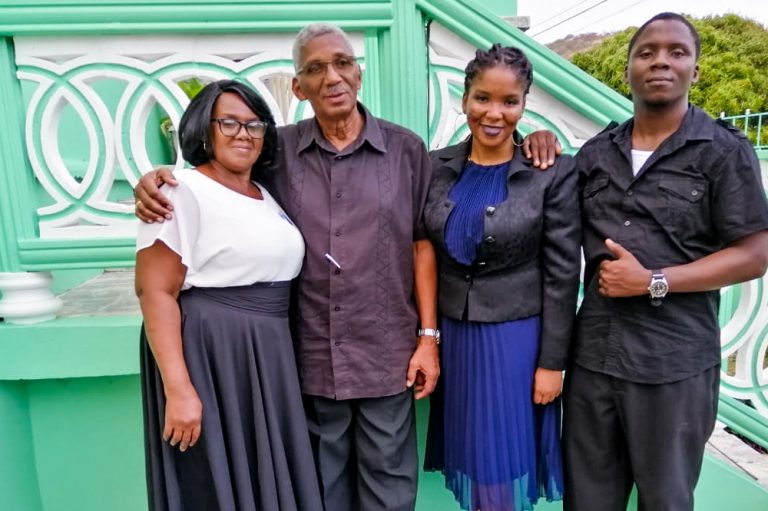 Vernice Williams, a teaching treasure on Union Island
UNION ISLAND educators are less on their own now than in the past and luckier for the advent of technology, long-standing educator/ head teacher 67-year-old Vernice Williams said, reflecting on the evolution of the education services in the Grenadine Island this week.
As St Vincent and the Grenadines(SVG) prepares to celebrate its 42nd anniversary of Independence next Wednesday, SEARCHLIGHT reached out to Williams who began her career six years before Independence, as an 18-year-old teacher at the Ashton Government School(now the Mary Hutchinson Primary School).
Williams, who retired 12 years ago at the age of 55 years, was born in Curacao to Vincentian parents from Union Island, and she moved back to the Grenadine island when she was three years old. Union Island has her heart, and she refuses to move to foreign lands.
"I love this place so much, never want to go anywhere," she noted cheerfully over the phone on Monday, October 18.
In recalling her childhood. she noted that until some time in the 70s, Union Island did not have electricity, and in order to see at nights they would sometimes walk with a 'Flambo' or searchlight.
Her family was large, with six girls and two boys. Her father worked in Curacao, and her mother, a fervent Christian, raised them in Union Island.
However, there was no Secondary School to attend at that time, and she had to stay at people's houses on the mainland After she graduated, Williams began teaching in 1973.
It was not an automatic love story between her and teaching, she remembers. At that young age, boldness was not part of her character, and she was placed to teach the senior classes, who were only a few years younger than she was and they did not have confidence in her as a result.
"I don't think they give you much help when people got into teaching at that time…" she commented, as opposed to now when tools are sent to teachers.
"He(the Head Master) did not send tools to me, I just went into the class and I review, he didn't even say whether I did well or not," Williams recalled.
She began to doubt her choice to teach, but this changed the following school year.
In teaching Sunday school, she built a rapport with the children and the youngsters took her into their confidence.
When they placed her in Junior five after the holiday, some of these children were also there.
"…That is when my teaching profession was born. That is when I made up my mind and say 'I want to teach'. You could see the love flowing in, the confidence flowing in, the parents, they encouraged me, and it was so good," she recalled.
From then on she declined a job in the bank, disobeying her parents for the first time, all to stay in teaching.
Willams used the opportunity to attend Teachers College between 1977 and 1979 to build on her skills and knowledge.
After this she was placed at Ashton Government School again, until being transferred to manage the Christian Primary School, now the Stephanie Browne Primary School, as teacher in charge.
As romance blossomed, Williams married a colleague teacher in April 1983, and the authorities sent her back to Ashton until 1985.
Once more she moved back to being the teacher in charge between 1985 to 1996, and then Principal of Ashton Government School between 1996 and 2009, when she retired.
Administration was not her first love; teaching was but the Ministry of Education did give her support, she said.
"I love teaching, I never ever regretted teaching. I think I made a difference to the people. You know why? Because I stayed, I remained in Union Island, I was a familiar face in my community, they see me every day," Williams concluded.
She runs into students everywhere, and is proud of them all.
Speaking more about the differences noted now as against them Williams commented "I think long ago we had to do quite a lot of research, the materials were limited…" "We didn't have many Qualified Assistant Teachers, okay? I think there was a lot of inexperience but teachers tried, even though they were not 'qualified' they tried their best.." she said.
Principals and educators were considered voices of wisdom in the community, but when it came to teachers relying on someone, there was no one to counsel them.
"We didn't have much Ministry personnel coming down. And who would you look to in a small place like that?"
There was also no one assigned to counsel the students, but now there are counsellors in schools across the nation.
"We were more or less on our own, that's the difference," Williams said.
"In the advent of the telephone, we had no telephone as a school so we can call and talk to our colleagues and so on, but now they have. They can ring their colleagues and ask about their ideas and so on, but we didn't have that in those days, so we were more or less on our own."
Research was done at the local library.
"We got through, we tried hard, the teachers tried hard. And now with the advance in technology, and the increase of telephones in schools, the social media, the computers, I think the children, they are at an advantage now because they have so many things," she commented.
"…A little before I retired we started with the 'team teaching', but one teacher per class it was not that bad – but I approve what the Government, what the Ministry is doing… have people specialising in Maths, Language Arts, they have somebody in school who is responsible for those subjects, people who can help out the teachers," she said.
The syllabus is also more detailed.
She also noted the disadvantage of schools in the Grenadines has also been where competitions were concerned; There competition was internationally, not coming up against anyone from the mainland. Later, though, they began to give the children the exposure to compete with those from the mainland.
Williams said she wouldn't say the Ministry didn't try, and that they tried to facilitate workshops for certification, but she also noted, "I think they're getting more visits from the Ministry of Education now than before. They are going to more workshops, and then you have the BA program. We didn't have the privilege of getting that for education."