Posted on
Local Scouts participate in jamboree over the air 2021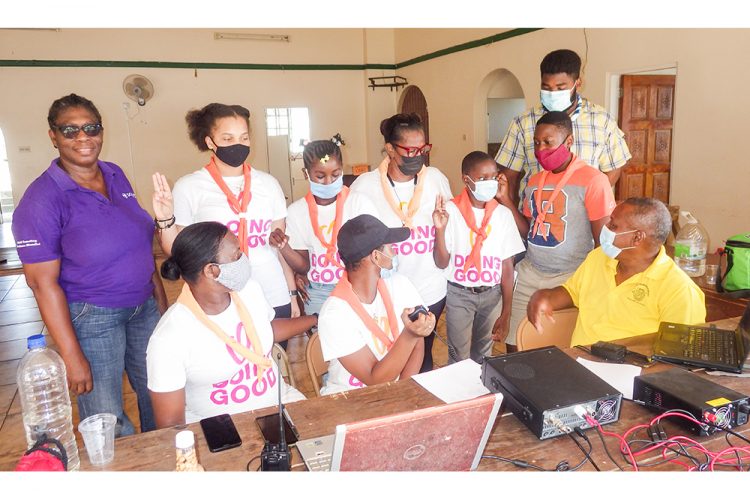 The local scout association teamed up with local amateur radio (HAM radio) operators from the Youlou Radio Movement (YRM) to conduct JOTA/JOTI, 2021 from their headquarters (HQ) at Arnos Vale on Saturday, October 16, 2021.
Scouts and their leaders gathered at their HQ to take part in the world's biggest radio and Internet radio event; JOTA/JOTI which stands for Jamboree On The Air/Jamboree Over The Internet.
This is an annual event held during the third weekend in October when more than two million scouts around the world team up with amateur radio operators to establish contact with scouts and Girl Guides from 171 countries, creating new friendships, exchanging ideas and sharing their hobbies, a release from the YRM president, Donald DeRiggs states.
Originally, JOTA was strictly an 'over the airwaves' activity, but some years when the sun spot cycle is low, long distance contacts via amateur radio was limited to nearby countries or cities, thereby limiting the fun for these youngsters. However, in recent times and with the advent of ROIP (radio over Internet protocol) technology, and a more robust and reliable Internet service JOTI or Jamboree Over The Internet, was included opening up the entire world to communications whether or not there is High Frequency (HF) propagation. This was a strategic and welcome dimension to the annual Jamboree event, as scouts from around the world were engaged in active conversations with their counterparts from all parts of the globe.
On Saturday, October 16 even though HF propagation was not good during the day, the Internet via the DMR and Echolink, IRLP and similar ROIP technology was buzzing with activity until 10 p.m local time, with scouts sharing their experiences from around the world.
The three-day event culminated on Sunday, October 17, 2021. Some of the activities included camp fires, weekend camps, and training for their communications badge among other activities to keep young minds actively occupied. This year, contacts were made with Barbados, Grenada, Curacao, Canada, the UK, and the USA. Stations heard but not contacted included India, Switzerland, Brazil, Ireland and Australia.
This year, the Youlou Radio Movement (YRM) assisted the scouts with JOTA/JOTI and are also in the process of training scouts and scout leaders leading up to a Technician amateur radio license. This training will also enable them to earn a communications badge for scouting. The local HAMs performing Control Operator roles during JOTA/JOTI were Sean Patterson J88CU, and Donald De Riggs – J88CD, with Justin Da Silva – J88DA paying a courtesy visit during the event.