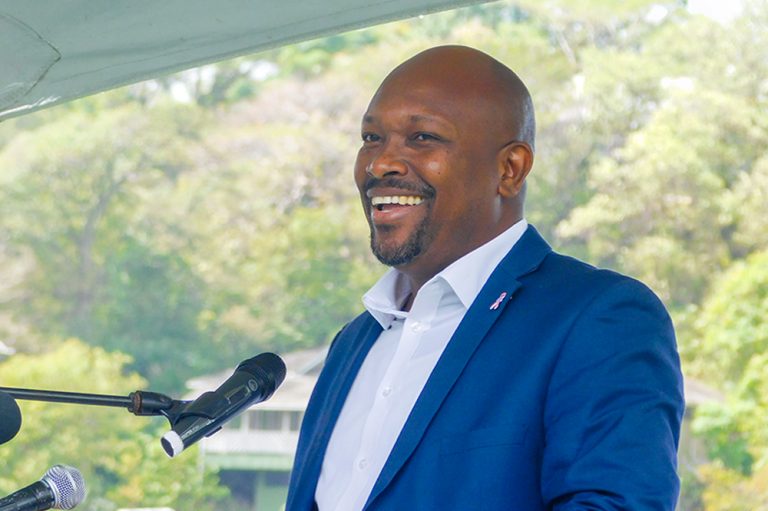 Agriculture minister urges youth to take up agriculture as a livelihood
OFFICIALS HAVE recognised the strides this country has made in the agriculture sector, as this year's World Food Day theme highlights that "Our actions are our future — better production, better nutrition, a better environment and better life".
World Food Day is celebrated annually on October 16 and was designated by the United Nations as a way of bringing awareness to global hunger.
Agriculture minister, Saboto Caesar noted that food producers continue to play a pivotal role in ensuring that life and livelihoods continue in St Vincent and the Grenadines (SVG). "In St Vincent and the Grenadines, our food producers, every single day of the year, they are steadfast and they are resolute, to ensure that food is available, food is accessible, and that food is affordable," Caesar said during this year's official ceremony, which was carried live via VC3 on Saturday morning.
"When you look at the context of today, the vagaries of climate change, the COVID-19 pandemic, the rising prices internationally as it pertains to shipping; these are many of the issues we continue to grapple with as stakeholders in the food production sectors."
The agriculture minister made a call for youths to become involved in agricultural production systems, noting that "we are still searching for an exceptional cadre of multitalented and multifaceted young persons to join the agriculture and fisheries value chains".
Caesar said SVG was evolving in an "unique environment", particularly when one reflects on the country's history of exporting goods.
He added that it was the first time that this nation was exporting in the absence of preferential trade agreements, consolidated marketing and collective insurance systems.
"But today, we have a well funded diversified production platform here in SVG with four important and fundamental pillars for growth," the minister said.
"We continue to witness expansion in the livestock sub-sector and in 2022, we are going to see further advancements as we work with livestock producers, not only in SVG but with stakeholders internationally to ensure issues of production and marketing are properly addressed. We continue to witness the expansion of the fisheries sub-sector in SVG and the blue economy will continue to play a pivotal role in our economic growth."
Caesar also noted that SVG continues on its quest to work with local producers to reduce the food import bill, as well as develop a competitive medicinal wellness industry.
Dr Renata Clarke, FAO sub-regional co-ordinator also commended SVG's efforts in the sector, despite facing several challenges this year.
She said this country was able to increase food production and expand certain exports, despite uncertainty in domestic markets and challenges caused by the COVID-19 pandemic and the eruptions of La Soufriere volcano, which caused an estimated US$53 million in damage and loss and displaced thousands of fisherfolk and farmers.
"The Ministry of Agriculture lost no time in setting programmes to assist affected farmers and fishers while at the same time creating the foundation for building back better… FAO takes great satisfaction in having been able to support the ministry in the mammoth tasks it undertook and we are preparing ourselves to continue to be a reliable partner for you," Clarke said. The FAO representative said the organisation continues to work harder to leverage knowledge and technologies and experience throughout its global networks that can be used to strengthen agri-food systems in SVG.
"We are working harder and differently to better engage private sector players who can bring much needed investment into agricultural value chains. I salute you for your achievements in this difficult year and I look forward to many more achievements next year," she said.
Other speakers at Saturday's event included Chief Agricultural Officer, Renato Gumbs, Permanent Secretary in the Ministry of Agriculture, Nerissa Gittens and Minister of Health, Wellness and the Environment, St Clair Prince.