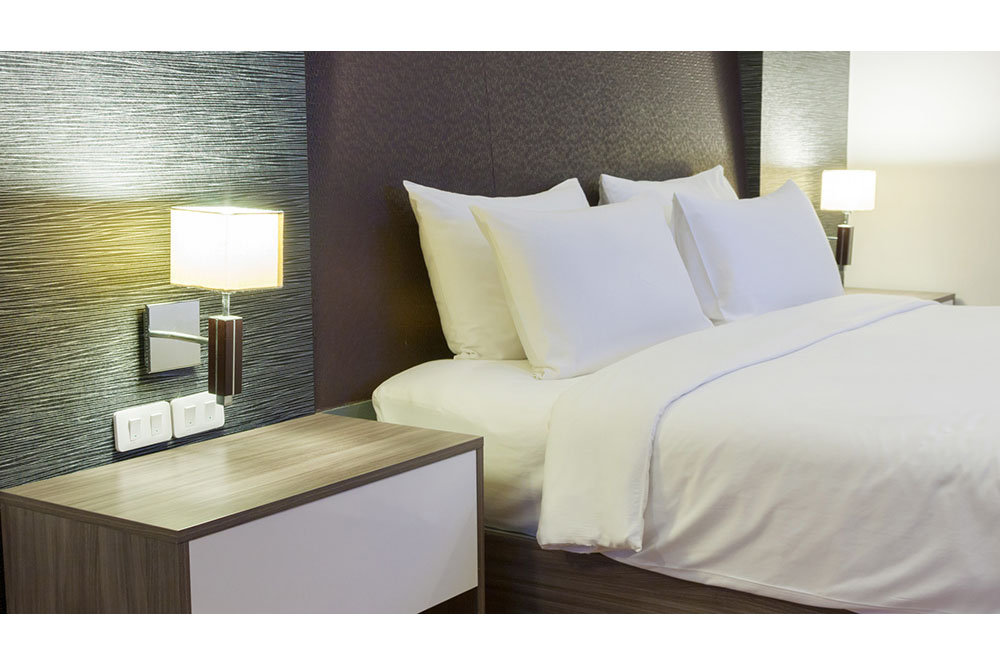 Woman complains of sharing space in quarantine guest house
A Vincentian who recently returned from a vacation in the United States of America (USA), is asking the medical authorities to look into the operations of some of the registered COVID-19 quarantine facilities.  
This after she said she was forced to share a space at a guest house in East St George with a woman whom she does not know and who was also in quarantine as they waited for their PCR test results.  
The woman said she booked at the guest house to complete her 48-hour COVID-19 quarantine as she is fully vaccinated.  
Her room was equipped with shower, a bathroom, bed, refrigerator and microwave and, "everything was fine."  
However, when she stepped out of the shower, she realised the air-condition unit was dripping fluid onto her bed and she complained to management who changed the room then told her that someone was coming to clean another room nearby.  
"Mind you, on entering the room there is one door to go in and there is a room on your right and a room on your left. I was staying in the room on the right and there was a bed, a bathroom, a toilet and I am assuming it's the same on the left," she related.  
However, the rooms have shared amenities, but the woman who asked to remain anonymous, said she was not told this and only found out when a woman she did not know arrived to take up one of the other rooms.  
She said she arrived at the facility on a Saturday and around 3 or 4 p.m the following day she heard a knocking on the door.
 
"…As I said, there is one main entrance to these two rooms, so when I opened the door, the operator is telling me somebody will be joining me…and I was like 'what do you mean? I did not arrange for this because if I had to share any space with anybody I think I would have preferred to know about this in advance'…".  
She noted that prior to her moving into the second room, the manager told her that sometimes people share rooms. 
"So I was like 'why would people be sharing rooms now when there is COVID and you're trying to reduce the spread of COVID?' and I said, 'I can't imagine anybody sharing a room' and that is the only time that was mentioned not knowing that I would be placed in that situation".  
She is of the opinion that if management was going to put her in that situation that would have been a good time to ask her if sharing a room or amenities is something that was acceptable to her.
"And even then I made it quite clear to him that I would not want an option like that and I hope that is not the case, so when I moved to the room that was not mentioned.  
"So when the lady came I was quite astonished asking 'how come? and 'what's going on?…I didn't agree to share any space with anybody' and he was like 'You're not sharing the space' but we were sharing the kitchen…" 
She said the manager put the other woman's utensils in the woman's room but as soon as the manager left,  the woman went outside on the balcony and was not wearing a mask.  
"As far as I know if persons are to quarantine with somebody…at least they should be somebody you know…or family or a friend you travelled with so obviously you would not mind," the angry woman said.  
She said she made some calls and was allowed to leave after her test results revealed that she was negative for COVID-19 but she was disrespected by the manager for complaining.  
"When I was leaving he commented, 'that is why you should not bring certain people to your place'. He did not even apologise for putting me in a situation like that and the fact that he thinks he did something like that and it is right is just infuriating to me…he did not show any remorse, and he actually thinks he was right,"she complained. 
The woman said if she or the other guest was positive for COVID-19, they could have easily passed it on because of the close proximity of the set-up.  
She is of the opinion that amenities shared during these COVID-19 times can be extremely problematic and can help spread the virus.  
Responding to the issue, Chief Medical Officer (CMO) Dr Simone Keizer-Beache told SEARCHLIGHT that according to the St Vincent and the Grenadines Tourism Authority (SVGTA) and the Ministry of Health's rules which guide approved transition hotels, the sharing of rooms is not allowed.  
"If you know the person, you can request to share knowing that if either person tests positive both must continue in quarantine and isolation separately," said the CMO.