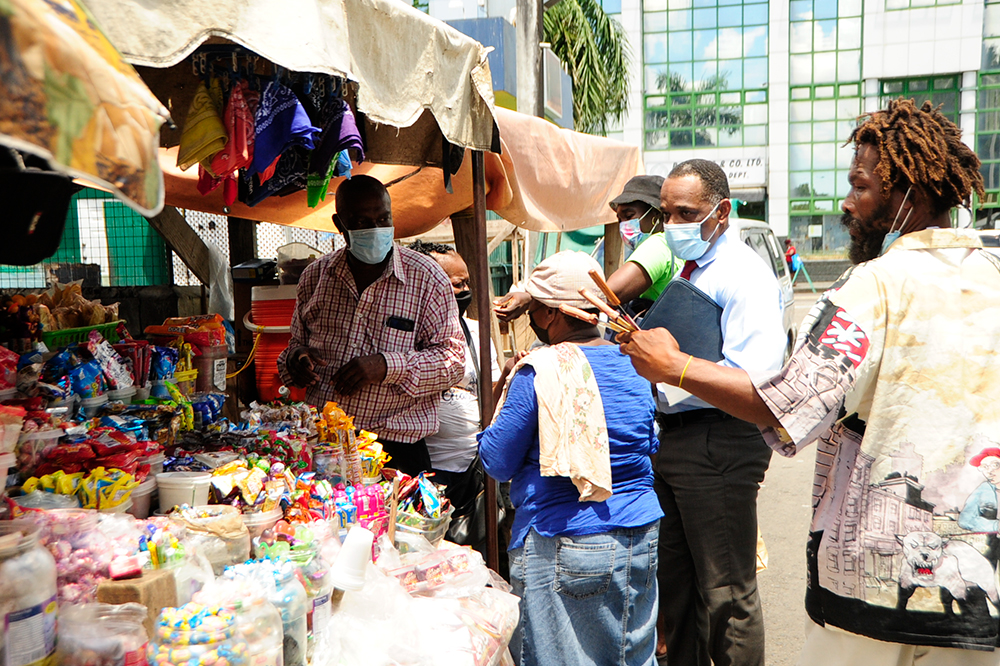 New warden plans to make improvements at Little Tokyo
Former government minister Clayton Burgin is the new warden of the Kingstown Town Board , and on Tuesday morning September 28,he undertook a tour of Little Tokyo to hear the concerns of the many vendors who conduct business there. Over the years, members of the public have expressed their displeasure at the conditions, and have called on the authorities to address the situation.
Burgin who was accompanied by Superintendent of Police Clauston Francis, Assistant Superintendent of Police Scott, and Deputy Warden Oliver Cupid, told SEARCHLIGHT that the tour was to "let the vendors know the purpose of why we were walking through. Our walk through was to let them know that what we seek is co-operation between those who are vending, and the Town Board, in that we want to see an improvement in the conditions, the environment, and the cleanliness of the area."
Burgin who took up his new assignment on September 15, said that he will work with other government agencies to bring about a more engaging environment for both vendors and customers, but they the vendors "must understand that there are laws that they will have to operate within."
Except for one person who was occupying about six feet of the entrance roadway, the vendors were co-operative and engaging. That one vendor was asked to refrain from setting up her stall so far into the roadway which is causing a problem with the flow of traffic.
Another issue of concern noted was people selling alcohol without a license, something Burgin said he also plans to address.
"I am going to address all the issues with the stakeholders no matter how difficult," Burgin added.
He also identified as a problem, areas deemed unsuitable from which vendors are operating daily .
"You have places where there is concrete, in others just dirt, so when it rains the place becomes all swampy and some of the structures persons are using are clearly dilapidated and not in any good condition to be used," the new warden pointed out.
Burgin said: "They can work along with us at the Town Board and see how we can collaborate …to see how we can improve the environment. They meet us part of the way, we meet them part of the way, so where they have challenges and deficiencies, we will see how we can fit in and improve those."
Also identified as needing attention is the space left for persons waiting for buses to take them to their respective destinations. Notices will be posted instructing persons to remove all unused, old refrigerators "so we can clean up the place and have it more accommodating for commuters."
During the walk through, Burgin spoke with officials at the Central Water and Sewerage Authority (CWSA ) regarding the removal of white goods, including old refrigerators dumped near the back of the Veira building.
The new Warden regarded the morning's activity as "A start, and work to be done. I did not intend to go in there with any high handedness, but to hear from them as to how we all can work together to make Little Tokyo a better place to conduct business."
Burgin said there have been calls for the cleanup of Little Tokyo but is not as easy as persons think.
"It takes planning and one must realise that it is not an open space that is just there. There are establishments, persons plying their trade so you would have to work with them, co-ordinate the whole thing properly, and give persons notice whenever we have cleanups."
He noted that there are vendors who occupied the seawall and received compensation from the government to vacate but a number of them have taken up parking space in Little Tokyo to vend, and this too he plans to address noting that, "Everyone has to make a living but you cannot break the law."