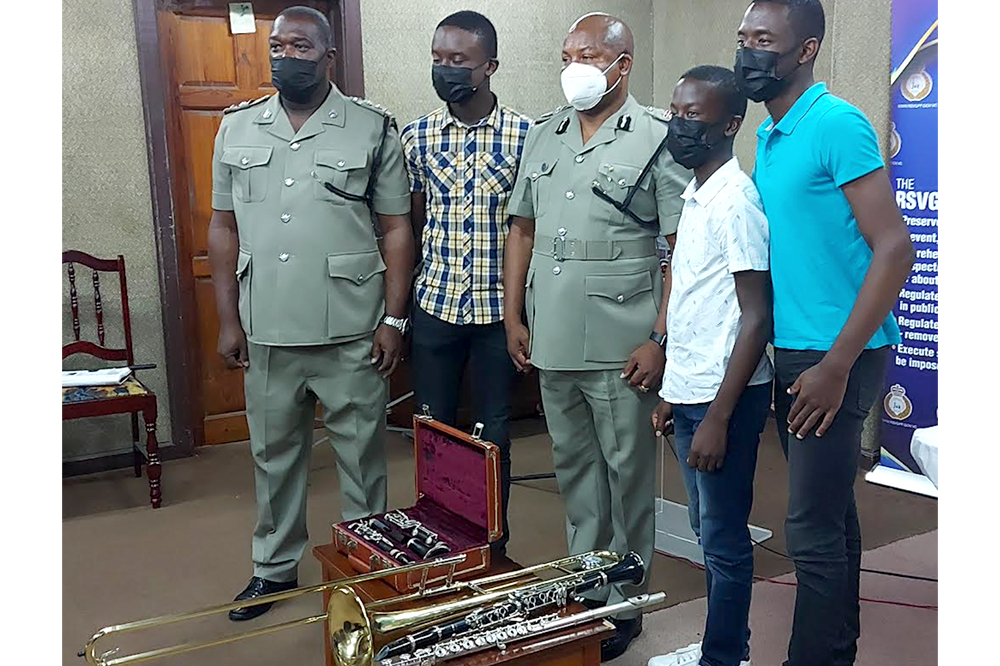 Melisizwe brothers donate musical Instruments to the police
A QUANTITY OF musical (wind) instruments was donated to the Royal St. Vincent and the Grenadines Police Force(RSVGPF) band on Thursday, September 16 by the Melisizwe Brothers.
The young musicians were present along with their father, Mark James at the handing over ceremony at the RSVGPF band room, Largo Height, a release from the Agency for Public Information states.
Commissioner of Police, Colin John, thanked James and his sons for the contribution and commended John for his outstanding parenting skills.
The commissioner said the boys are role models for young people in St Vincent and the Grenadines (SVG) and urged the teenagers to continue to make the country, their family and themselves proud.
Indicating that he is an ardent follower of the group, Commissioner John applauded them for the excellent work they have been doing thus far.
This is the second donation the brothers has made to the police band and as Mark James said: "it means a lot to pass on these instruments."
James said growing up, his only exposure to a musical instrument was that of a recorder and revealed that he did not know there were other options. The father of the musical trio said that as the boys grew, they started their musical journey with a small keyboard that was gifted to them but during their musical path the boys have been given access and opportunities and it is their desire to ensure that they pass on the gift that was given to them. He emphasised that SVG will always receive preferential treatment in anything that the musical group initiates.
He explained that they decided to partner with the police because of the immense work the police band does in the community and,observing the band specialises in wind instruments, decided to donate wind instruments.
James however pointed out that they will provide other types of instruments in future as the need arises.
He also noted the role that music can play in the lives of children, many of whom are faced with difficulties.