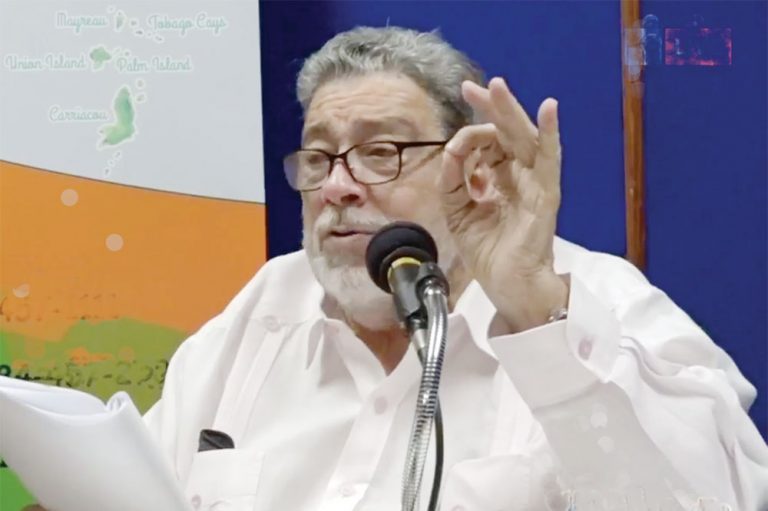 Public Health Act regulations to be approved this month
CABINET INTENDS to approve the Public Health (Public Bodies Special Measures) Rules of 2021 in short order, despite ongoing dissent among various local entities.
The draft rules were published on August 27 for public consultation and discussion. It outlines the requirements for front-line workers as the government moves to enforce requirements for this sector of workers to either be vaccinated or tested regularly.
These rules also address exemptions from requirement for vaccination and that failure to comply with rules constitutes misconduct.
The deadline for written submissions on these rules was September 8 at 4 p.m.
Prime Minister Dr Ralph Gonsalves said this week he hopes Cabinet will be able to finalise and approve documents by September 22 the latest.
Until this is done, he said they are willing to accommodate what anyone else has to say on the matter.
"Only four submissions have been made. One has been made by a journalist, who is very supportive of what we are doing and calling for a strengthening in particular areas," Gonsalves said while speaking on We FM's Issues at Hand programme on Sunday.
Under the draft Public Health Rules, a front-line worker includes healthcare employees; members of the Royal Saint Vincent and the Grenadines Police Force; prison staff; customs and immigration officers; and persons engaged to perform clinical or non-clinical services at the Milton Cato Memorial Hospital including contractors and consultants or visiting medical practitioners.
The prime minister said on Sunday that two submissions were also made by Customs officers, who were "basically questioning whether it's necessary for us to be saying 'the jab or the job' in front-line workers, given the statistics".
"They are taking this thing as though it's not a dynamic one and…it's not about the regulations in their details, it is
whether you should have any kind of regulation at all. In other words, the pristine individualism, abstract argument devoid of any context of social solidarity or public interest and public health," Gonsalves said.
The fourth submission was made by the Nurses Association.
According to Gonsalves, this submission went into detail on each point highlighted in the draft rules. He said he intends to have staff engage the Association in discussion, in which he hopes to also be involved.
The Public Service Union (PSU) has been vocal in their disapproval of any form of mandated vaccination policies and have said that the amendment made to the Public Health Act, which precedes the draft rules, threatens fundamental rights and freedoms.
The Union carried out a four-day strike last week, to force the government to repeal the amendment and put a pause on the draft rules coming into force.
Elroy Boucher, the PSU's president, told SEARCHLIGHT on the picket line on September 9 that the Union intends to make a submission on the draft Public Health Rules.
Gonsalves said he was advised that the Union's lawyer, Jomo Thomas, visited the Attorney General's office last Friday, two days after the submission deadline, to ask whether a late submission would be entertained.