Posted on
PM tours medicinal cannabis facilities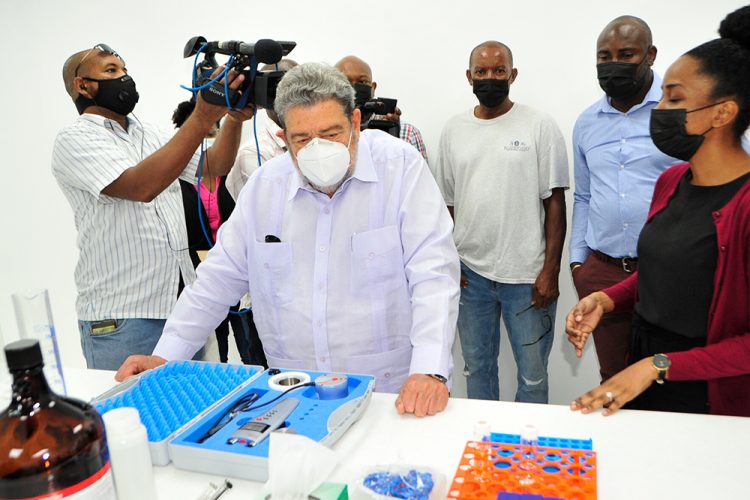 Last Friday September 10, 2021, Prime Minister Dr. Ralph Gonsalves headed a team on a tour of five medicinal cannabis facilities as the country continues it thrust in the establishment of the medical marijuana industry.
The delegation, which also included Dr Jerrol Thompson CEO of the Medicinal Cannabis Authority, made stops at Ottley Hall, Kingstown, Enhams, and Spring to view the progress being made, not just at the various facilities, but also on farms.Gonsalves acknowledged that it has been a long process in establishing the medicinal cannabis industry, "from concept to policy, to law in Parliament, to regulations, to investment to roll out."
He said Friday's tour brought about an understanding of what all the practical work that has been done, was leading to.
The first stop was at Ottley Hall, where the group saw the beginning of a process "from seed to sale" that involves a series of checks.
This was followed by a stop at a newly opened pharmacy in Kingstown whose developing clientele comprises persons who are being prescribed medicinal cannabis products instead of the traditional pharmaceuticals as a cure for pain relief.
The tour also took in the recently opened public/private partnership Gold Standard laboratory at the Medicinal Cannabis Authority's compound at Enhams, which is expected to set quality standards in medicinal cannabis products nationally, regionally and internationally.
The lab, operated out of Miami would manage all "certification for the various products to ensure that they meet international standards; which are the standards embedded in the regulations made under the Act."
According to the Prime Minister, "It is a sorting out of the entire process; part of the whole production apparatus."
At a farm situated about a mile away, the touring party observed a number of green houses where farmers are engaged in seed planting, cloning of various cannabis plant types and the transfer of plants from the green houses to the fields.
There are a number of established companies locally inclusive of those visited on Friday, one of which is in Vermont, but the Prime Minister was confident that "we have seen enough to tell us that as a plank of this economic diversification process to create jobs and to create wealth, foreign exchange, and to do it not with unlimited supplies of cheap labour, but with unlimited supplies of knowledge; scientific knowledge which is a very important model in development."
The medicinal cannabis industry in all of its stages of development in St. Vincent and the Grenadines (SVG),"is a venture which was worthy of the effort the government, the public servants, the parliament, and all the people of St. Vincent and the Grenadines, including the traditional farmers who are also part of an important chain in this enterprise,"he noted.
Gonsalves also was full of praise for Minister of Agriculture Saboto Caesar, for leading the effort in establishing the medicinal cannabis industry in SVG.