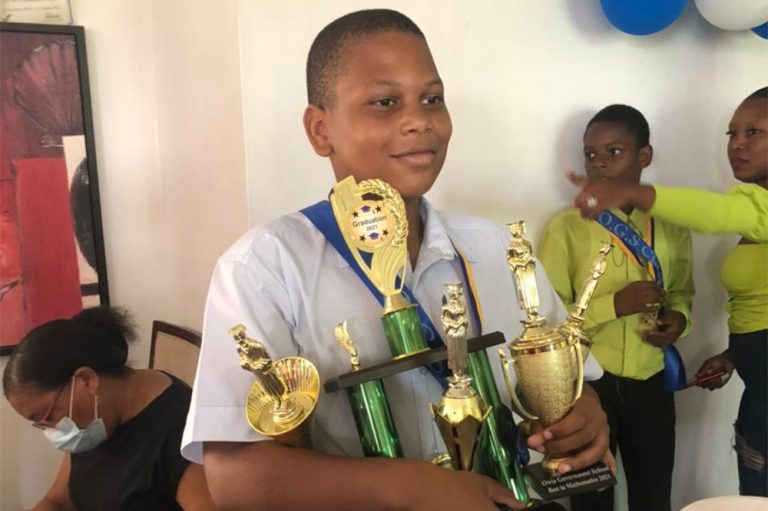 Owia lad places 5th for boys, makes his home community proud
After praying and studying with his mind set on the top spots in the Caribbean Primary Exit Assessment(CPEA), Nathan Warrick of Owia has captured the position of fifth for boys and 12th overall; making his home community proud.
"I was very excited because in the morning we already found out who came in the top 10 so I was a bit worried, and then when I got the results I was excited," the 11-year-old who will be turning 12 tomorrow, September 15, stated.
There will be double celebrations for the family, which staying at Arnos Vale with relatives as their home is still not ready for their return following the explosive eruptions of La Soufrière.
Nathan graduated from the Owia Government School last Thursday, copping all the subject prizes and the prize for student of the year.
For him, success is a symbol of his hard work which he didn't stop when the going got rough.
The young student will be heading to the St Vincent Grammar School(SVGS) to pursue further studies, and in this moment is debating between two different career paths: a politician and a software engineer.
"The politician, it's because I study politics in the US(United States) and it's very interesting to me, so that's one reason. And software engineer, I'm very good at Math, and I also want to learn coding and if I learn coding, being a software engineer would be the best job," he explained.
The Owia resident said that a lot of people from Owia have been congratulating him, confirming, "The news spread around the community, and a lot of people congratulated me".
He recounted that, "they told me they expected me to do very, very well. A lot of them said 'that's my boy' and then just congratulations."
Nathan enjoys his home community, describing it as a "nice place", and disclosing that he lives near to the Owia Salt Pond, which is his favourite place to be.
Nathan's mother, Racquel Foster Warrick, also confirmed that "Many of them [residents]have reached out and offered congratulations and they said they expected him to do well, because from a little boy many of them would always say, 'Nathan is really bright'."
The mother explained that it may be November or December before life returns to normalcy for them.
"I am realising you have to clean almost everything. There is ash in places that you wouldn't think, so you have to wash everything, clean everywhere," she disclosed.
The mother expressed pride in her son, who is a consistent hard worker.
In terms of the challenges that presented themselves, she noted, "I didn't get to spend as much time with him as my older daughter….she was in the group that did the last Common Entrance and I know I had spent a lot of time with her.
"This experience has been one where, well at crunch time I was out a lot doing relief efforts, so I would basically leave work for him, and then when I get back in, I would mark it and give him some feedback," she said.
However, "Luckily a retired Principal and teacher from Georgetown, Miss Paula Blake" reached out to her, and "Miss Henry who is at High School. So she reached out to me offering assistance to help him because she realised I had been really busy because she saw me on several occasions. I was really grateful for that."
She figures that her son may have been eyeing his elder sister's position at CPEA and that of his cousin's who both placed 12th overall and 7th for girls last year.
"When they realised that they both came 12th, and I told them, they were here jumping and screaming in the house; 'we tied'," the mom remembered.
She also disclosed that they are a Christian family who prays a lot. They are members of the Fundamental Bible Church, and also attended the Hope Baptist church which has been severely damaged by the ash.
As regards Nathan, "That has always been his prayer request, especially in the last year for bible study, he will put up his hand and say 'Pray for me and my CPEA exam'".