Posted on
Students laud teachers' efforts at West St George graduation ceremony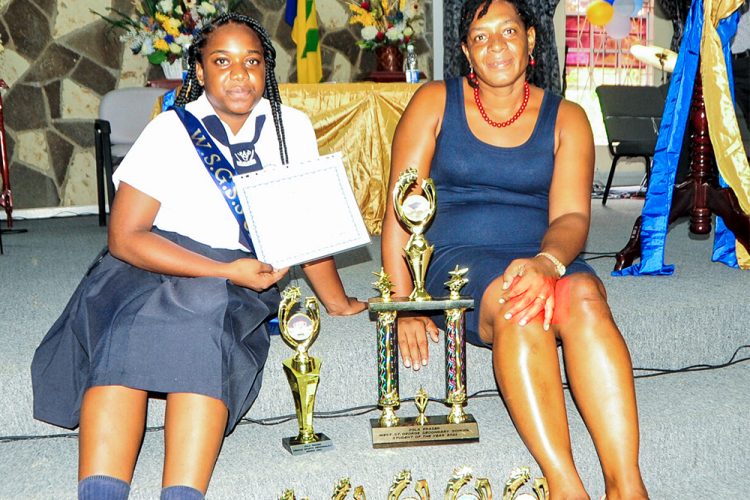 THE GLOBAL coronavirus pandemic has forced authorities the world over to institute changes to the learning environment. St Vincent and the Grenadines (SVG) being no exception, schools were forced to close as Covid-19 virus infections began spreading in communities across the state and the Ministry of Education introduced on-line learning as it grappled with how to resume face to face schooling.
Then, the volcano began venting on April 9 forcing the government to use schools as shelters to house evacuees from the danger zones.
The West St George Secondary School was among those used as shelters.
Despite these setbacks, at last week's graduation and prize-giving ceremony principal, Dianne Williams, expressed pride in her students and gratitude to her teaching staff for their resilience in surmounting these obstacles.
And students were high in praise for the hard work of their teachers.
Delivering the valedictory address at the graduation, Student of the Year 2021 Zola Fraser, told the audience : "Our journey here would not have been successful without the aid of some of the best teachers St Vincent and the Grenadines has to offer. You did not just teach us in regular times, but you were effective at your duties in some of the most trying times that educators have ever experienced."
Fraser noted, "As I think about the last leg of our journey here, and if I were to try to find a word to describe it, that word would be unprecedented. Unprecedented is defined as never done or known before. Additionally another phrase that comes to mind is the 'new normal'".
She recounted to the gathering the ways that they had to make changes because of the impact of the Covid-19 virus.
"We have been on a roller coaster ride, from week-long quarantines to distance learning, wearing masks to classes," and in the midst of these challenges, "we still had to prepare for external exams by attending classes in school or online, and completing our SBAs."
Fraser added, "We were hit with these unexpected challenges before we ever had a chance to put up our armour; it was perplexing."
The valedictorian however spoke with optimism directly addressing her graduating colleagues saying, "the same warrior mentality we had throughout this whole pandemic, is the same mentality we will need when we enter the new chapters of our lives."
The new normal experienced by teachers and students, parents, and officials of the Ministry of Education, was recognised by Minister of Education Curtis King, as he addressed the gathering.
"You have come through the Covid pandemic. You have come through dengue fever. You have come through the explosive eruptions of a volcano and its impact because your school, your campus, was used as a shelter, and hence you could not attend school as you ought to."
King who is also the Parliamentary Representative for West St. George, reminded the students, teachers and ancillary staff, "You also came through Hurricane Elsa."
According to King, what pleased him even more is, "After all of that, you are here today and that in itself is practical manifestation of adapting to changes. That in itself is resilience."
The graduating and prize giving ceremony was held under the theme: 'Adapting to the changing times with resilience' at the Glad Tidings Tabernacle at Gomea.