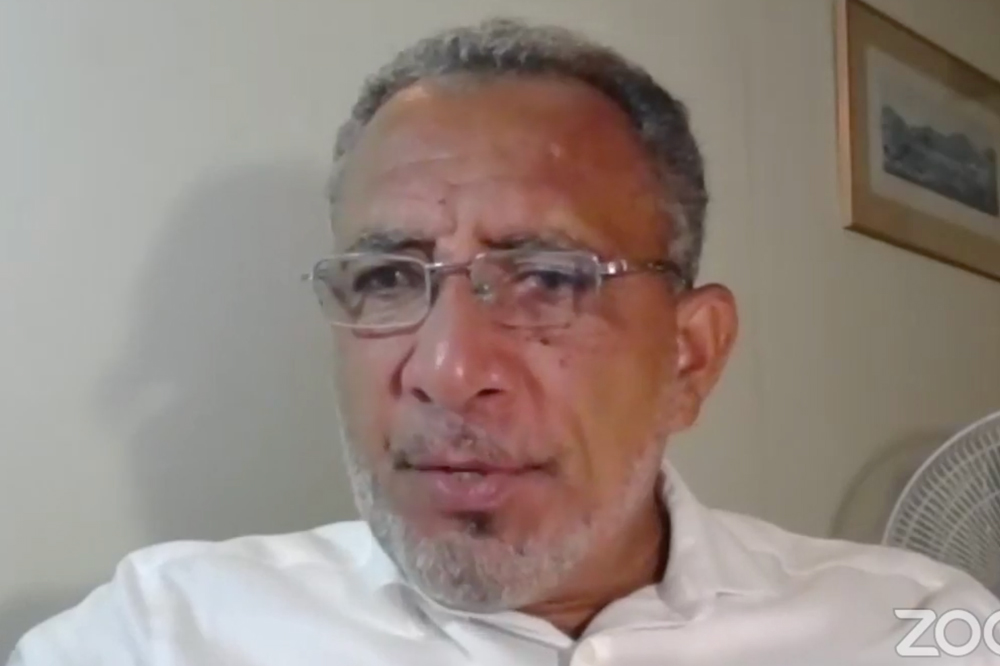 NDP launches fund raiser to help finance 'pro-democracy work'
THE NEW DEMOCRATIC PARTY (NDP) has launched a fundraiser, the proceeds of which will help to advance the "pro-democracy work" being carried out by the party as it continues to engage in protests.
The "Save Democracy Fund" was officially launched on Tuesday night on Nice Radio and Facebook Live, and saw members of the party expressing the importance of the fund and instances of where proceeds will be used.
"We urge our people to contribute. It's to continue the pro-democracy work we are doing and also to defend those persons who have been charged because they have been engaged in the pro-democracy work that we all know is so important to our country," Dr Godwin Friday, the president of the New Democratic Party said during Tuesday's launch.
The NDP has actively engaged in several demonstrations within the past few months alongside trade unions, social organisations and other individuals to protest several issues they have identified that are facing the country.
The NDP, which received the popular vote in the November 2020 elections has made it clear on that platform that their intention is to have fresh elections.
The party's General Secretary Tyrone James, and its head of media relations Colin Graham, have been charged with organising a public procession without notifying the Commissioner of Police at least 24 hours before the procession as well as knowingly taking part in a public procession in contravention of the Public Order Act.
NDP activists, Kenson King and Adrianna King have also been charged with similar offences.
And all four persons were among a group of NDP supporters whose homes were raided following the August 5 protest, where Prime Minister Dr Ralph Gonsalves sustained a head injury after a missile was thrown at him while he walked through a mob of protesters on his way back to a meeting of Parliament.
Layou resident Annamay
Lewis has since been charged with wounding the Prime Minister and most recently, with the offence of throwing missiles. She has pleaded 'not guilty' in both instances.
Friday said this week that his party is "engaged in a struggle to protect, to advance our democracy in St Vincent and the Grenadines" and these initiatives usually require funds.
He therefore urged supporters, friends and persons who promote and wish to promote democracy, to contribute to the cause.
"What we are seeking to do is to alert people about the seriousness of the situation in our country where democracy is not just under threat, it's under attack. We are in a position now where we've never been in recent memory. This is something where people have gone out, exercising their democratic right to protest in Kingstown and elsewhere, and the police have essentially sought to charge people with offences related to those protest actions, organising them and participating in them…" the political leader said.
The NDP's president proffered that the charges and police action being taken in recent times stem from people's participation in protest action, which citizens are entitled to do under the constitution.
Friday added that it takes effort and money to defend these persons, as well as to facilitate people who want to travel to Kingstown and demonstrate.
The NDP's fundraiser therefore serves as an opportunity for persons in the Diaspora who wish to participate in the party's effort, to also make contributions.
"This is a chance for you to be a part because if you can't come then send somebody and the way you do that is by contributing so we can facilitate those persons who want to come…" Friday said.
He also said that contributions of any amount are welcome and that the more people who contribute, the better "because it shows that people are taking an interest in what is happening in our country and that they want to be a part of the solution".
The most recent cause for protests, like the one which took place in Kingstown yesterday, is the amendment to the Public Health Act, which requires essential workers to either take the COVID19 vaccine or be tested regularly at their own expense.
During Tuesday's launch, Friday called on persons to continue to support the work of the trade unions who gathered in the capital yesterday to demonstrate against this amendment to the Act.
He said it is something that everyone has to stand up for because "if we don't, then there's a possibility that these rights that we take for granted will no longer be there when we ourselves personally are affected".
The NDP leader added, "We all have to stand up now and make sure that we don't go along the road, the slippery slope towards authoritari-anism… we are at the precipice. We really are at a cliff and if we don't do something now, we could fall over it and when people are asking how St Vincent got there, we can't pretend we don't know. We know where we are. The question we have to ask ourselves is what are we going to do about it. What am I going to do about it?"