Posted on
Dream coming through for young Rose Hall evacuee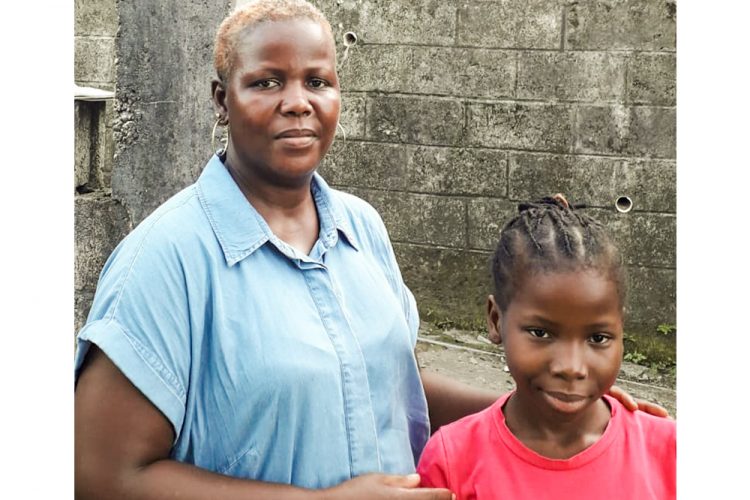 A STUDENT FROM Rose Hall overcame the challenges of COVID19 and having to evacuate from her home during the explosive eruptions of La Soufriere to succeed at CPEA and earn a place at a secondary school she always dreamed of attending.
When the results of this year's exams were released on September 1, Casalyn John was happy to learn that she had placed 267th for girls and 488th overall.
"I performed as well as I hoped I would because I got to go to the school I wanted to go to," Casalyn, who attended the St Mary's Roman Catholic School told SEARCHLIGHT this week.
The aspiring surgeon is looking forward to starting the new school year at the St Joseph's Convent, Kingstown.
Young Casalyn first spoke with SEARCHLIGHT on the final day of the CPEA exams in July, when she explained that preparations were stressful, causing her to worry about how well she would perform in the exams.
She, along with her family, were among the many people who had to evacuate Rose Hall hours ahead of the start of the April 9 explosive eruptions and just days before school was scheduled to be reopened. It was also just a few months before the external exams.
Casalyn's mother, Roslyn Williams-John told SEARCHLIGHT that she experienced the first two explosions when the volcano erupted on Friday, April 9.
And while this was a great personal experience, she said it no doubt presented several challenges for her daughter and the other children who were preparing for the exams and had to be evacuated.
"Since we had to evacuate, this had some negative effects on Casalyn in one way or the other, but the teachers at St Mary's RC Primary School, they did their very best in preparing the children. They had their online classes going and with the online classes, the teachers were always regular and punctual. They gave past papers
to students so that they could practice at home. They also gave extra evening lessons as well which paid off well for the children," Williams-John said.
On a more personal level, the mother said it was a bit of a struggle helping her daughter through online classes because she is not as technologically savvy.
But she is excited that her daughter has performed well enough to achieve her goal of attending the St Joseph's Convent, Kingstown.
"I am happy with my daughter's CPEA results which came as no surprise to me in spite of all the hiccups with corona and volcanic eruptions, because since she had entered primary school at St Mary's RC, she has been working well and I expect nothing less than what she accomplished in her CPEA exam…for Casalyn, it is like a dream come true. She would be attending the St Joseph's Convent, Kingstown come October and that's the school she always wanted to attend," the proud mother said.
Having achieved this goal, Casalyn has some words of advice for students who will one day also sit the CPEA examinations.
She is encouraging them to "to work hard and be confident in themselves. If they have a goal, they must follow that goal and not say they can't do this or do that. They have to be confident in themselves".