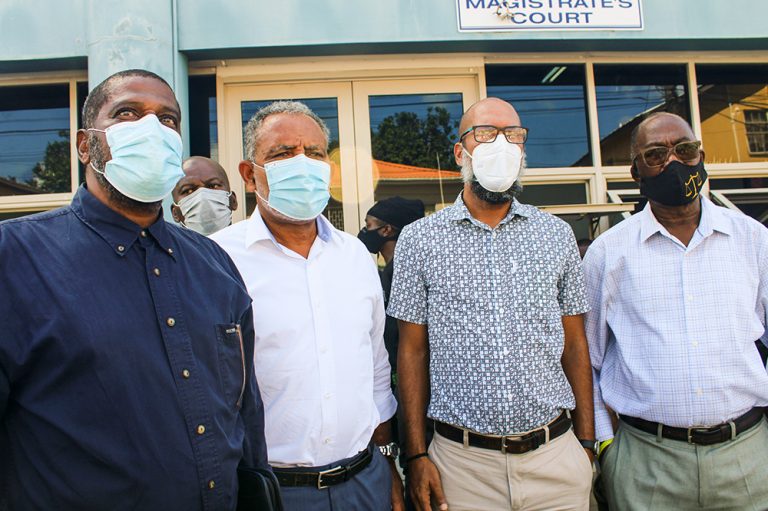 NDP top officials charged – police setting dangerous precedent, says Secretary General
THE SECRETARY General of the New Democratic party (NDP), Tyrone James, who is facing four criminal charges related to protest action, says that a dangerous precedent has been set by the police entering Democrat House to seek him out for questioning.
"The police came at the NDP Headquarters, and I want to make a point that this is a political party headquarters where the leader of the Opposition resides, and they came in to the building. I am saying that's a very dangerous precedent to start, where you are entering political party buildings," the 62-year-old resident of Arnos Vale who has been in this position with the NDP since 2017, said yesterday.
"…Let me say this, I have worked over 30 years with the police force. I have risen to the rank of Commander of the Coast Guard Service. I have retired, I have received my benefits, I have no blemish on my record. I know the Commissioner, he knows me. I know several of the officers, they have my number. If they want to discuss or interview, all they have to do is to call me. But you send men with weapons on two separate occasions at my home," he claimed.
He said his daughter, "…gets irritable in these sort of situations."
"Yesterday when they went there she was so scared, she was in her bedroom until this morning."
James acknowledged, though, that when he was in custody, the police officers treated him with respect.
Nevertheless, he cautioned them: "I think all the police officers who are present now and who have retired should take note," James remarked, contemplating out loud what could be done to them.
He and the others who have been charged in relation to protest action are insisting that they will not be intimidated for the future.
The Secretary General is charged that on July 29 and August 5, he was concerned in organising a public procession without notifying the Commissioner of Police at least 24 hours before the procession. Secondly, that he, on both dates, in Kingstown, did knowingly take part in a public procession in contravention of the Public Order Act.
James echoed a strong "Not" before following it up with a measured "guilty" at the Kingstown Magistrate's Court (KMC) yesterday, September 2.
The KMC is the court where activists Adriana and Kenson King, also charged with protest related offences, were taken on August 16, as it is the district in which the offences allegedly took place.
Defence attorney Israel Bruce, who is working with a group of senior lawyers on the case, made a request for disclosure. The lawyer also said that while he doesn't control the court's timetable, he hoped the trial would be swift.
However, it is noted that the court is pre-scheduled to be on break in October.
Disclosure of relevant documents was ordered to be done by October 4, while a tentative trial date of December 7 was set.
In charge of media relations for the NDP, Colin Graham went through exactly the same process as James, on what he said was the morning of his daughter's graduation from the Kingstown Preparatory School (KPS).
He commented that he was not surprised at the charges.
"It's just an inconvenience really because today is my daughter's graduation so in terms of having to be at her graduation, I'm here instead at the court to answer on these frivolous charges which really and truly is just a way and means of trying to intimidate persons who are seemingly being involved with the protest action and showing their support with the level of governance that we have in this country, and how people are disappointed in a lot of things and a lot of the policies that they are trying to implement."
Graham commented about "the hundred of other persons" who have been showing up to protest on various days.
Despite the controversy around the method of protest, the 43-year-old NDP spokesman who has been with the Opposition since 2005, says that he is not daunted.
"..This is more of a motivation, I see, from the Government," he said.
"I mean it has just strengthened my resolve more," he said, adding that the move to charge them shows desperation.
Graham also commented, "It is just encouraging me more that yes, we're getting under their skin and I hope that other persons can see all of this and use this as inspiration too as well to say look, enough is enough."
Describing his arrest, he explained that members of the Criminal Investigation Department( CID) and a few members of the Black Squad showed up at his home and told him that they needed him for questioning about protests on July 29, and August 5.
"I subsequently made a call to my legal representatives, and of course they said well alright, I don't have to go to the police station for questioning but they then proceeded to tell me whether or not that is the case Mr Graham, you're under arrest and so I went to the Central Police Station with them, answered their questions, they laid the four charges against me and here I am today," he submitted.
Bruce, who, along with a cohort of attorneys, represents not only James and Graham but both Adrianna King and Kenson King commented "very quickly" on the charges brought supposedly against the Public Order Act.
"We are talking about a so-called progressive government that has resort to using a 1951 piece of legislation, as progressive as that is in 2021, it is a pre-independence piece of legislation, a pre-constitutional rule piece of legislation…" "…You've heard suggestions that persons need to get permission to protest, that is absolute garbage. Nowhere in the world is anyone required to get permission to engage in protestation," he said.
The lawyer also questioned how one would "inform" the authorities. "Is it a telephone call? is it an email? Is it a whatsapp message in 2021? What is that mode of information? So for the state to say that they were not informed and then brings in Colin Graham, for example, to say you participated in this event and there was a contravention of this Act, How is Colin Graham supposed to know, for example, that the leadership of the organisation that organised the protestation did not inform the Commissioner of Police?"
Bruce advised the populace, "Do not be scared. You have a right to protest, and exercise your right to protestation in peaceful ways and in legal ways and we would have no problem. And when you are called to protest come out and protest, don't let this frighten you. Do not be frightened."
Opposition Leader and President of the NDP, Dr Godwin Friday, in his comments to the media outside the court, stated, "…beyond the courtroom, we have to as a people carry this fight for democracy forward and continue to insist upon the right of the people to express themselves democratically."