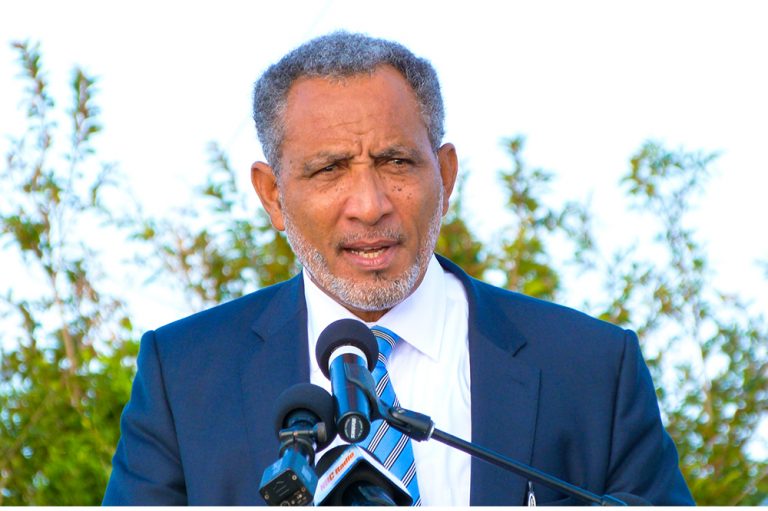 Opposition Leader seeks mass support for September protest
OPPOSITION LEADER Dr Godwin Friday has issued a call to Vincentians to participate in protest action next month, saying that his party intends to continue to express opposition to the government's vaccine mandate for front-line workers.
Friday's call to action was made during a New Democratic Party (NDP) press conference on Wednesday where he said the protests are to be "robust and determined while being peaceful and lawful, in a manner that proclaims and elevates our democracy".
Supporters of the NDP were among members of trade unions and social groups who participated in the August 5 protest, where Prime Minister Dr Ralph Gonsalves sustained an injury to his head when a missile was thrown at him as he attempted to walk through the crowd to get back to the House of Assembly.
The August 5 protest and the one slated for September 9 – on the same day Parliament will meet again – are against the amendment to the Public Health Act, which will see certain frontline workers being required to take a COVID19 vaccine.
Some people have voiced their opposition saying the requirement is a violation of their fundamental rights and freedoms.
The Public Service Union (PSU), along with nurses, have indicated their intention to withdraw their service from September 7-10 to press the government to reconsider its position on the matter.
"It is important that the broader society lend support to the trade unions as they represent their members. They were an important part of the protest action on August 5. I've read their release and heard comments from the leaders that they are about to take industrial action but also, I wish to encourage all our members and people, generally speaking, to support the political action as well," Friday said at Wednesday's press conference.
He continued: "that is, to come on the streets of Kingstown on [September 9] to continue their support for our democratic rights and to protect against further erosion of our democratic rights. I therefore urge everyone to join in common cause with the trade unions and other associations to defend against the erosion of our fundamental rights and to oppose mandatory COVID vaccinations in St Vincent and the Grenadines".
The NDP president said the actions being taken are to defend and promote democracy and to directly oppose the unpopular legislation and policies of the government as reflected in the changes made to the Public Health Act.
Friday expressed belief that the situation is worse now that the law has been passed, claiming that this prepares the way for mandatory vaccination in this country.
And the parliamentarian called on NDP supporters to come out on the streets of Kingstown on September 9 to show their disapproval of the government's measures and also to support citizens who will be on the picket line in defense of their fundamental rights.
"We must insist that the government engage in meaningful dialogue with the stakeholders on the way forward and out of this Covid crisis.
Too many people are concerned about the changes to the Public Health Act and indeed have opposed it," he said as he accused the ruling ULP administration of proceeding in a unilateral manner in passing the measure into law.
"The government – this ULP government – has been acting unilaterally for far too long; proceeding without any serious consultation with and involvement of other stakeholders in decision- making when it really matters. It is time that this approach comes to an end. It has not worked for our country," he insisted.
Friday further charged that the ULP administration has "led us to an economic and political crisis in St Vincent and the Grenadines so I encourage all individuals, social groups, churches, trade unions, and business associations, artistes, sportsmen and women to come out and support the rally on September 9…" "I'm urging all of our citizens, all our Vincentians, to stand up and be counted. There is nothing wrong or bad about peaceful protests. In fact, social protests are essential to fostering a vibrant, strong democracy. I especially call on you church leaders and your congregations to bring spiritual guidance and power to combating the challenges we confront in our nation. We cannot do this properly without you. It is up to all of us to save our nation," he said.