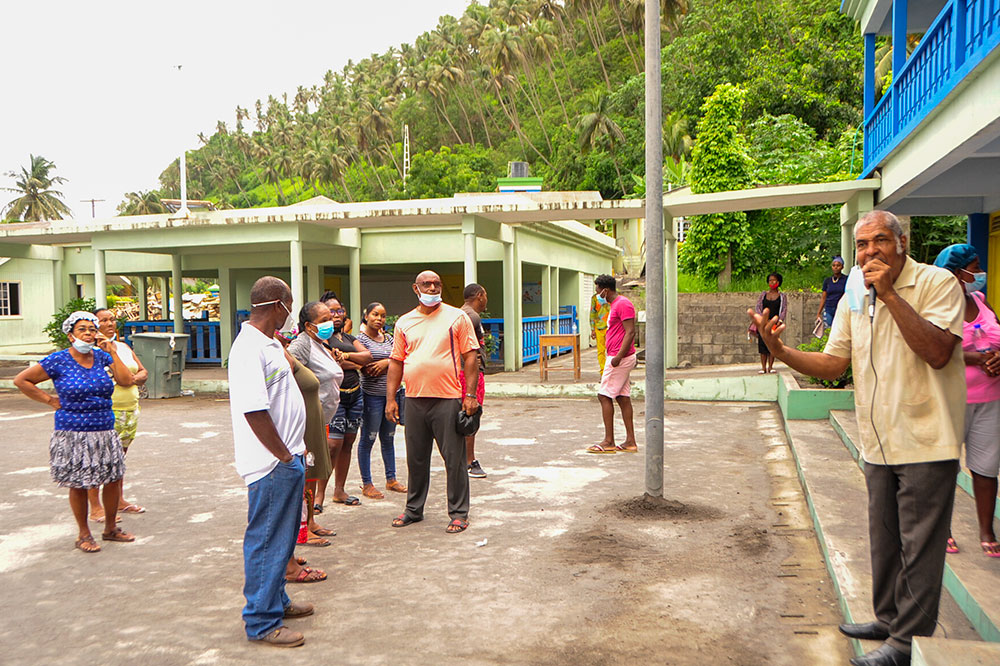 Heated exchange at Sandy Bay meeting over assessment of homes
"You may not like it but this is what the assessment say.
"If Nestor has asked if her name is there to be relocated, and they say 'Nestor we are going to repair your house where you are' this is what the assessment say."
This was the response of Minister of Works Montgomery Daniel following a verbal exchange with a resident at a meeting last week Friday, August 20 at the Sandy Bay Primary School.
The meeting was convened with residents of Sandy Bay and other communities in the Red Zone above the Rabacca Dry River to discuss among other matters, the plans of the Government for their return and where needed, relocation.
Following initial statements by the Director of the National Emergency Management Organisation (NEMO) Michelle Forbes, Town Planner Dornette Hull, Minister of Housing Orando Brewster, and Minister Daniel, the assembled residents were invited to view a slide show of the maps showing the newly zoned 'No-build' areas- that is, where residents will not be allowed to live.
With technical issues causing a few hiccups, residents assisted by government officials, attempted to identify their homes on the maps. During this period, the two government ministers were approached by residents seeking information on a number of issues. It was during one of these exchanges that the Minister of Works and Parliamentary Representative became visibly upset.
A female resident was seen to be gesticulating at the Minister who appeared to be explaining something to the woman but she appeared to be not satisfied. At one time she was heard saying "I should be one of them to be relocated. My house get damage."
Although visibly upset the Minister controlled his voice, walked away and headed to the microphone. Upon taking the microphone, he said: "Assessments have been done by public servants. The Ministry of Housing, the Ministry of Transport and Works, and members of NEMO, have been around and made the assessments of all of the houses.
"I told you that there are about 550 or so houses that have been damaged. I told you that 70 of these houses are to be relocated; I do not know who are the seventy. The names are with NEMO, because the assessments would have been done by persons, including those from NEMO."
Minister Daniel added: "You may not like it, but that is what the assessment says. Personally I believe that Nestor should be removed from there, but if the assessment says that Nestor has to remain in the same place, that is the assessment."
He further pointed out that if a resident loves his or her house like he the Minister does, and the assessment says it has to be broken down, it would break your heart but that is what the assessment states.
Clarifying the government's position, Minister Daniel stated: "so understand please, if your name is down for relocation that means you have to move and go somewhere else, that is what you will have to do. If the report says they have to repair where you are that is what it will be. Please understand that. If you have a problem with it, that is what the assessment says."