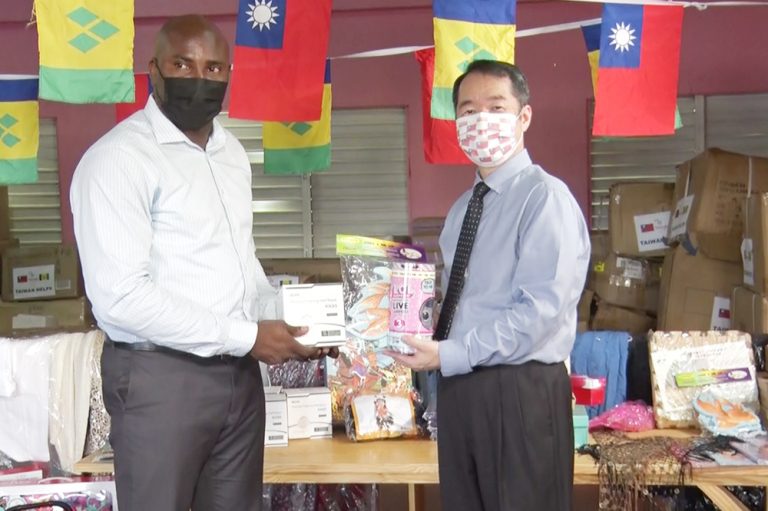 Taiwan Embassy hands over SimpleHelp supplies to SVG
The Embassy of the Republic of China (Taiwan) in St. Vincent and the Grenadines (SVG) handed over to the Government a twenty foot container of supplies worth EC $63 000.
The supplies, courtesy of SimplyHelp, a Los Angeles based non-governmental organisation, and the Tzu Chi Foundation, Taiwan, were handed over at the Redemption Shapes Learning Resource Centre on Thursday July 15, 2021, a release from the Agency for Public Information (API) states. Supplies included clothing, shoes, masks, face shields, toys for children, as well as 10)computers and a generator.
Taiwan's resident Ambassador Calvin Ho, handed over the supplies to the ministries of National Mobilisation and Education, respectively, on behalf of SimplyHelp. Ambassador Ho said he hopes that the donation will help to improve the lives of children here.
Minister of Education Curtis King, accepted the computers and generator on behalf of his ministry. He said the donation was timely given the challenges created by the April 9 volcanic eruptions and the COVID-19 pandemic on the youths of SVG.
Minister of National Mobilisation Orando Brewster,expressed thanks to the government and people of Taiwan for their continued support.
The handing over ceremony coincided with the 40th anniversary of the establishment of diplomatic relations between St. Vincent and the Grenadines and Taiwan on the August 15 1981.