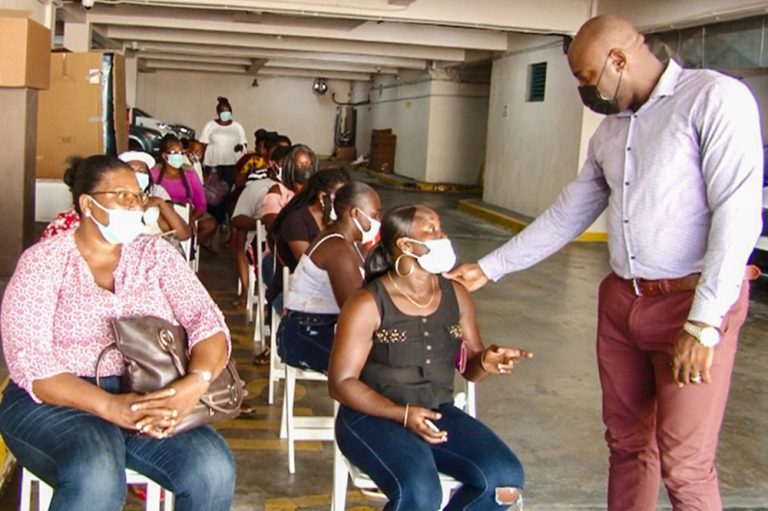 Ministry of National Mobilisation pilots electronic public assistance payment system
The Ministry of National Mobilisation, in conjunction with the United Nations International Children's Emergency Fund (UNICEF) and the Bank of St. Vincent and the Grenadines (BOSVG) have launched a pilot programme for reloadable cards to be distributed to a range of persons receiving public assistance, in an effort to promote a more convenient and efficient service.
According to a release from the Agency for Public Information (API), a total of 500 persons have been selected to be part of this phase that will see each person being issued specific ATM cards that will allow them access to the electronic service to receive their payments.
This service replaces the regular distribution of public assistance payments at various stations throughout the country. The roll-out of the project began on Wednesday, August 11, 2021 and saw the Minister of National Mobilisation, Orando Brewster, and the Director of Social Services Merissa Finch-Burke, being present at the Bank of St. Vincent, Reigate, Kingstown branch to witness the initial process.
Minister Brewster said the project is "historic and ground breaking" in SVG and this step facilitates the transition through the pilot programme. He noted that over the years a number of issues surrounding cash transactions posed some risks, despite the necessary security details in place.
"The world is getting more modernised and I do not want St. Vincent to be left behind," said the minister who also noted that this initiative makes transactions more accessible and convenient.
"It is lifting our services provided as it relates to our social assistance programme throughout the Ministry of National Mobilisation and serves to lessen the gatherings in keeping with the Covid-19 protocols," he said.
Finch – Burke said the families who were indirectly impacted by the eruption of La Soufriere volcano, and were obtaining financial assistance prior to the eruptions were targeted. She explained that these families fall within the indigent margin, where there is little or no employment in the household.
She further pointed out that the programme has several dimensions which require families to participate in one workshop session per week for the next three months within their districts. These life skill sessions encompass four components:
Coping skills development which includes (financial literacy and or money management, loss and lack of income); parenting education; health and hygiene education; and social inclusion education especially in dealing with people who are physically challenged.
Customer Service Manager, at BOSVG Patricia John, said she was quite pleased with the initial launch of the pilot project which allows the bank to increase its digital footprint.
John said, "at the end, the goal is to ensure all parties are satisfied with the product," and ultimately extend the service to the wider public, making it sustainable. She revealed that there are plans to increase the number of ATM machines available and point of sale merchants. The feature of the card mirrors that of the existing card and is user-friendly.