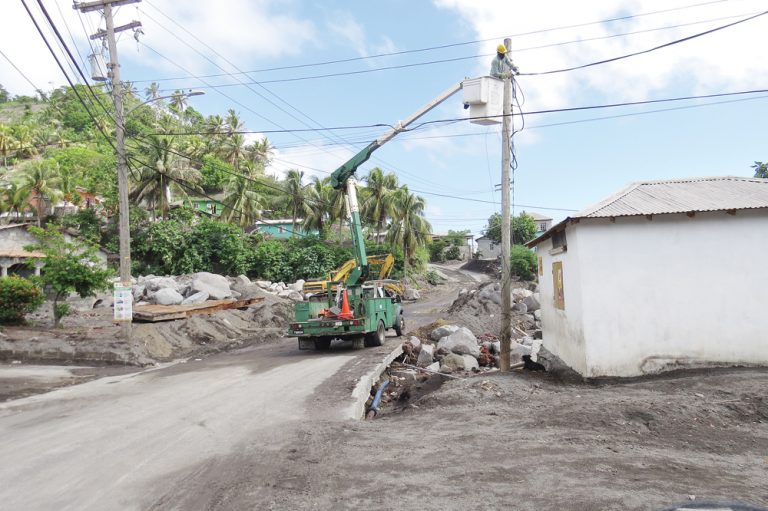 VINLEC restoring power to Fancy this weekend
As residents return to their homes in the designated red zone, they do not have to worry about the provision of electricity to power their homes; that is, once the Electrical Inspectorate has cleared their premises for reconnection.
That's because the St Vincent Electricity Services Limited (VINLEC) as of this week, has completed line restoration work in all communities above the Rabacca Dry River except the northern most village of Fancy.
But, the company's Senior Transmission and Distribution engineer, Ricky Wright, told SEARCHLIGHT that by this weekend electrical power will be fully restored to Fancy, and their teams will complete reconnecting the list of consumers there whose premises have been signed off by the Inspectorate for reconnection.
While the actual volcanic eruptions did minimal damage to the electrical infrastructure in communities north of the Rabacca Dry River, the passage of hurricane Elsa brought down transmission lines and dislodged poles which had to be replaced.
Electricity to these communities went out on the weekend after the explosive eruptions began, but was restored some time later enabling the functioning of telecommunications towers and seismic equipment.
Domestic consumers however, had no service, and there was severe damage to housing infrastructure, first by ash fall and lahars when the rains began and made worse by the hurricane.
Therefore, as is required by law, premises left without electrical power for some time, must be re-inspected before the service is restored and the Government's Electrical Inspectorate officers have been conducting such inspections to enable domestic consumers to resume their lives powered by electricity.
Wright explained that their work teams went back into communities above the dry river to conduct line repairs and replant poles, once the National Emergency Management Organisation (NEMO) advised that it was safe to do so.
"Some roads were washed out and where smaller vehicles could get through the bigger line trucks carrying poles couldn't," but work proceeded painstakingly whenever the conditions were right, and from this weekend, electrical power will again be available to consumers in all communities above the Rabacca Dry River.