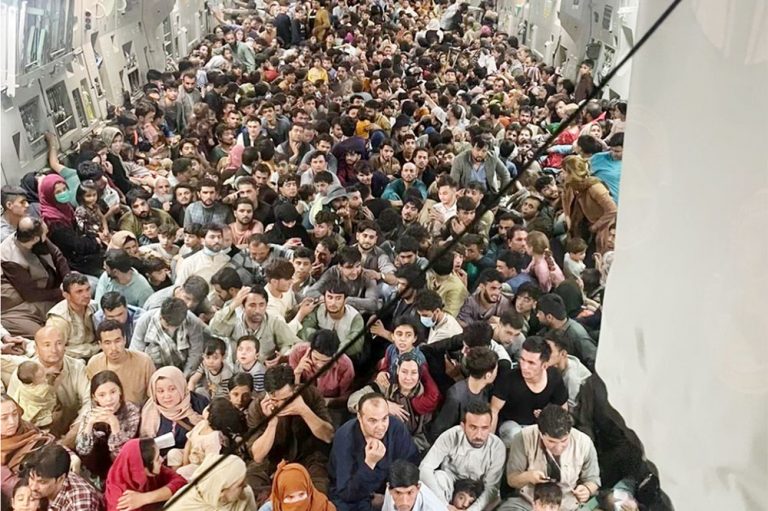 Thousands flee as Taliban takes control of Afghan capital
AN INCREDIBLE IMAGE has emerged showing 640 Afghans cramming onto a US cargo jet as they flee the Taliban which took control of the Afghan capital, Kabul on Sunday.
The harrowing photo showed the desperate crowd packed onto the aircraft after they ran on before the military were able to close the ramps on Sunday.
The unbelievable image shows 640 terrified Afghans on the US cargo jet and what appears to be two of the stowaways falling from a C-17 leaving Kabul.
Afghans were running along side of the C-17 plane preparing to take off and some can be seen clinging onto the wheel bay.
Footage shows the plane taking off with some people clinging the side.
The plane – which is equipped to comfortably fit 150 soldiers or 171,000 lbs of cargo – was rushed by the terrified residents desperate to escape the war-torn country.
The crew on the US Air Force C-17 numbered RCH 871 "made the decision to go" despite the extra passengers, an unnamed defense official said.
It comes after a shocking video that appears to show stowaways falling to their deaths from a transport aircraft taking off from Kabul airport.
The three apparently fell hundreds feet from the C-17 transport plane as thousands of desperate Afghans try get out of the country after the Taliban victory.
The chaos at Kabul Airport has already seen seven people dead with more people clambering over walls to get in.
In a bid to flee what they fear will be a return to the Taliban's brutal rule based on an extreme interpretation of Islam, people raced to the airport in a frantic bid to board a flights.
In chaotic scenes echoing the fall of Saigon at the end of the Vietnam war, petrified men, women and children were filmed trying to get on aircraft after the Taliban stormed the capital.
With civilian flights suspended, many turned US Air Force aircraft to try get out of the country while they were operating.
Other images taken from the ground show stowaways clinging to the plane as it took off.
Sporadic shooting was heard throughout the day and the US military said its forces had shot dead two armed men by the airport security fence after coming under fire.
Civilian flights were
suspended amid the chaos and then the US military which controls the airport – said military flights were halted as they re-established security and clear people from the airport.
Residents of Kabul today woke up to their first day under Taliban rule with reports the hardliners were scouring the city looking for military vehicles.
In the city itself there were reports that Taliban have reportedly begun house-to-house searches with a 'kill list'.
Afghan President Ashraf Ghani said he fled to prevent a flood of bloodshed.