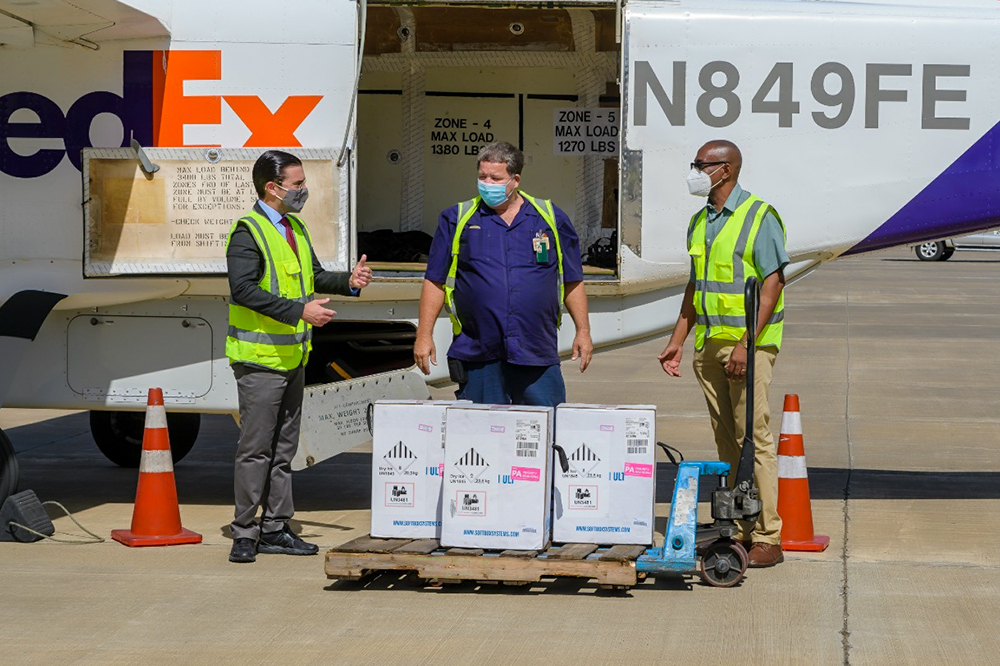 United States Government donates Pfizer vaccines to SVG
VINCENTIAN CHILDREN 12 years and older are now among those eligible to be vaccinated against COVID19 as a result of a donation this week of Pfizer vaccines to St Vincent and the Grenadines.
About 17,500 doses of the Pfizer vaccines, which were donated by the United States Government, arrived at the Argyle International Airport yesterday afternoon. This is the first of several batches that will arrive here in the weeks to come.
"We had the first shipment of what will be a lot more, what will be 105,300 Pfizer doses, which as you know will be enough for the entire population. The good thing about the Pfizer vaccine is that it allows countries to consider inoculating at a younger age. At least in the United States, the FDA has approved the use of the Pfizer vaccine for kids as young as 12," Joe Tordella, counselor for Economic and Political Affairs at the US Embassy to the Eastern Caribbean told SEARCHLIGHT yesterday.
Just hours after the arrival of the vaccines, the Facebook page of the Ministry of Health informed that the administration of the Pfizer vaccine will begin on Saturday and Sunday at six locations: Georgetown Health Centre; Levi Latham Health Complex; Stubbs Polyclinic; Buccament Polyclinic; Community Nursing Services office in Kingstown and the Bequia Health Centre.
The US government's donation is part of the Joe Biden administration's commitment to providing enough vaccines to equitably distribute to countries across the globe.
Tordella said plans are afoot to donate 5.5 million doses of the Pfizer vaccine to CARICOM states and the delivery to SVG this week signals the beginning of this process.
First batches of vaccines were also delivered to Antigua and Barbuda and St Kitts and Nevis yesterday and Barbados will receive its first batch today.
St Lucia is expected to receive vaccines from this donation next week, while SVG is scheduled to receive another batch on Wednesday, August 18.
Dominica and Grenada will also receive vaccines from the 5.5 million doses donation in the coming weeks.
"Part of the Pfizer vaccine, what makes it difficult to distribute up until now is that it takes a very special syringe … that is not widely available, so just to be able to share these Pfizer vaccines, we had to sort out how we would help procure enough … [of] these special syringes and share them with CARICOM so that part of it, that logistical
part of it, we ended up giving CARICOM enough syringes for this Pfizer vaccine out of our national stockpile," Tordella told SEARCHLIGHT.
The US Embassy representative said he believes the donation to countries in the region will allow for there to be a sufficient supply of vaccines for persons who wish to be inoculated.
He noted however that the challenge, in the US and other countries around the world is "to share accurate information with people about the efficacy of these vaccines and answer questions, address legitimate concerns that people have in every country and encourage people to take vaccines because it's the only way we're going to get back to normal".
Tordella noted that in communities that have high vaccination rates in the US, the spread of COVID19, and even of the Delta variant, is low. This is in direct contrast to communities with lower vaccination rates, where a higher rate of spread is recorded.
"…So it's incumbent that all of us try to get accurate information about these vaccines so that people can find the right information and decide to take it," he said.
So far, the US has donated over 110 million vaccines to countries around the world.
The Ministry of Health's notice highlighted that an email with an appointment date and time will be sent to registered persons by today, August 13.
Persons who have not yet registered and are interested in receiving the Pfizer vaccine are asked to call one of the health centres listed to make an appointment.
VIncentians wishing to be inoculated against COVID19 may now choose from among the AstraZeneca, Spu