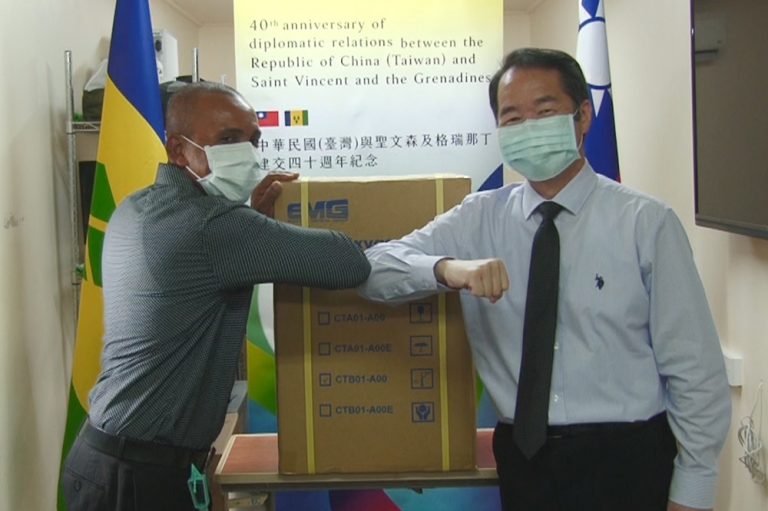 Taiwan donates oxygen concentrators to Ministry of Health
THE MINISTRY of Health Wellness and the Environment on August 9 received a donation of 40 Oxygen Concentrators from the Government of the Republic of China (Taiwan) through its local embassy.
Health minister St. Clair Prince in a statement at the handing over said: "This remarkable relationship between SVG and Taiwan has also contributed significantly to the development of our health sector. The evidence of this co-operation can be clearly seen in Taiwan's strong support for health infrastructure, project development and its annual medical mission."
Both countries are this year marking 40 years of diplomatic relations.
"Our fruitful co-operation and friendship also spans environmental protection, public health and Taiwan's significant resources' contribution to assist SVG to combat Covid-19, while strengthening the national response to the pandemic," the minister added.
A release from the Agency for Public Information states that the Ambassador of Taiwan to St Vincent and the Grenadines (SVG), Calvin Ho said the contribution as allies, is to help solve together the challenges faced by Covid-19, as lung congestion is a main factor of the virus.
Referencing the recent volcanic eruptions, Ambassador Ho said he feels proud about the resilience of the people of St. Vincent and the Grenadines.
Speaking at the handover ceremony, Permanent Secretary in the Ministry of Health, Cuthbert Knights expressed gratitude to the Government and people of Taiwan for their contribution, noting that we should not lose sight of Taiwan's contribution to national development especially to the health sector.
Administrator of the Milton Cato Memorial Hospital, Grace Walters, was present at the ceremony and said the donation received will be used throughout health care centres across SVG to further care for its citizens.