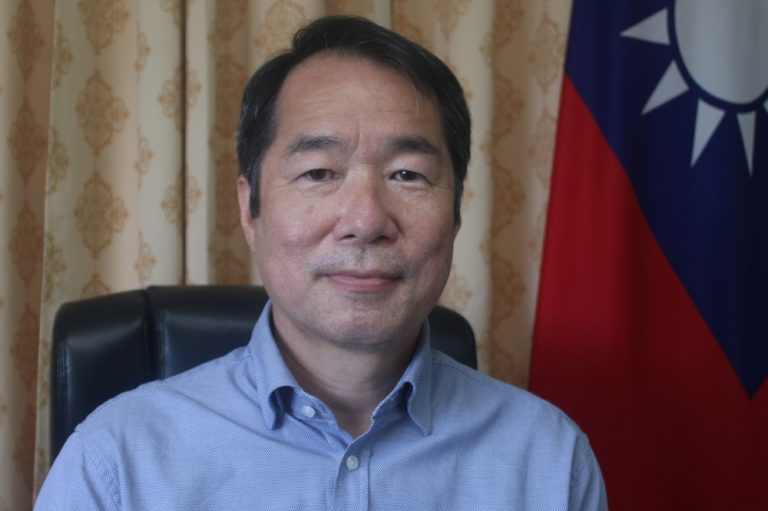 Ambassador Ho expresses gratitude to SVG as he prepares to leave
BY BRIA KING
AMBASSADOR CALVIN Ho, the Republic of China (on Taiwan)'s ambassador to St Vincent and the Grenadines (SVG) will end his tenure here later this month after more than three years.
Ho first arrived in SVG in April 2018. At the ceremony where he presented his credentials, the diplomat expressed hope that his tenure would be a rewarding one.
"I feel so lucky to have worked in this beautiful country for three and a half years…I hope that someday I can come back to visit you and more Vincentian friends can visit Taiwan, visit our region to see that there are friends on the other side of the earth," he said in an exclusive interview with SEARCHLIGHT this week.
The ambassador added that if he regrets anything about his time in SVG, it would be that he "worked here for too short a time".
During his tenure, Ho has experienced several memorable moments; with two of his favourites being the visit of Taiwan's president, Tsai Ing-wen to this country in 2019 and Prime Minister Dr Ralph Gonsalves' visit to Taipei no more than three weeks later, to open SVG's embassy in Taipei.
The diplomat told SEARCHLIGHT that Tsai Ing-wen was the third president from Taiwan to have ever visited SVG.
He said her visit was met with "tremendous hospitality" from the government and people of this archipelagic state.
August 15, 2021 marks the 40th anniversary of bilateral relations between SVG and the Republic of China (Taiwan).
Ho noted that this bilateral relationship has grown exponentially in those four decades and the opening of this country's embassy in Taipei is no doubt a significant milestone.
"So far, your embassy in Taipei has done a great job to enhance our bilateral relations and also your students [who] now study in Taiwan are being well taken care of because you have an embassy there," he said.
Within the last year, the ambassador has experienced multiple challenges faced by SVG, namely the COVID19 pandemic, dengue fever outbreak and the explosive eruptions of La Soufriere volcano.
In his interview with SEARCHLIGHT this week, he commended the government and region for putting together a great team to monitor the volcano.
"How many times, a big volcano eruption like last time can happen in your life? I don't think – for one single individual, maybe one time. At most, maybe two times…," Ho remarked, while adding that technology to monitor volcanic eruptions has developed over the years but the efforts of the government and people to recover from the disaster remains the same.
Having stayed during the natural disaster, he told SEARCHLIGHT that he felt safe and had no need to panic because of how well the situation was managed.
"In general, it was a tremendous good job to me. It's not easy…and no casualties, no one lost their lives in this big disaster. To me, you have done a great job…not many countries can do the job so good as this time you have done…" the ambassador said in his commendation.
He noted that many will be seeking to return to their normal lives and that Taiwan is sure to be a part of these efforts, along with many other allies of SVG.
As he prepares to leave on August 21, the ambassador encouraged young Vincentians to be positive, optimistic and to continue working hard to meet their goals.
He noted that both Taiwan and SVG are island states but it is important for youths to embrace the saying that "the sky's the only limit".
The ambassador said one of his roles here was to provide more opportunities for Vincentians and he is happy that many have taken advantage of the opportunities being offered, some of which can be seen through the increasing number of Vincentians who continue to seek out Taiwan scholarships to pursue higher education.
After 40 years of bilateral relations, Ho said the people of Taiwan and SVG are family.
"I've been enjoying working in this paradise to me, so I want to extend my gratitude to the government, to all the Vincentian friends here for your hospitality, for your kindness, for your support…for our participation in some international organisations. We have had great support from the government and we are really appreciative about that part," he said.
Ho expressed that through the continued relationship between both countries, while staff may come and go the co-operation built over these past four decades will remain.