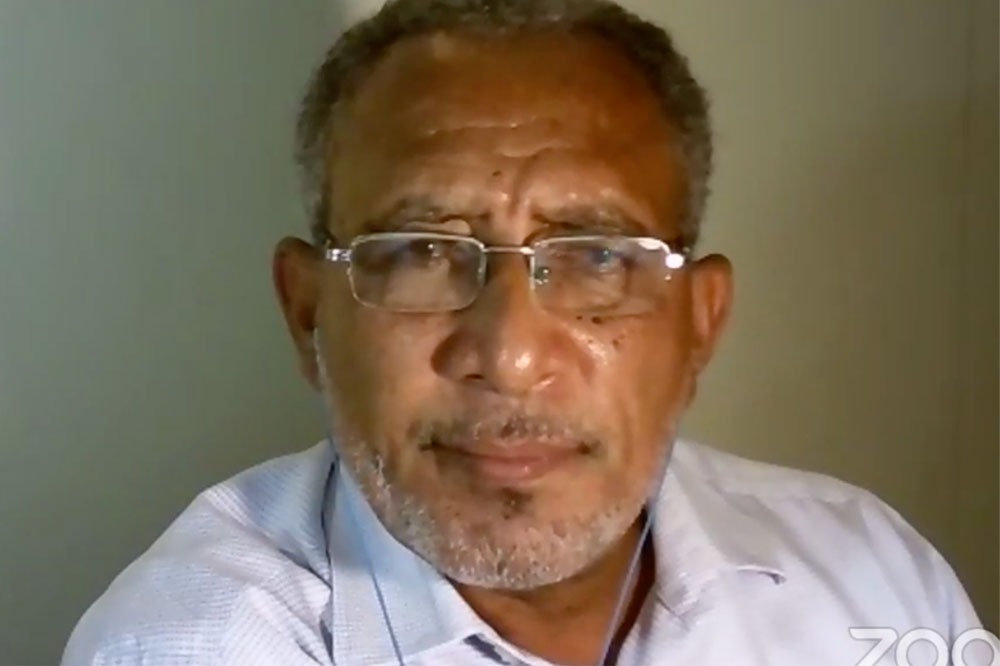 Police raids were intended to intimidate – Friday
Dr Godwin Friday, leader of the opposition New Democratic Party (NDP) says police raids over the weekend are a clear attempt at intimidating persons protesting against issues with the current government.  
On Saturday, armed police conducted searches at several residences on the island. They also visited the homes of several persons and spoke to them without conducting searches.  
The raids came as part of investigations launched into the August 5 wounding of Prime Minister Dr Ralph Gonsalves.  
The PM had to be flown to Barbados for an MRI after he was struck on his head around 5.15 p.m. when a protest on the streets of Kingstown escalated. 
Speaking during a virtual press conference on Saturday night, Dr. Friday said the raids are designed to frighten protesters and Vincentian citizens and nationals who have taken to the streets because they are in disagreement with the government, particularly regarding the amendments that were made to the Public Health Act. 
The opposition leader said that police conducted raids at the homes of  NDP supporters Colin Graham, Luzette King, Robert "Patches" King, Joe Da Silva, Kenson King, Nikeisha Williams (Rise Hairouna), Adrianna King, Igal Adams, Douglas De Freitas (NICE Radio) and businessman Lance Oliver. 
"The only thing that these persons have in common is that they are perceived to be persons who are directly involved in the demonstration in Kingstown last Thursday," Dr. Friday stated.  
He stressed that there is no indication that these persons had committed any offence so to him, it is quite clear that the intention that was signalled from the "top" is that, "they are coming for the people who they perceive in being in the forefront of the demonstration that happen on Thursday." 
Dr. Friday said he thinks more persons' homes would be raided.  
Layou resident Annamay Lewis has pleaded not guilty that on August 5, 2021in Kingstown, she unlawfully and maliciously wounded prime minister Dr. Ralph Gonsalves. She is on EC$3000 bail and returns to court on Wednesday September 15, 2021.  
"What happened today (Saturday) signals a very dangerous course upon which we have embarked, not we but the government, the ULP administration and the police have embarked.  
"What started with 10 persons, there will be more and it is nothing less than an attempt to suppress democracy in this country," the NDP leader said while adding that they have warned persons to be vigilant.
 
He said that democracy is not a giant conifer or a big mango tree but a delicate flower, "that those with big heavy boots are just waiting to stamp upon and to crush beneath their feet and when that is done we all suffer."  
Dr. Friday said that he wants to make it clear that when the NDP calls upon citizens to come out and express their democratic opinion on the streets, they mean for them do so in the best spirit and practice of their democratic tradition and without violence. 
"…and that has been the hallmark of the NDP's public action over the years and it continues to be the way in which we conduct those activities".  
He said going forward, they will continue to call for non-violent protests while he also noting that they reject the violent actions that occurred during last Thursday's demonstration and wish everyone injured speedy recoveries.  
The opposition leader said also that the persons that were on the streets had a right to be there to voice their opinions and all the persons and organisations that took part had legitimate concerns, primarily surrounding the amendments he said were made so that the government can impose mandatory vaccination if they chose to do so. 
"…And that is the only reason you would take out voluntarily and leave it open…people came out, and they had a legitimate right to do so and in a way that elevates and enhance our democracy," Dr. Friday said.  
He said the government has taken away the rights of persons to choose whether or not they want to be vaccinated and that is not right in a democracy.