Posted on
Post-eruption psychosocial support provided through art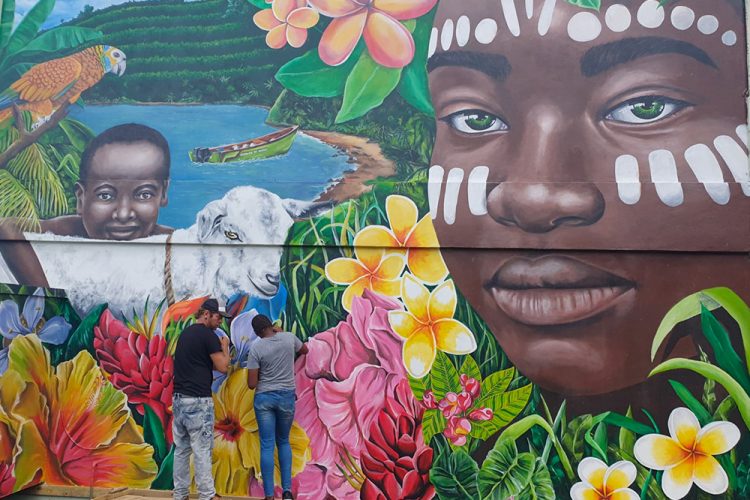 Six murals that stand as a testament to this country's resilience in times of disaster have been unveiled in various communities across St Vincent and the Grenadines (SVG).
The murals, located in Georgetown; North Union; Troumaca; Petit Bordel; Layou and Kingstown, were executed by artists from the Goodness Tour in conjunction with the United Nations Children's Fund (UNICEF), the Ministry of National Mobilisation, Ministry of Tourism, and several local artists.
"It truly is a symbiotic exchange where we all learned and we all worked together. Like it takes a village to create a masterpiece and that's what transpired right here, right now," Benjamin Swatez, the lead artist from the Goodness Tour said at an official unveiling ceremony at Victoria Park on July 16.
The Goodness Tour is an organisation dedicated to bringing music and art experiences to people facing adversity all over the world by travelling to refugee camps, disaster zones and various types of shelters where people are in need of hope and healing.
Following the explosive volcanic eruptions in April, many people were displaced, leaving thousands of people including children and youth, adversely affected in several ways.
The Ministry of National Mobilisation sought to provide psychosocial support to various shelters with the help of UNICEF.
This came in the form of art and music.
Swatez said that approximately 40 art classes were executed on mainland St Vincent where they were able to explore the imagination, expression and intelligence of Vincentian children.
"Among some of the art pieces that were created during the psychosocial support classes that were provided, were compositions of the volcano but inside of the volcano, two people looking at each other and a heart in between them. Children were envisioning and imagining where they get to move to when they leave the shelter and what colour that house might be…" he said, stressing the importance of imagination when it comes to the psychosocial support, well-being and quality of life of humanity.
The lead artist from the Goodness Tour said they did not come with any preconceived ideas of what they would paint on the surfaces of various locations in the selected communities.
Instead, they discussed with community members and involved ministries what they thought was important "to emphasise and celebrate the resilience of this beautiful country and this incredible culture – and it all started with the next generation, the children".
Of the six murals, five of them have depictions of children.
The international artists collaborated with several local artists to create the large-scale murals in the six communities.
Julian 'Pilling' Pollard was among the local artists who participated in the venture.
"After the first mural, I said to Benjamin, this is going to change art forever in St Vincent because what we've seen in each community is a feeling of self-pride coming out for the people because they see themselves reflected on this wall and they recognise it," Pollard said.
The popular artist said local artists have many stories to tell, which some have gotten a chance to do by being able to work on these six murals, that also showcase an amalgamation of different styles and techniques of each artist.
Other local artists involved included Storm Halbich, Leandra Thompson and Shanique Stewart.
Dr Aloys Kamuragiye, UNICEF's representative, joined the July 16 ceremony virtually.
He said that apart from the damage caused to the economy, infrastructure and the environment, it was important for the mental health and psychosocial well-being of children, families and communities to also be prioritised and addressed.
The UNICEF representative outlined several goals which the initiative was able to achieve, one of which was, using creative therapy to offer psychosocial support in a journey to release trauma, break through fear and strife, and bring much needed support to people whose lives were shattered by the destructive impact of the eruption of La Soufriere.
He also said it was able to engage with children and families in the various communities to incite creativity and be empowered throughout the process.
Kamuragiye applauded the collective efforts of the government, its ministries and other national stakeholders who were instrumental in making the initiative a success.
"It will remain as a central memorial in which people can gather and share their stories for generations to come," the UNICEF representative said.