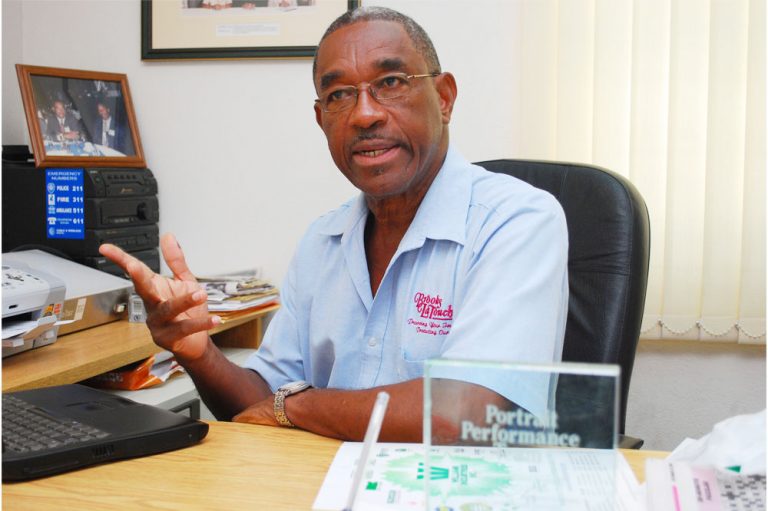 Iconic cricket photographer laid to rest in Barbados
by MIKE KING
FOR THREE DECADES, Gordon Frankshot Delisle Brooks featured panoramas of iconic places like Lord's and the Melbourne Cricket Ground (MCG). Last Thursday at his funeral service at St George Parish Church, his adoring family and friends just wanted one last image of the departed photographer extraordinaire.
Brooks, who brought swagger, style and world-class skills to photography, was remembered by all and sundry as humble, endearing and easy to get along with, whether playing scrabble at home or strolling on the south coast along Miami Beach.
Governor General Dame Sandra Mason, distinguished attorney-at-law Sir Richard Cheltenham, cricket great Sir Wesley Hall, and revered photographer Ronnie Carrington headlined the congregation – at the 100-quota maximum stipulated by the COVID-19 authorities – but there was much more to the pews than big names.
Brooks, who was proud to refer to the Back Ivy in St Michael as his hometown, was a man with a winning smile, and several colleagues from the journalistic profession, members of his Lions Club South, and just plain well-wishers were among those bidding farewell.
Teary-eyed son Randy Brooks, who has taken over the mantle in cricket photography, said his father was an angel and more than a man. He said his father taught him everything he knows.
"He may be gone but his legacy lives on. Thank you for giving me the courage when I didn't know I had it.
"In the eulogy, Dr Makeba Brooks, 41, the youngest of Brooks' three children, said her father was many things to many people.
"He was Gordon, a loving husband to my mother Ira and a loving father, brother, grandfather, and uncle; Mr Brooks, the businessman and photographer extraordinaire; Brooksie, the consummate socialite, scrabble enthusiast and loyal friend, and uncle Gordon, the favourite parental figure to a generation who found a warm welcome, jovial storytelling and solid counsel," she said.
Makeba reminded the congregation that her dad, together with Cyprian La Touche Jr, established Brooks La Touche Photography studio on upper Bay Street in 1971 and helped found the NATIONnewspaper two years later.
She spoke about his long journey and the obstacles he overcame.
"His creation of the studio was no easy feat. He spoke of having to go from one bank to another, requesting a loan to help establish his business. Undaunted, and regardless of the stinging initial disappointments faced, he persisted until he achieved success and the rest is history."
At the age of 15, Gordon Brooks started as a photoengraver at the Barbados Advocate where his father worked. His weekly wage was just $3.
According to Makeba, her father took it in stride.
"This was not a lot of money, even in the 1950s but he did not complain, as he would always say, to quote one of his favourite calypsonians, 'little with content is great gain'."
Gordon Brooks married the late Peggy Blenman in 1963 and had two sons, Enrico and Randy. As a tribute to their enduring friendship, he named his first son after his best friend Enrico Downer.
In a tribute, Downer hailed Brooks as a special person. "He was my best ever friend. Gordon will live forever in my heart. He will live forever through his children and his grandchildren."
Acclaimed journalist Al Gilkes who covered many major assignments with Brooks, recalled that both of them were arrested in Martinique when covering the trial of arms dealer Sydney-Burnett Alleyne.
"We were close friends, who became part of a small group of people who formed the NATION newspaper. Gordon has made a massive contribution to journalism," Gilkes said.
Before a congregation that included former NATION Chief Executive Officer and publisher Vivian-Anne Gittens and Director Wilfred Field, Gilkes said he and Brooks were the team that provided coverage for the NATION of Hurricane David in 1979, and had endured three days without food and water.
Officiating minister Reverend John Rogers hailed Brooks as a colossus in his field. Rogers said that when cricket was a religion in the Caribbean, Brooks "brought the game to life for us".
"He was calm, he was cool and he touched the lives of his fellow human beings in a positive way.
"I pray that young people will learn the story of Gordon Brooks – his humble beginnings and how he pushed forward and claimed his place in the world."