Posted on
Ambassador King gets Kenya's 2nd highest national honour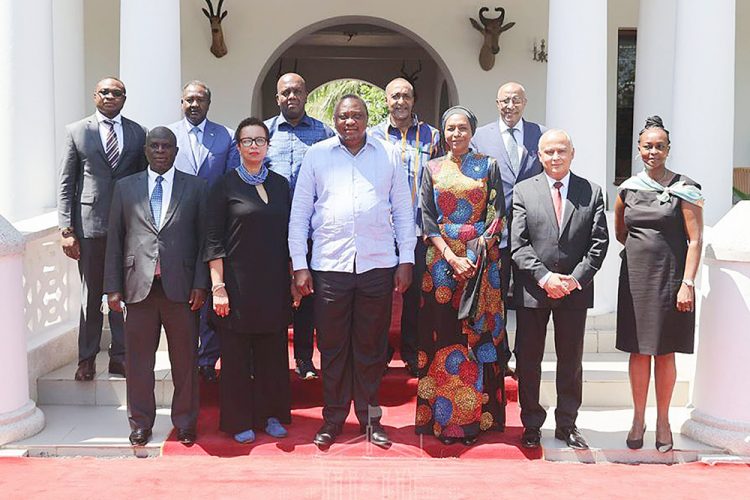 St Vincent and the Grenadines' Permanent Representative (PR) to the United Nations, I. Rhonda King was awarded Kenya's second highest national honour: First Class of The Order of the Burning Spear, by President Uhuru Kenyatta, in a ceremony held in Kenya last Friday, July 23.
While The Order of the Burning Spear is given for distinguished services, the Chief of the Order of the Burning Spear (CBS) is reserved for principal public dignitaries, exemplary members of the public service and other professionals. Ambassador King (CBS) joins a distinguished list of outstanding individuals to have been designated CBS; a list which includes the famous 800 metres Olympic Champion and world record holder, David Rudisha. The only higher national honour in Kenya, Chief of the Order of the Golden Heart (CGH), is reserved for holders of presidential office.
The award was conferred during a diplomatic visit to Kenya, in which King, as Head of the SVG Mission to the United Nations, participated in a retreat as a member of the A3+1 (Kenya, Niger, Tunisia, and Saint Vincent and the Grenadines). The A3+1 is a formulation within the United Nations Security Council (UNSC) for co-operation among the three African countries and St Vincent and the Grenadines. This co-operation is grounded in the principle of  "African solutions for African challenges" and in recognition of the African Diaspora as the sixth region of Africa.
During its campaign for a seat on the UNSC, St Vincent and the Grenadines (SVG) signalled its intention to function as a fourth seat on African issues, and as the voice of CARICOM and GRULAC. In February 2020, the catalyst for formal co-operation as
the A3+1 came when Ambassador King, in her capacity as Permanent Representative of SVG, aligned with the statement delivered by Ambassador Abarry of Niger, on behalf of the A3.
King's leadership, dedication and advocacy, in both her national capacity and as part of the A3+1, were recognised with the conferral of the prestigious honour of The Order of the Burning Spear. Under King's leadership, as an elected member of the UNSC, SVG has consistently pointed to the complex, historical, socio-economic inequalities that produce and maintain conflicts, as well as the need to address root causes of conflict to ensure durable peace and development. This perspective is crucial to conflict resolution in Africa and the Americas; the two regions for A3+1 co-ordination and co-operation in their work as elected members of the UNSC. Ambassador King's award comes in recognition of not only her critical role in shaping the work of the A3+1, but also her overall dedication to a just multilateralism that functions to produce people centred and equitable development for all.