Posted on
Salvation Army gives out more food to the needy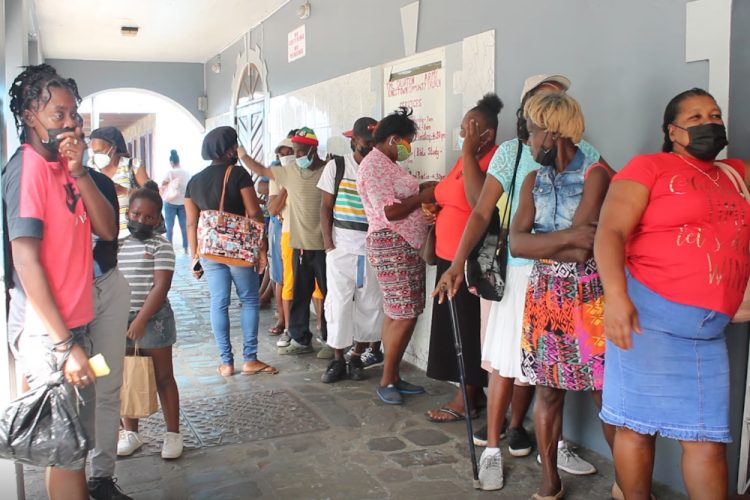 Many Vincentians in need of assistance queued up in front of the Salvation Army headquarters in Kingstown last Friday, patiently waiting for the distribution of food packages to begin.
The Salvation Army prepared 500 parcels to be distributed as part of its thrust to assist the vulnerable in St Vincent and the Grenadines (SVG).
Though it is a frequent practice by the organisation, Major Germaine Gachelin, co-ordinator of the programme, said this is the first time they have handed out tickets for persons to receive packages since the eruption of La Soufriere in April.
"We cook food as well on a daily basis. We see that some of the people that come, they come often also, so we decided to give some of them tickets…we give some with tickets and we prepare a few also for those who don't have tickets," Gachelin said on Friday morning as they prepared to begin handing out packages.
She explained that 200 tickets were handed out for persons to receive parcels but the Army prepared an additional 300 for those who would come without tickets.
Included in the parcels were rice, flour, milk, water, sugar, oats, tuna, tinned sausage and other tinned goods.
"We are happy to serve this community, this country and we are happy that even us also, as a Salvation Army, that we can help in this fashion. We know that it might not be easy to get a lunch everyday so we are trying our best to see how we can help everybody…," Gachelin said.
She also thanked God for the sponsors and donors who continue to donate to the Salvation Army, who can in turn, help the vulnerable persons in SVG.