Posted on
Opposition Leader alleges politics was behind cop's transfer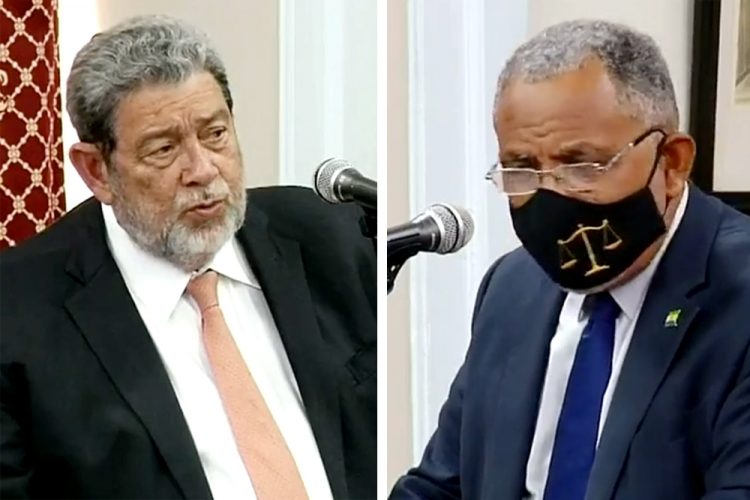 WHILE THE NEW Democratic Party (NDP) is glad that a recording showing soldiers dancing to a Jamaican gangster song is not of Vincentians, the leader of the party, Dr Godwin Friday says the video has pointed to issues locally.
Last Thursday in the House of Assembly, Member of Parliament for Central Kingstown St. Clair "Major" Leacock asked for a break in proceedings so he could share the contents of a video he had received showing people in fatigues dancing to "She love bad man", a song by popular Jamaican artiste Emwah "Skillibeng" Warmington.
Leacock thought the recording was done locally of Vincentian special branch police but later admitted that he was wrong. It turned out that the recording was of Trinidadian soldiers.
Commenting on the issue, opposition leader Dr. Friday said the video, while not local, brought into context an incident which was reported to him, and spoke about a Special Service Unit (SSU) officer being transferred to beat and patrol for allegedly stopping fellow officers from abusing a protestor.
Protests have been taking place in Kingstown for the last few weeks over a number of issues in St Vincent and the Grenadines (SVG). Dr. Friday said he was "glad" to learn that the recording was not of Vincentian origin, but that is not the only matter he was concerned about.
"…and I will raise it here now…because it is exactly germane to the situation…what happened Madame Speaker…I am reliably informed that on Tuesday when we had a demonstration, between the Coreas Building and Building and Loan, there was an incident where I believe there were two black squad officers were seen pushing a protestor dangerously close to the drain and threatening that protestor with injury," Dr. Friday said.
He added, "the person, that democrat, that St. Vincent citizen, who was out there exercising that democratic right, and another officer came and told them 'no, no, no, that is not what you here to do' because he recognized the danger and the unnecessary use of force that was being exhibited."
The opposition leader said he was informed that the SSU officer who stopped the Rapid Response Unit (RRU) or black squad officers, went back to the Central Police Station, or attempted to go back.
"….He was confronted by the Commissioner of Police…I don't know the exact words, from what I'm told, that the police officers were abusing protestors and if he thinks that because his mother calls into Nice Radio regularly and that he comes from Bequia that he could essentially do what he did, and that officer with immediate effect, was transferred from SSU to beat and patrol," Dr. Friday said.
He said further that the SSU officer intervened in the incident, because as a senior officer, he was providing guidance to junior officers, "from injuring somebody unnecessarily, an unarmed person, who was there exercising her democratic rights…" The Opposition Leader said Prime Minister Dr. Ralph Gonsalves, should look into the matter of the alleged transfer.
"I don't understand, that on one hand, you can encourage the professionalism on behalf of the police, and here you have an officer who is exercising his judgment as a senior officer in a situation, and then his actions get colored by the fact that his mother calls in on Nice Radio and that he is from Bequia.
"This is investigated as the truth. If I am wrong, go and investigate it and come and tell me…" Dr. Friday said while responding to crosstalk.
"…And then, to transfer the officer from SSU to beat and patrol, that is not a promotion to me, that is saying you are now marked…your mother does call in on Nice Radio, you are now marked… from SSU to beat and patrol. What is that going to do to that officer?" Dr. Friday questioned.
In response, the Prime Minister (PM)said he was hoping that the House did not get into a discussion on what transpired on Tuesday, July 6, during protest action, as there are several incidents that were drawn to his attention by observers and the police.
"Madame Speaker I would not speak to any of those reports as authoritative other than what I say that I have heard…the conclusion however on Tuesday is that the police acted with extraordinary restraint in all the circumstances and that has come from very responsible persons in civil society, including the churches," the PM said.
Gonsalves, who is the Minister of National Security, said he has received communication on several incidents that happened during the protest, including about a vehicle that allegedly broke down but remained blocking the road for a particular period of time before it was moved.
"…And I understand that certain enquiries of a particular nature are being made…so I can't comment on that either… "…But I will caution Dr. Friday not to accept the word, without more, of a policeman who was transferred by the commissioner from one particular unit of the force to another… I would just caution that…,"Dr. Gonsalves said, adding that he is not going to ask the Commissioner of Police (COP) Collin John about the alleged transfer.