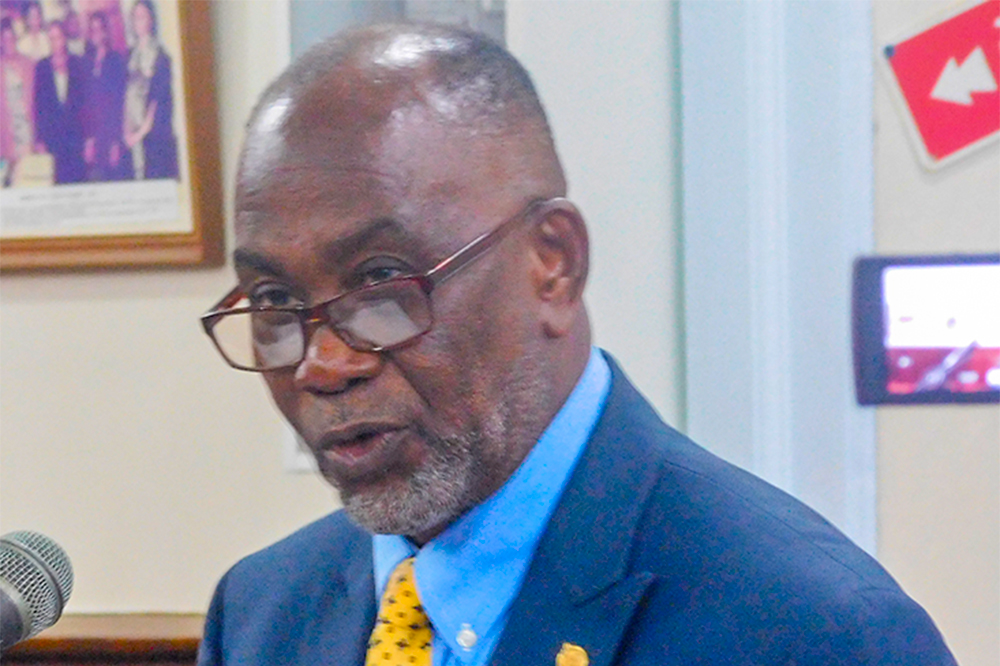 Leacock duped by 'Fake Video' of SSU – Parliament halted
A RECORDING showing Trinidadian soldiers, dancing to a song "She love bad man" by popular Jamaican artiste Emwah "Skillibeng" Warmington, led to a halt in proceedings at the House of Assembly on Thursday July 8.
The recording, currently making the rounds on social media, found itself in the hands of Member of Parliament for Central Kingstown St. Clair "Major" Leacock who thought the video showed local Special Services Unit (SSU) officers.
The parliamentarian was reportedly sent the short video, showing three men, clad in camouflage clothing with helmets and their faces covered while holding machine guns, gyrating to the popular song. The uniforms were similar to the camouflaged clothing used by the SSU officers within the Royal St Vincent and the Grenadines Police Force (RSVGPF).
"Madame Speaker, I rise, I don't know if you would accommodate 81, that gives you special privilege to ask for two or three minutes suspension of the House so I can meet with you for consultation for what I consider to be a matter of important public interest, two minutes of your time.," Leacock requested.
"I have never done it before in 20 years here, but I am just asking for consideration," Leacock asked of the Speaker of the House of Assembly, Rochelle Forde.
Speaker Forde suspended the sitting and Prime Minister Dr. Ralph Gonsalves, leader of the opposition Dr. Godwin Friday and Leacock went to the Speaker's chambers.
On return, PM Gonsalves explained, "for all the transparency that is required" that Leacock thought the video showed Vincentians and was concerned about it.
"…He produced a video…which was sent to him, purportedly showing paramilitary, SSU persons, with particular devices in their hands and wining as though they were in a Michael Jackson video, and which didn't look professional to me at all," Gonsalves told the House.
The PM said he called Commissioner of Police (COP) Collin John, as he (PM Gonsalves) accepted what Leacock was saying.
"I told the honourable leader of the opposition and the honourable member for Central Kingstown and the Speaker…I can't discuss with the Commissioner what is his level of assessment of the risks and whatever kind of equipment which would be required, but as soon as I left I asked one of my security persons… "I called the Commissioner and said it was unprofessional for persons to be there who supposed to be protecting the public and protecting the peaceful protesters that they can't be wining as though is a disco, but a senior security member on my team said 'no, no, no, no, is this the video? And he said no, this is not St. Vincent, this is not out there, these uniforms are of
Trinidadians and this happen in Trinidad, this happen there'…" Gonsalves said.
Gonsalves said he told Dr. Friday, and Leacock and the recording was rechecked by Leacock who accepted that the video was not filmed locally but in Trinidad and Tobago (T&T).
"…So all's well that ends well…I was shocked to see that three paramilitary persons, they wining as though they in a Michael Jackson disco, you know. But it turned out not to be the case, so all's well that ends well," Gonsalves added.
"I am grateful to the honourable member for Central Kingstown for raising it…," the Prime Minister said while adding that he is certain that if Leacock knew the persons in the video were from T& T, he would not have bothered.
"What it highlights, is that a lot of mischief is being sown on social media and people have to just be very careful," Gonsalves stressed. He said that other things were discussed during the break but they were not relevant to the issue over which Leacock asked for the suspension by calling it "an urgent public issue".
In response, Dr. Friday thanked the Speaker for entertaining the request for a pause.
"When I saw the video, I was perturbed and upset and immediately I thought of the context in which this was happening.
"…And having seen what transpired among some of the security personnel on Tuesday, and the broader context of the demonstration, the protest that have been taking place, and the attitude that had been displayed by some law enforcement, not all…it laid a context for plausibility and belief in the video…" Dr. Friday said.
The protests referred to by Dr. Friday were those that have been taking place over a number of issues in St Vincent and the Grenadines (SVG) since May, and organised by various groups.
However, last week, the NDP took centre stage at two of the protests (Tuesday and Thursday), encouraging people to come out and support the fight for justice and democracy.