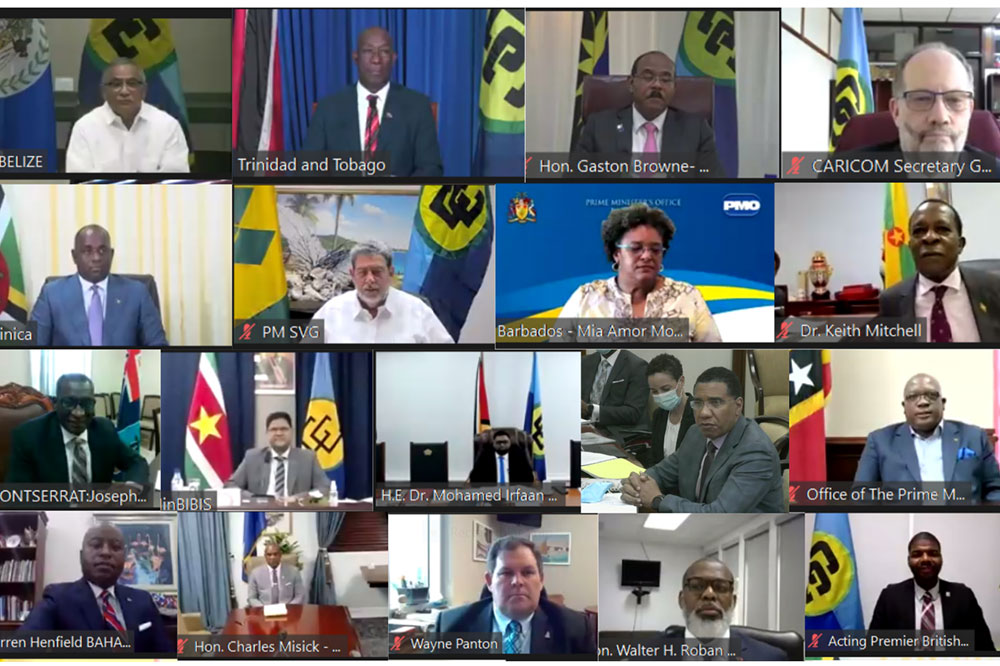 PM lauds importance of CARICOM
PRIME MINISTER Dr Ralph Gonsalves cites deepening trade and economic integration as integral to a more prosperous Caribbean Prime Minister Dr. Ralph Gonsalves has pointed to the ties that bind the region, and which predisposes it to come together as a single region in a world that is otherwise hostile to small island states.
Speaking at the CARICOM Flag Raising Ceremony on Monday, July 5 outside the Treasury Building, Dr. Gonsalves said there are two sets of factors which conspire the countries of the region to integrate. He said there are some which predispose the countries to integration and others which induce them for integration, a release from the Agency for Public Information (API) states.
"Those which predispose us are evident in our history and our geography, and those which induce us are those which essentially compel us to come together to function as a multiplicity of small states in a global community which is hostile for small island developing countries", Dr. Gonsalves said.
The Prime Minister said CARICOM has four essential pillars of integration.
They are functional co-operation, which is seen in a diverse range of areas such as education, health, human and social development and many specific institutions created within the ambit of CARICOM for the carrying out of these aspects of functional co-operation.
He noted that there is the critical pillar of deepening trade and economic integration which are the foundation to a more prosperous Caribbean.
The third pillar, he said, is the co-ordination of foreign policy which is the way in which we relate to the external world to enhance our capacity to get enhanced benefits for our people in our interrelationship with the global community; and the fourth pillar is the important one of security.
Dr. Gonsalves said St. Vincent and the Grenadines( SVG) has benefited immensely from CARICOM. He underscored the importance of the enhanced co-operation in CARICOM with the issuance of the CARICOM passport.
"The passport you have, though it is issued by St. Vincent and the Grenadines, it is a CARICOM passport and it signifies to the world that you are a part of something larger than St. Vincent and the Grenadines, don't take that for granted," the Prime Minister urged.
He added that the CARICOM passport allows Vincentians guaranteed entry into other CARICOM countries unless there is a national security issue.
"You don't need to go to any CARICOM country and worry about you not getting into any of those CARICOM countries," Dr. Gonsalves said; "The only reason anybody can stop you from going from here to Grenada or Jamaica, is if there is a national security problem, that is to say, you are some kind of hardened criminal or terrorist and they have you on a watch list and they wouldn't allow you to go in there to create problems."
He pointed out that by virtue of the ruling by the Caribbean Court of Justice (CCJ) in the Shaniqie Myrie case, the immigration officers must explain explicitly to the CARICOM passport holder why they are stopping the individual from entering the country.
Gonsalves noted that CARICOM nationals can also be denied entry into another CARICOM country on the grounds of being a charge on the receiving state which means they do not have adequate finance or someone to take care of them financially in the receiving country. He also noted that Vincentians are able to reside and work in other CARICOM countries using the Skilled National Worker Certificate.