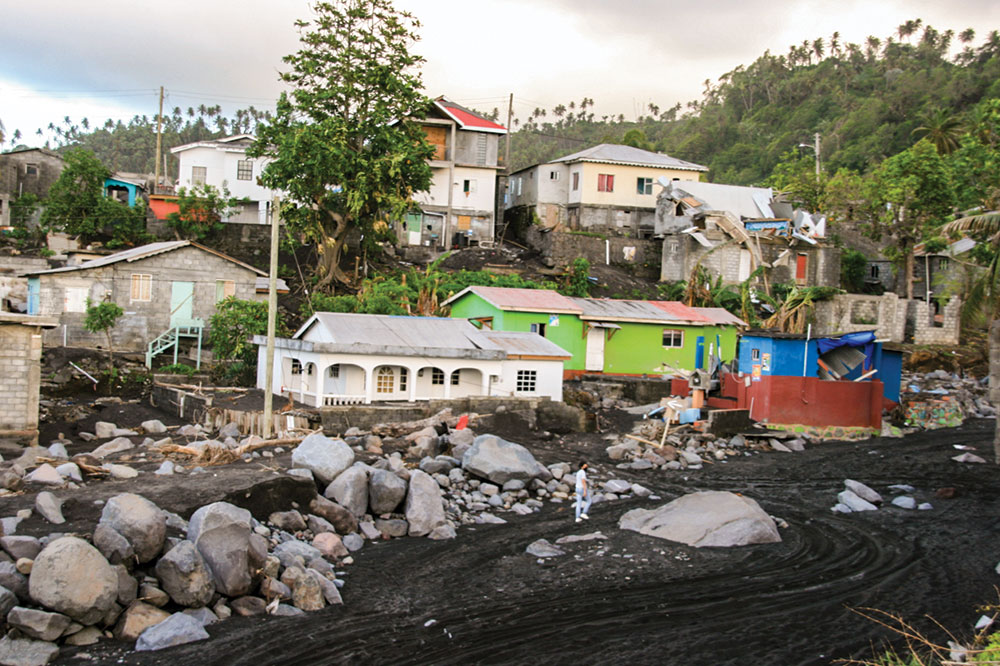 Hurricane Elsa creates more dismay for some in SVG
by: KATHERINE RENTON
The full force of Hurricane Elsa blew across the already ravaged north of the island last Friday, and while destruction was the order of the day, it just served to add to an already dismal situation.
What was expected to be Tropical Storm Elsa was upgraded to a hurricane before making landfall on Friday morning, with sustained winds of 75mph and above.
A situation report from the National Emergency Management Organisation (NEMO) released shortly after the danger had passed, indicated that 43 homes sustained roof damage . Notably, police stations in Sandy Bay, Georgetown and Owia sustained damage as well.
While shelters are already housing 2000 evacuees from La Soufrière's April eruptions, ahead of the approaching storm, 11 shelters were activated on the mainland and two on Bequia.
Some 98 persons were accommodated at shelters. At the time of going to press, 10 persons from varying locations across the mainland remained in two of these.
Residents from the red zone on the volcanic hazard map have yet not been given the all clear to return, but those who remain are doing so under very challenging circumstances.
They have no electricity and pipe borne water, and food is a scarcity. Getting in and out of the area is on foot or with the use of
four-wheel drive vehicles.
Despite this, many persons have returned to areas North of the Dry River, especially given the volcano's sustained relative quietude.
Although she was one of those people to return, 25-year-old Alana Ballantyne of Sandy Bay chose not to stick around to experience the Hurricane. Looking over a vast area of fine debris and boulders brought down by the rains, Ballantyne told SEARCHLIGHT on Sunday, July 4 that "It was okay until the day the Hurricane happened. When the Hurricane happened I had to go back down again, then I came back up yesterday."
She explained that with Hurricane Tomas," I was home in my bedroom when the roof fly off… and I thought it was going with me because it lock the door and I couldn't pass there at all."
She said her house held up despite the Hurricane force winds, but said if the winds had been a little stronger "it would have carried the roof" because of cracks in the house that are visible from inside.
Through these cracks the rainwater gains entry to her home.
Also contending with leakage and wind as the Hurricane blew over, was Felix Baptiste-Toppin of Sandy Bay, who had to nail galvanise over his louvers and enlist the help of some "strong men" to help him tie down his house roof.
Farmer Thomas Sutherland, a resident from Sandy Bay who never left during the volcanic explosions, said everything considered, "As it is there, the poor man right now there is in trouble, honestly, and I'm saying the poor man in everywhere – Leeward and Country – in trouble, because what happen there now, it will take some time before they can have something even to eat, because the last moment there I face is like the wind blew down every plantain tree, every grindy tree, every banana tree, you name it."
He added: "A lot of my avocado tree, we say Zaboca, is on the ground. As usual, breadfruit limbs or whatever x-amount." There is a shortage of food in the area, making these trees more important.
Fifty-six-year-old Edwin Hendrickson, better known as 'Rock Eye', decided not to leave his home to flee the active volcano, and stayed put for the Hurricane as well.
"…The Hurricane is real plenty wind, a lotta rain, I was upstairs there, and the roof was shaking, shaking," he described.
However, the eruptions were more intimidating for him, "…the wind ain blow for too long, just a few hours blowing and stay, blow and stay…"
Seventy-five-year-old John Cordice from Overland noted that Friday "…was a tragic day because there's a lot of wind, rain, house roofs blow off and what's not, but God is good."
On whether he was scared throughout the ordeal, the older gentleman explained, "…You must get scared, there is a serious thing – There is a weather so you must have to be frightened."
Nonetheless, his house did not sustain any damage from Elsa, but had been damaged by the volcanic eruptions.