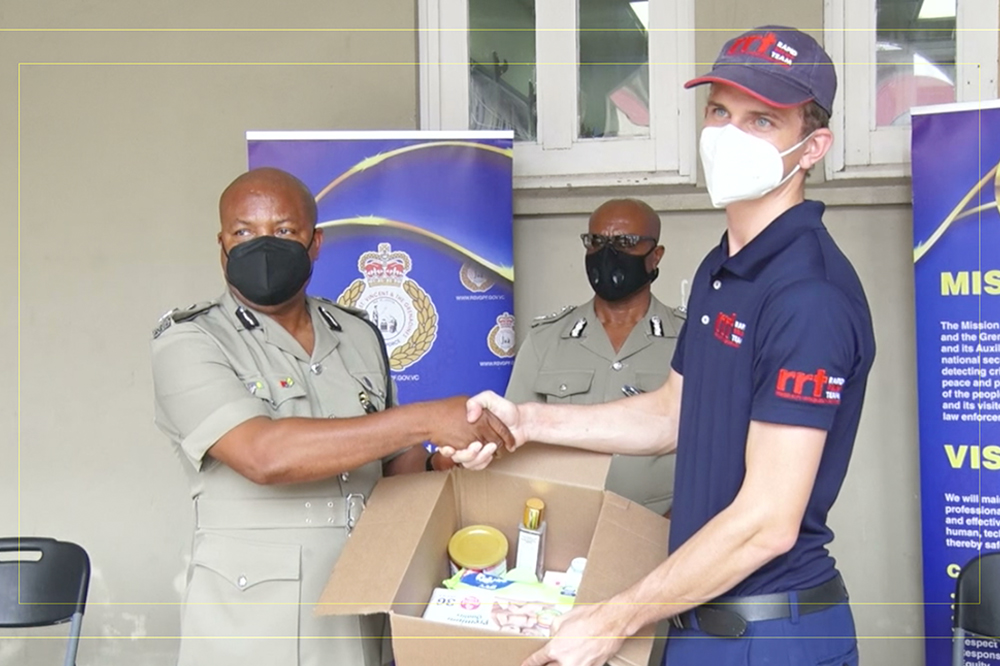 Police Force receives essential boxes
THE ROYAL St Vincent and the Grenadines Police Force (RSVGPF) has received another donation of essential food and other supplies, this time from the Rapid Relief Team (RRT), a not-for profit organisation.
The RRT handed over 35 boxes to the RSVGPF, on June 23, at a ceremony at the Central Police Station, Kingstown, 25 of which contained food essentials, and 10 contained baby essential kits These are to be distributed to persons who were affected by the explosive eruptions of La Soufriere volcano, a release from the Agency for Public Information stated.
RRT's local team leader, Kenley Ward, said at the handing over ceremony, that his organisation is a Christian-based organisation which expresses care and compassion by giving to persons in need. Ward also said that since the initial eruption of the volcano, his organisation has provided sixteen thousand two hundred and thirty-eight (16238) food boxes, and fourteen thousand of bottled water to the people of St. Vincent and the Grenadines (SVG). He noted that his organisation choose the RSVGPF because they are the first to interact with people when there is a crisis.
Commissioner of Police, Colin John, thanked the group for using the police force as a conduit, and also said that this is
the way the Rapid Relief Team (RT) is ensuring that persons who are affected by the volcanic eruption are given some sort of comfort and some level of support. Commissioner John also mentioned that in making such donation, the church is fulfilling its purpose to the communities here in St. Vincent and the Grenadines.
The commissioner further said that the RSVGPF, being the interface between the RRT and the communities, will help to enhance the relationship between his organisation and the public.
Also present at the hand over ceremony were Deputy Commissioner, Frankie Joseph, and Deputy Public Relations Officer for the RSVGPF Sgt. Cornelius Ross.