Posted on
Lawyer displeased with number, nature of charges against accused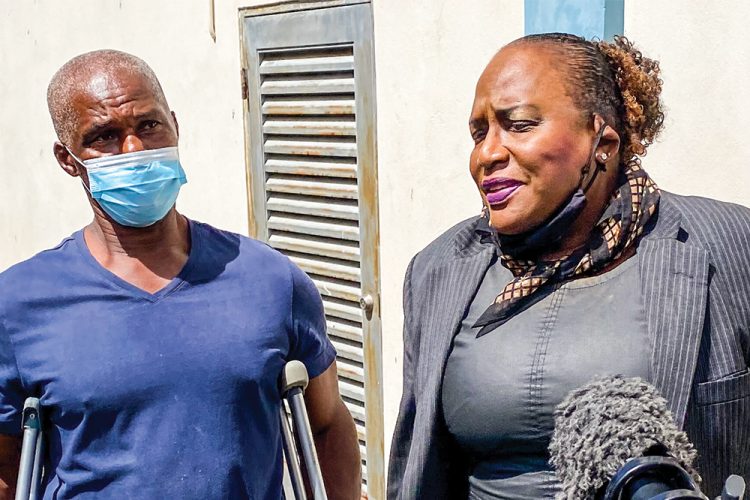 Veteran lawyer Kay Bacchus-Baptiste disagrees with the number and nature of the charges brought against Assistant Deputy of Public Prosecutions (DPP), Karim Nelson, and Senator of the Unity Labour Party(ULP), Ashelle Morgan.
 
 Bacchus-Baptiste is representing Diamond businessman Cornelius John, who is nursing an injury to his leg that he said is a gunshot wound inflicted by one person in a group of three who approached him on his property on April 13.
John has also alleged that on this day the Senator, who was part of the group, pointed a firearm at his head and threatened to shoot him in the mouth.  
  As at last Friday, the two public figures had both been charged for alleged offences surrounding the April 13, incident at Diamond. Morgan is charged with assault with intent to commit the offence of wounding; while Nelson is facing unlawful and malicious wounding, and unlawful discharge of a firearm charges.  
 Bacchus-Baptiste's client is himself, due to cross complaints made by Nelson and Morgan, facing charges of use of threatening language: in two cases towards his wife, Nicole John; and in one case, to the senator.  
 "He has totally denied issuing any threats…" Bacchus-Baptiste stated, and her client, standing next to her on crutches, also admitted to the media that he was surprised by the charges.  
 "I am so disgusted that an (alleged) offence so great as shooting a man in his own yard and breaking his leg, can only be slapped with one charge for Ashelle, and two for Karim, a summary trial," the counsel contended.  
 "In all my years of practice, these sort of charges should be more serious charges, should be indictable before Judge and jury (at the High Court, as opposed to the magistrate's)." 
 In an often repeated statement, echoed while the public keeps a keen eye on these proceedings, the lawyer noted: "You can't have one level of justice for some persons and another level for another." 
 "…They have put it summary, the charges, at the magistrate's court in Calliaqua, and he (John) is in the same level, his matter has been transferred to the magistrate's court in Calliaqua," Bacchus-Baptiste said.  
 She found this "against all principles and rules of justice", and added, "I cannot see how the application of the prosecutorial code could justify those minor charges and his charge, to be almost in the same category." 
Bacchus-Baptiste also noted that she is accustomed to prosecution laying out "all" the conceivable charges for similar incidents.  
 The lawyer is also wondering what the authorities are alleging the senator assaulted her client with, because her client's report to the police alleged that it was done with a firearm, and the counsel had previously questioned whether Morgan has a license for a firearm. 
 At another point in her comments to the media outside the courtroom on Friday, June 25, Bacchus-Baptiste reiterated, "They did not bring the charge that would be difficult to get away from, the criminal trespass, that's what started everything…." 
She also commented, "It is clear to me they are throwing Karim to the dogs, and if I was Karim I would not use the same lawyer to defend me as she is using."  
 Experienced attorney Ronald Marks, is the counsel for both Morgan and Nelson. 
A charge they did not bring, the attorney pointed out, is one against her client for "doing anything" to Nelson.
 
 Her stance is that "…they just could not bring a charge for any cutlass. There was no cutlass there. So we are left with these little charges about threatening language."  
 Another point of concern for them is the yet unknown identity of a third person said to have been on the scene.
 
 The counsel said that "We are not going to rest until we know who the third person is." 
 Further, they will ask for it to be revealed, even if the way the charges are laid, it may not be included in the disclosure of documents to the defense.  
"There's case law to back it up, and if I have to take this matter all the way up to the High Court, Court of Appeal, wherever, we will get the identity of that third person," the counsel said.
 
 When asked whether she is confident her client will be acquitted on the charges brought against him, the lawyer replied that she was".
John, who had just returned from a doctor's appointment to check on his injured leg, revealed that he was very tired, "hopping around", on the crutches and "…It tired out all the muscles in my body".  
 The farmer, who is also engaged in making blocks, balusters and pre-cast columns, said his business is closed at present.