Posted on
Small group of protesters show up for high profile case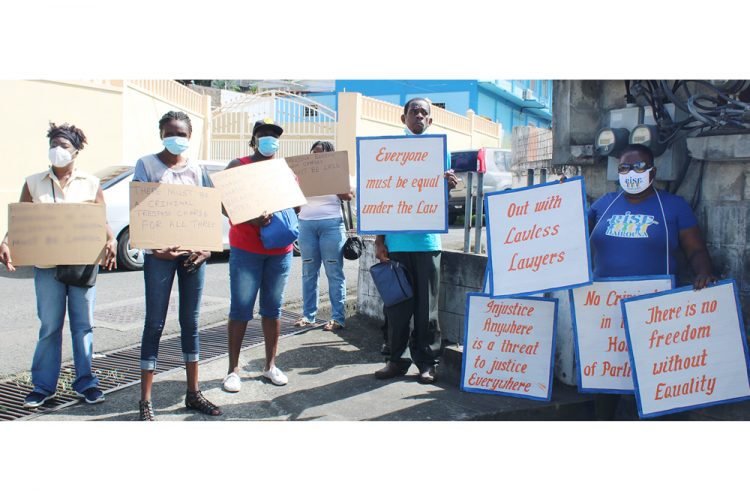 DESPITE Ashelle Morgan and Karim Nelson being arraigned at the Serious Offences Court (SOC) on the morning of June 25, a small group held placards outside the building demanding that other charges be laid against them.
"There must be a criminal trespass charge for all three," one sign submitted.
However, Unity Labour Party (ULP) Senator Ashelle Morgan and Assistant Director of Public Prosecutions (DPP) Karim Nelson had already appeared before Chief Magistrate, Rechanne Browne soon after 9 am, and left the compound shortly afterwards.
Represented by Counsel Ronald Marks, the defendants were read charges, and entered 'Not Guilty' pleas.
Morgan, a Diamond resident, is accused that she, on April 13, at Diamond, assaulted Cornelius John of Diamond with intent to commit the offence of wounding.
Nelson, of Calder Ridge is charged that on the same date, and in the same place, he unlawfully and maliciously wounded John, as well as unlawfully discharged a firearm at him.
The Calder Ridge resident was allowed composite bail in the sum of $10,000 with one surety, and he is to have no contact with John. He is to surrender all travel documents, and stop ordered placed at all ports of entry and exit.
Morgan was allowed bail in the sum of $2000, with one surety.
Both defendants will next appear in the Calliaqua Magistrate's Court on July 5, where the matters were transferred to, based on the district the alleged offences occurred.
John appeared in court shortly after, having come from seeing the doctor about his injured leg. He received three charges that, on April 13, at Diamond, in circumstances likely to cause a breach of the peace, using threatening language.
He is alleged to have said to his wife, Nicole John, on this date, "You want me to get a machine gun and kill you and your grandchildren and children and take alyo out", and that he would chop off her neck, sacrifice her head and blood to the devil along with him and her children.
Another charge reads that he threatened Morgan that he "had grenades and machine guns" and that she should not get in his way, or he will kill her and his wife.
John, represented by lawyer Kay Bacchus-Baptiste, entered 'Not Guilty' pleas to the charges, and was granted bail in the sum
of $2500, in his own recognizance.
He too is to appear in the Calliaqua Magistrate's Court on July 5.
The Director of Public Prosecutions( DPP), Sejilla McDowall, was present to represent the crown.
In a release issued June 24, McDowall stated that she had advised for those charges to be laid.
"I reason that the justice of the situation demands that the following matters are ventilated in a court of law as there are conflicting facts. Given my assessment of the facts and circumstances, applying legal principles and the Code for Prosecutors, I advised the Commissioner of Police…", she wrote. Much attention has been on the progress of the investigation that the police were conducting surrounding the alleged April 13 incident, especially because two individuals, considered to be high profile, were named as being involved in some manner.
The allegation that John, a businessman, is making, is that he was shot, beaten and threatened.
John said that Senator Morgan was one of three persons present during the incident, but he does not know the identity of the person who shot him.
While Nelson had been named as a person of interest, the third person present on the scene has not come to light.