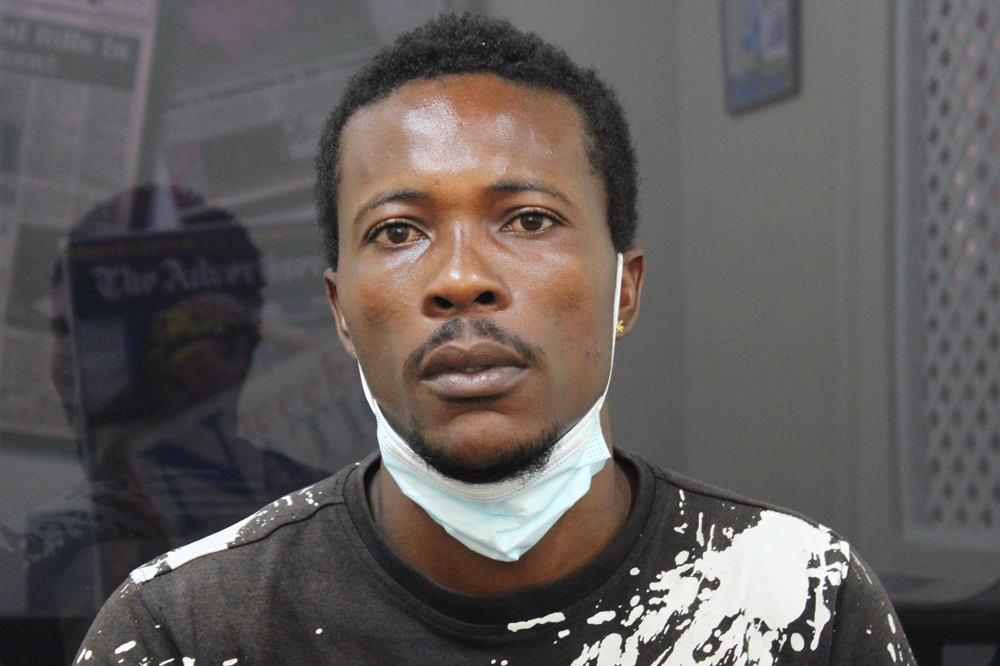 Man alleges that police wrongfully shot his friend
A young man is claiming that he and his friend were confronted by 'black squad' officers last Saturday, in a one-sided assault that left one of them shot four times in his legs.
Bally Alexander of Victoria Village/Stubbs remained in hospital on Wednesday, June 23, with a circular wound visible on his right leg, and his left leg mostly wrapped in material that was meant to staunch the blood that still oozed from his wounds. His left leg was visibly swollen, and he was emotionally distraught as he spoke with his friends.
During the time that SEARCHLIGHT visited Alexander, he was also visited by friends/relatives/acquaintances.
While the media spoke with Alexander during visiting hours at the Milton Cato Memorial Hospital(MCMH), an officer seated some distance away from Alexander's bed approached towards the end of the interview. The officer demanded that the recorded interview be deleted.  
Alexander's account of what happened on that Saturday was basically similar to the one his friend told SEARCHLIGHT earlier that day.
Alexander claimed that they returned from 'the bush', and were travelling when they saw what they recognised were police. Alexander admitted to having Marijuana on his person in a bag. They attempted to avoid the police by going towards the bayside, but saw in a distance that someone they believed to be an officer had cut them off. Alexander alleged that he took off a bag and threw it into the ocean. The supposed officers that he said were "black squad" officers shot him with a gun that he claimed was an M4 Rifle, and then changed "setting" so that more bullets would be fired, as he rolled away. He was placed in a vehicle, apparently not by the officers, and his right leg began shaking. He couldn't put any pressure on his other leg.
His friend Jerry Clarke, who is from Owia but staying in a shelter, said they went to Owia to help his mother-in-law clean ash from the yard. He said they decided to go "bush" for a little "smokes"(that were buried).
"…Me give the man e little smokes. On we way down now, coming home, the Black Squad Officer dem ah search, but we done see them before, so we walk on the bay side now," he said.
However, he said that the officers ended up coming down to the beach and cutting them off.
"So we done see them on the beach so we done throw wey the likkle smokes wey we had inside the seawater…" Clarke recalled.
"When we do so now, check weself, the police officer dem, we done walk in dem already so can't do nuttin else more than say we surrender."
"We say we surrender and one ah the police officer now done pelt off ah shot over e youngster head, and end now and run down pon we, and geh we ah kick we up and start to stamp on the ground," Clarke alleged.
Their next move was to ask their names, and then continue to beat them, Clarke claimed.
"…the officer tek e gun now, rest e now pon the guy foot, the nuzzle of the gun, and shoot the youth man in e foot," he said. He too supposes that the gun used was an M4 Rifle.
Apparently, the police then drew back and shot multiple times again.
"Ah hospital me now come from fuh go see him there because me feel real disappointed you know that me tek e man home, and carry the man out there fuh just fuh mek a dollar, and still they have the man as if the man ah this criminal. You have to have sympathy with people pickney too. You understand way me ah try- cah you coulda deal with all we different," 32-year-old Clarke said.
"Me consider meself me dead that night dey you know, my mother dey home and hear all them shot there when them shot they ah pelt ah know…" he also said.
"No they want it in mind bin for kill the youngster because the youngster name ah call in certain activities…which the youngster not that type of person," Clarke claimed.
Up to the time of going to press time, the Police Public Relations and Complaints Department of the Royal St Vincent and the Grenadines Police Force (RSVGPF) had no information about an incident dealing with Alexander and Clarke. They said they would do a follow-up on this.
Meanwhile, Alexander has been discharged from the MCMH. On Wednesday, he said he hadn't been charged with anything.
Clarke claimed he himself was taken into custody over the weekend and released without charge on Monday. This too was not confirmed by the police.