Posted on
AVCA donates relief resources to 23 pastors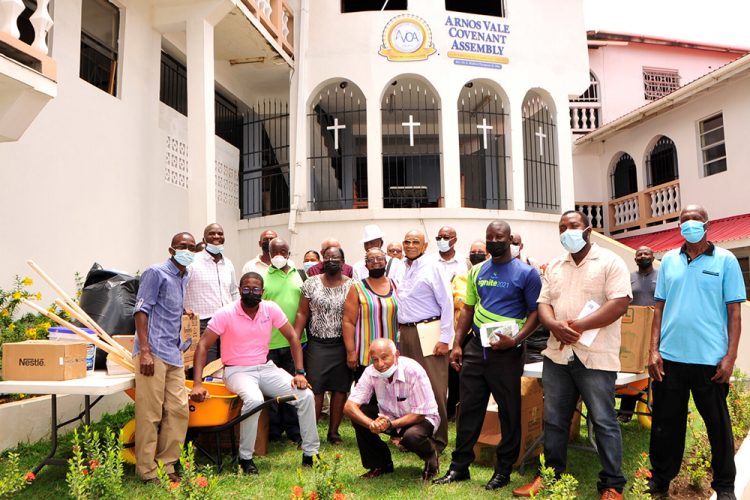 "This morning we have committed over $100,000.00 in cash and in kind to the pastors so that they could go out throughout St Vincent to do the work in the name of Christ."
So said Pastor Dr Walford Thompson of the Arnos Vale Covenant Assembly (AVCA), as he spoke on Friday, June 18 at the handing over ceremony of cash and supplies as part of his church's contribution to the relief and recovery effort in St Vincent and the Grenadines following the eruptions of La Soufriere.
The cheques and supplies were handed to 23 pastors, who would then distribute the money and items to distressed people in the orange zone and to assist in the cleanup efforts.
Speaking to SEARCHLIGHT, Dr Thompson, the Senior Pastor of the AVCA stated: "We are a church not only committed to preach the Gospel to tell the people how to get to heaven from here, but by the grace of GOD and through His resources, to address the social needs of persons as well."
Since the eruption of the volcano, he said that AVCA has been concentrating on providing food stuff and cash to those persons living in private shelters.
"We are serving more than 90 of those shelters across St Vincent," Thompson said.
"We have called a group of pastors together, selected from different denominations, all over the country. We are giving them cash and supplies that they may need not only to bless the people in the community, but also equipment to facilitate the clearing up of the sand (volcanic ash).
"We will continue to work with them when we get into the recovery phase. We will be repairing churches, homes of pastors, home of persons, and even build a home or two. GOD has blessed this church in an amazing way," the seasoned pastor said.
"We are not competing with government; we are supplementing what they are doing, for we are serving Christ for the glory and honour of His Name.
"We are serving all people – Christians and non-Christians, people of different political persuasions, and different denominational persuasions as well. All are welcome to participate with us."