Posted on
Local artistes produce 'Disaster Anthem'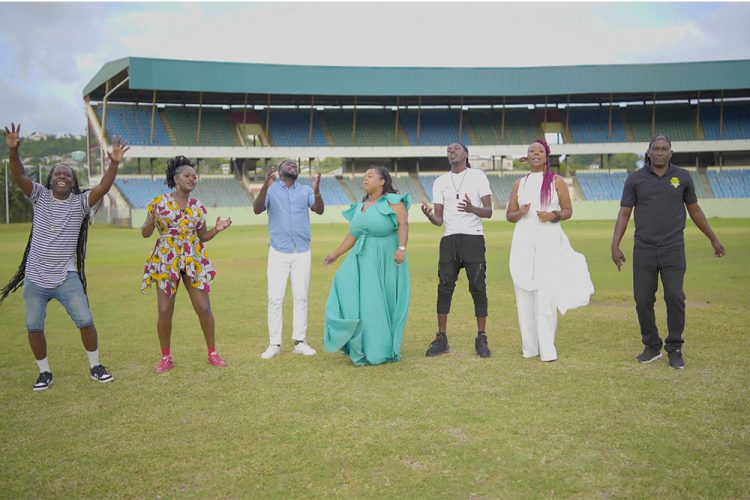 Seven local artistes have lent their voices to a song meant to send positive vibrations and hope to the nation's people in these difficult times caused by the recent volcanic eruptions and ongoing COVID19 pandemic.
'Disaster Anthem', which was written and produced by former Calypso monarch, Maxwell 'Tajoe' Francis, made its debut on local airwaves this week. The song's release is also expected to be accompanied by a music video.
"I think the song will speak for itself. I think we will have tremendous impact in terms of what we want to get out there in terms of the message, so we are really excited about the project," Francis said in a recent interview with SEARCHLIGHT.
In addition to Tajoe, the track features the voices of another former calypso monarch, Lornette 'Fire Empress' Nedd; 10-time soca monarch, Delroy 'Fireman' Hooper; reigning ragga soca monarch, Hance John; reigning calypso monarch, Shaunelle McKenzie; calypsonian, Cleopatra Hendrickson; and soca artiste, Mitch 'New Sensation' Lewis.
Francis told SEARCHLIGHT that the song is a reproduction of sorts of one which he wrote in 2009 when Haiti was hit by earthquake.
He said though the words and musical arrangement have been changed, it still retains all the uniqueness and rhythms of a good calypso.
Artistes on the track can be heard in the chorus encouraging Vincentians to "hang on" even when it feels like hope is gone and the burden seems heavy.
The singer/songwriter is a resident of Fancy, one of the communities in the North Windward area to be significantly impacted by the explosive eruptions of La Soufriere.
And for him, this song helps to reflect on the difficulties being faced by Vincentians, which has been brought on by both the volcanic eruption and COVID19 pandemic.
"I'm from the red zone. I was involved in the evacuation of persons from the red zone. I'm a community activist as well.
This is the second volcanic eruption that I'm experiencing, and our people from over the river, have been severely impacted," Francis said.
Francis is also a teacher by profession.
As an educator at a school in Sandy Bay, another area in the red zone, he is devastated by the extent of damage in that community as well.
"People are anxious to get back to their homes, but because of the disaster, I guess we'll have to wait and see how [the] cleanup process and rebuilding process will go," he said.
The creation of Tajoe's 'Disaster Anthem' was sponsored by Digicel, the National Lotteries, Poorsah Joseph and the Progressive People's Organisation in the USA.
The video was produced by Junior Lee.