Posted on
Farmers receive water tanks to help them get back on their feet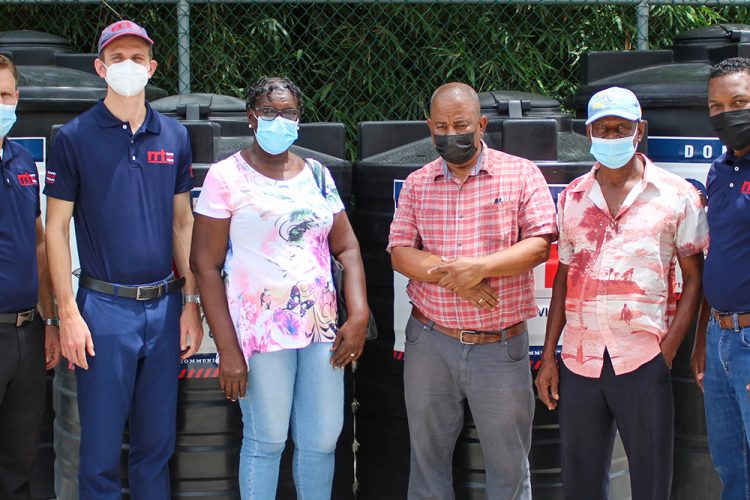 Josiah Rodney is a farmer of livestock, and mixed crops whose holding is located at Yambou. Hyacinth Warren is attached to the community-based VINSAVE/BYE-SAVE group at Byera that engages in poultry production.
Despite their geographical location, both at different times, have encountered significant production challenges; Rodney with recurring, seasonal drought and Warren, with severe volcanic which has brought their poultry production to its knees.
Last week Friday, they both received water storage tanks provided by the Rapid Relief Team of the Plymouth Brethren Christian Church to farmers, through the Ministry of Agriculture to help farmers continue in production.
Six tanks whose holding capacity range from 400 gallons to 1000 gallons were provided for farmers through the Ministry of Agriculture who selected the recipients; Rodney and the VINSAVE/BYE-SAVE programme were two of those chosen.
"We have recently experienced the dry spell, the volcanic eruption that took us into uncharted territory, and the storage of water became more…important as people faced shortage of water," said acting Chief Agricultural Officer (CAO) Renato Gumbs, who received the tanks at a ceremony on the grounds of One St Vincent Group (OSV) at Glen, last week Friday.
Gumbs said some people believe that during the rainy season there is no need to store water, but this is a fallacy since damaged pipe lines can disrupt the water supply.
He pointed to the challenges facing agriculture, including climate change, and the need to plan better, be more efficient, and make better use of resources.
During the dry season, there is a falloff in production, "therefore it becomes more important for farmers to get involved in the storage of water," said Gumbs, as he expressed gratitude for the donation that would "help to meet the goal of having continued production throughout the year".
Kenley Ward, team leader of the Rapid Relief Team, said members of the group "from far and wide" mobilised to provide assistance to this country, when they learnt that the volcano had erupted explosively on April 9.
In addition to the water tanks, he said the team, as part of their mission to offer benevolent relief to people in need, has also provided boxes containing essential supplies for expectant mothers and their babies; water; thousands of meals; and over 16-thousand food boxes distributed mainly through the National Emergency Management Organization (NEMO).
This is the second consignment of tanks that have been provided to the Ministry of Agriculture for farmers in weeks; the Kingstown Co-operative Credit Union, having made a similar gesture last month.