Posted on
ECGC Relief Convoy Touches over 2000 Families and 15 Communities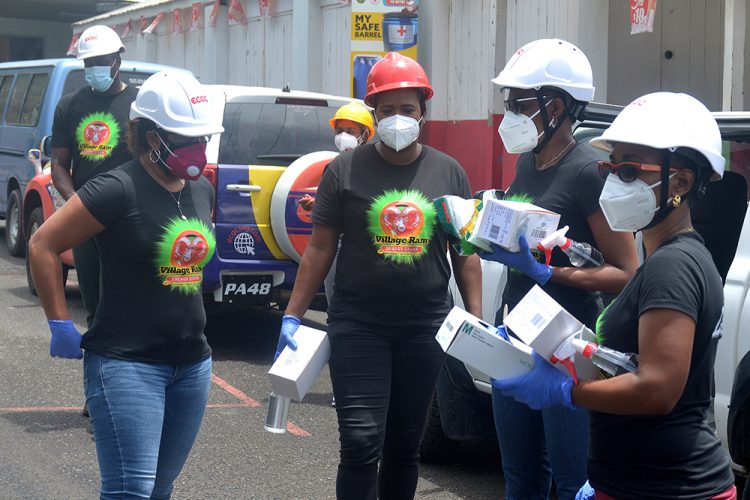 The East Caribbean Group of Companies, (ECGC) has continued its targeted responses to the series of explosive eruptions of La Soufriere volcano with a Volcano Relief Programme. This latest initiative comes with the allocation, since the end of April, of some $1million in aid to affected communities, a release from the company states. It is hoped that this programme would help Vincentians recover from the impact of the explosive eruptions which began on April 9 causing the mass evacuations of thousands of residents from the northernmost communities of St. Vincent.
Staying true to the company's pledge to support the rebuilding effort, a group of ECGC volunteers comprising management and staff, travelled along the Windward and Leeward sides of St. Vincent over three weekends distributing thousands of boxes of Cream of The Islands Flour, Carib Pearl Rice, Island Sipz water, and assorted supplies to displaced residents who are now returning to the Orange and Red zones.
The ECGC convoy has visited Fitz Hughes, Chateaubelair, Petit Bordel, Rose Bank, Troumaca, Rose Hall, Cumberland, Spring Village, Chilli Village, Langley Park, Byera, Chester Cottage, Dixon and the Barrouallie and Fair Hall Shelters. This initiative was a focused roll out to ensure the company could provide support to the residents of the communities which were among the most severely impacted by the volcanic eruptions.
Phyllis James, Team Leader and Human Resource Manager, said, "The joyous expressions on the faces of the children evoked a special feeling of satisfaction for the members of our team and we will continue to do more".
Chief Executive Officer, J Robert Cato said, "We have learned a lot as we went into the communities and have gotten the execution of the aid down to a precise format, which includes social distancing, sanitation at distribution points, and we are also doing post-event covid testing for volunteers."
He added: "Our next phase will focus on farmers through a combination of rebates, feed and farm supplies distribution and rebuilding aid through livestock support."