Posted on
Three of CWSA water systems are still down – Saunders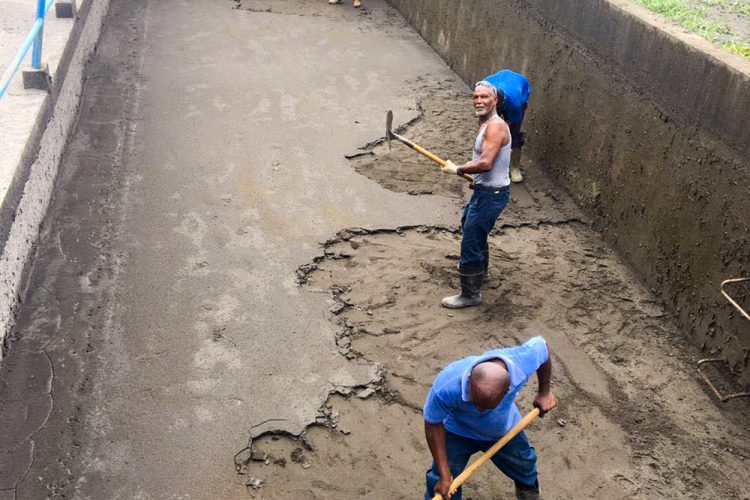 All but three of the Central Water and Sewage Authority's (CWSA) water systems that were damaged by the eruptions of La Soufriere volcano have been restored.  
Chief Executive Officer, Garth Saunders, said these systems are located on the flanks of La Soufriere and supply Sandy Bay, Fancy and Owia.  
At a press briefing last week Wednesday, he said the CWSA is currently working on these three water systems but also are looking at alternative means of supplying water to these areas.  
He said the fact that these three systems are situated on the volcano, what is happening is that they are conducting reconnaissance visits and need to collect more details of the damage caused, because huge parts of the systems were destroyed.  
The destruction involves damaged pipelines being dislodged among other things, and the CWSA must do detailed damage assessments.  
Saunders said the delay in restoring the system is because of the limited time the can spend daily in the red zone and these three systems are in valleys radiating from the crater of La Soufriere.
He explained that they are therefore susceptible to significant damage once it rains heavily.
The Atlantic Hurricane Season began on June 1.  
"…so whatever fixing we manage to do in the short term, the public needs to understand that [at]any point in time once there is heavy rainfall that cause mudflows, we will incur damage again," Saunders explained.  
He said they are trying their best to restore the system at Sandy Bay which may be back up by the end of June, while that which supplies Fancy may be back up about a month later.  
Saunders said that 80% of the pipelines on the system at Owia was destroyed so they have to establish a new route and put in a new lines to have that system restored.  
However, if there is heavy rainfall they may have to shut down these systems.
The CEO added that the CWSA may have to change the paradigm where they have been using only gravity fed systems and have shunned the use of pumps. 
"That may not be the case any longer for those North Windward areas on the flanks of the Volcano, and we have to understand that any new supply will involve ground water," Saunders said.
He explained that a ground water supply is available in Overland while there are plans for exploring desalination in Owia where water would be pumped into storage tanks in elevated areas and gravity fed back to residents.   
"That's the long term action," Saunders noted.
Currently, persons who have insisted on returning to communities in the red zone above the dry river obtain water at Orange Hill.
Saunders said the CWSA understands the challenges faced by the public so they are trying their best.