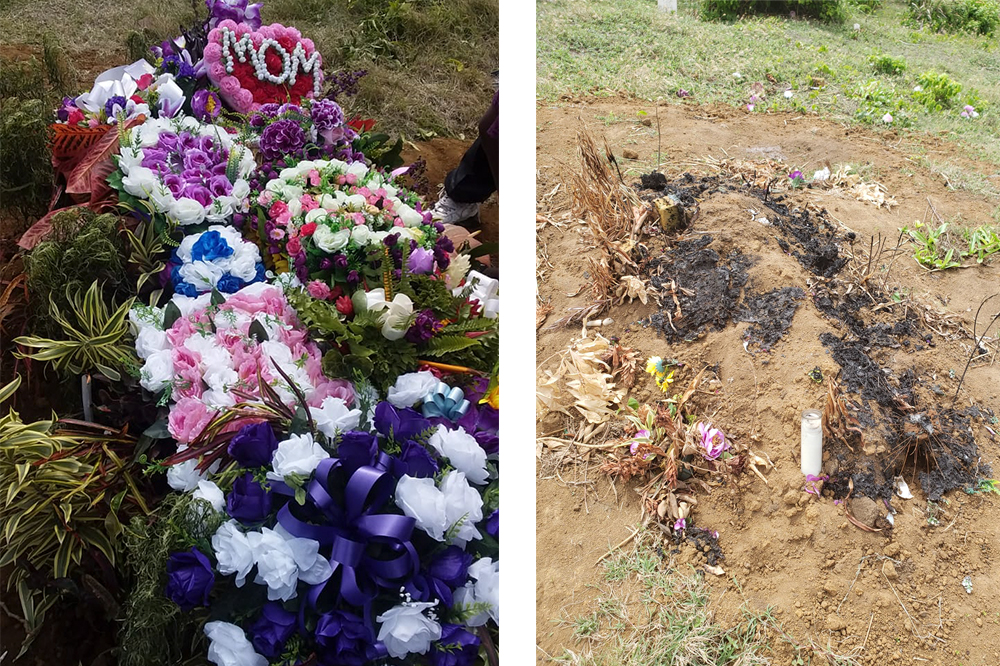 Grave desecrated, flowers set on fire
Less than a month after burying her daughter, one mother is coping with the added grief of someone setting fire and completely burning the flowers on her daughter's grave last weekend.
Luenda Glasgow, 67 years old, is the mother of deceased Lavourn Glasgow, who was 48 years old when she lost her battle with kidney disease on April 11.
Luenda buried her eldest daughter on May 16; she , her other five children, and Lavourn's daughter saying their final farewell.
Lavourn's daughter had a special wreath made that read 'Mom', and the grave was covered with flowers.
"(Lavourn) was a person who loved flowers in her lifetime, so we go all out and get a lot of wreath for her," the mother said.
"…And a lot of people bring wreath when they come. So she had a lot of flowers."
She and her daughter, 36-year-old Nyasha Glasgow, last saw Lavourn's grave on Saturday June 5, when they attended a funeral. Nyasha said she also visits her sister's grave regularly to water the flowers on it.
"One of the wreath did blow off and I take it up and I put it back and everything was there," the mother recalled.
They were among the last mourners to leave the cemetery that day, they said, because one of their tyres had a puncture.
"She grave dey good good y'know," the mother said.
On Monday morning, June 7, Nyasha dropped her daughter to school, and was walking back home.
"I have to walk past the park to go home, so when me going, my mind just tell me 'why not go check on your sister grave'," Nyasha disclosed, but did not act on this thought immediately.
"…When ah reach the corner now the same thing pop up in me head, so me say 'lemme go check the grave," she said.
It was then that she beheld the burnt remains of what was on her sister's grave, causing her to break down in tears.
A man who was visiting his wife's grave inquired what had happened, Nyasha revealed, and she showed him.
She concluded that whoever it was had to walk a distance to get to this grave; there were other graves nearby with wreaths that remained untouched.
The person/persons also pulled out the flowers that were planted, the sister indicated.
The mother and daughter said they know the deed was done on Saturday night because people who live opposite the cemetery saw the fire, but they didn't suspect that it was a grave. Four candles that were put in the dirt during the funeral remain untouched, they said.
The mother also broke down when she saw the destruction..
"I feel very sad to know something like that would happen to somebody who died and done buried…" Luenda said, adding that it was the first time in her life she was seeing something like this.
They have reported the matter to the Biabou police.
The vandal or vandals may very well be in violation of the Criminal Code, Chapter seven, under the heading 'offences relating to religion', which addresses trespassing on a burial place.
Section 121, subsection 2, states: "Any person who wilfully removes, damages or disturbs in any way any flowers, candles, tombstone or any other thing whatsoever placed on or near a grave in memory or respect of, or as a tribute to, the dead, is guilty of an offence and liable to imprisonment for two years."