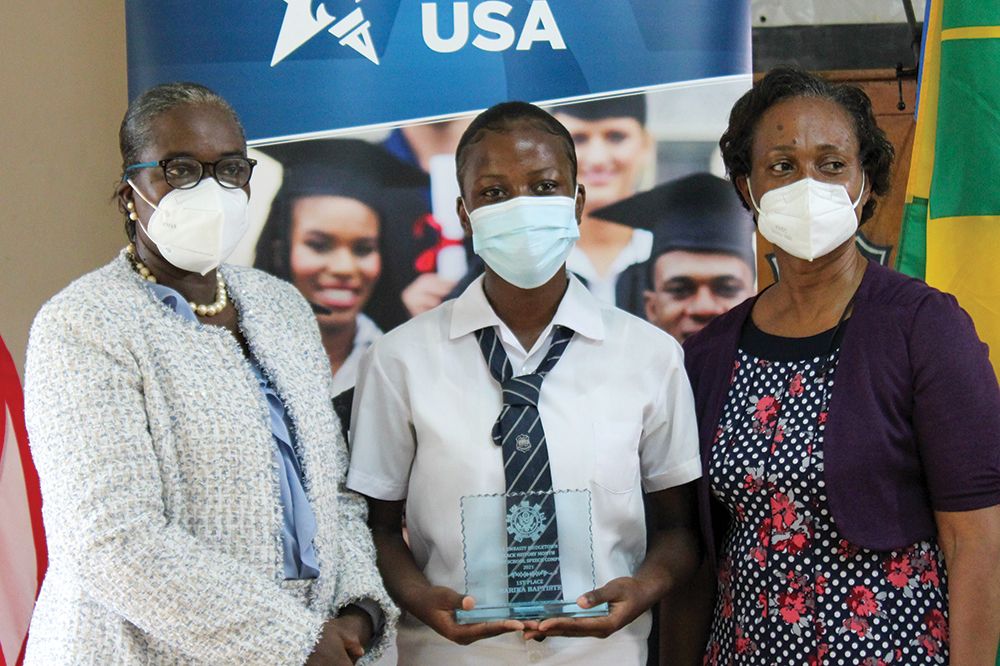 GHS student receives awards as winner in US Embassy's Black History Month speech contest
Marika Baptiste, a fifth form student of the Girls High School was given another opportunity to celebrate one of her latest wins this week, when she was officially awarded with prizes for emerging victorious in the United States Embassy's Black History Month secondary school speech competition.
Earlier this year, Baptiste was announced as winner of the fourth annual speech competition which was held in February, and invited students from Barbados and the Eastern Caribbean to give speeches on leadership and how women of colour have broken through barriers to achieve success.
"On behalf of the US Embassy in Barbados, I would like to enthusiastically congratulate Marika Baptiste, winner of the Black History Month secondary school speech competition 2021 for outstanding participation," Maxine Browne, a Fulbright alumna said at Tuesday's virtual award ceremony.
The 15-year-old, who is also the 2020 champion of the Flow Lions Club South National Secondary Schools Public Speaking Competition, submitted her three-minute presentation in the competition in which she called for more to be done to encourage women to participate in politics in St Vincent and the Grenadines (SVG).
Due to the COVID19 pandemic, this year's competition extended the field of participants to Barbados and the Eastern Caribbean. This is the first time that SVG has entered the competition.
Prizes were also distributed this week to several GHS students and their mentors who also entered the competition, but did not place.
These students include Mikailhi Hector, Nadira Morgan, Nyema Richards, Reanna Davis and Ajeah Hope. Mentors, Nisha Hope and Shermaine Barnwell also received tokens of participation.
Browne, who presented awards at this week's event on behalf of the US Embassy in Barbados, encouraged Baptiste and other students of the GHS who entered the competition, to continue to foster their passion to succeed and to strive always to express who they are.
"Let your talent shine, to always persist, persevere. Always persist and never give up, even when it gets tough, never, ever give up" the Fulbright alumna said.
Having benefited from the educational opportunities offered through the US Embassy, Browne encouraged students to explore the many opportunities available, including free educational advising through Education USA, for students interested in pursuing studies at an accredited US institution.
She again congratulated students, before handing over prizes to all students and their mentors to the tune of US$4000.
As winner of the competition, Baptiste was awarded with several prizes, including a laptop, trophy and books.
Her mentor, Carleen Marshall was also presented with a prize.
The teenager's victory also resulted in a desktop computer being presented to Michelle Beache, headmistress of the GHS, for the school.