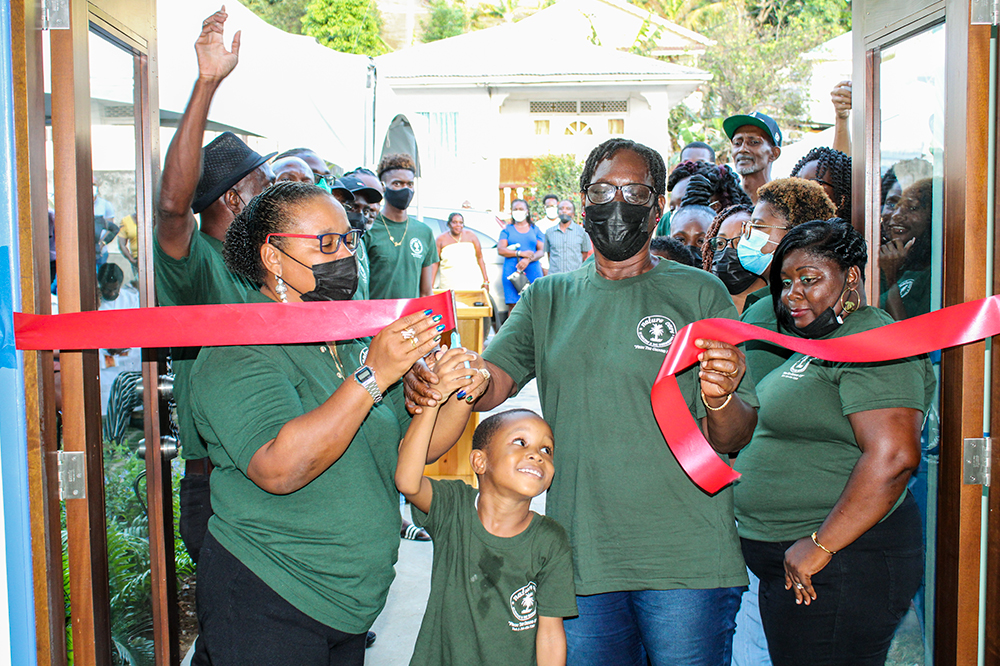 'World Class' garden centre opened in Layou
Where others see a challenge, Gideon Nash, the Managing Director of Nature Care SVG, sees opportunity.
It is this mindset that Russell Corrie said has allowed Nash, his business partner to establish a "world class" garden centre in St Vincent and the Grenadines (SVG), during a pandemic and volcanic eruption.
The Nature Care Garden Centre was officially opened at its location in Layou with a small ceremony and ribbon cutting on May 28.
"Gideon didn't look next door to see just how I can be the better nursery or the better landscaping business or the better maintenance company or the better garden centre," Corrie, a representative from Nature Care Barbados said in his remarks.
"What Gideon looked to do was to create a garden centre that would be able to stand up and hold a light to any garden centre anywhere in the world."
Corrie noted that garden centres in the United Kingdom or the USA are more than just places to buy plants and pots.
The Nature Care Garden Centre at Layou follows this trend, offering not only plants and pots, but has the added experience of a cafeteria, which will offer patties, cappuccino and cakes among other delicacies.
The Nature Care Barbados representative also disclosed future plans for the SVG based garden centre, which includes a deck on the river for customers to relax.
At the newly opened garden centre, customers can access a variety of services, including landscaping, garden maintenance, plant pest and disease consultancy, agricultural, domestic and commercial pest control, and the garden centre and plant nursery.
"We strived from the days of two plants and three plants and a set of plants in the backyard…and sometimes I have to compromise and make a little pathway for she (his wife, Sharon Nash) to hang up the clothes because I fulling up the yard with plants," Nash, the Managing Director of Nature Care SVG said as he reflected on where the business began two decades ago.
Today, the company boasts several plant nurseries with hundreds of different plants.
And Nash told those present at the opening that his competition is not local or regional, but international.
"So, if you go into a garden centre in London, I want someone to say whoa, I saw these things at Nature Care St Vincent. You go to a garden centre in California, in South Africa, in Russia, somewhere in Europe…you would've seen a similar style and better at Nature Care SVG," he said.
In outlining the list of services offered, Nash has given the assurance that his company was one of – if not the best in every area, and challenged persons to experience it for themselves.
While other businesses were struggling to stay open due to the effects of the coronavirus pandemic, work on Nature Care's Garden Centre began in 2020. It was able to continue throughout the volcanic eruptions.
And final touches were completed on the very morning of May 28 when the centre was due to be opened.
Orande Brewster, the constituency representative for Central Leeward congratulated Nash, a man he (Brewster) has known since he was a child, on his latest venture.
"It is not only a new centre, it is a needed centre…it is needed in the sense that we have just suffered a tremendous disaster, one of the biggest we have seen here in St Vincent and the Grenadines…" the politician said, noting that preliminary estimates show at least $50 million in damage caused to parts of the forests.
Brewster said it will be an expensive venture to reforest damaged areas, and he is looking forward to "tremendous work from this business".
Several other persons also went to the podium to give brief remarks and express congratulations to Nash on the new garden centre, which will also be the main headquarters of Nature Care SVG.