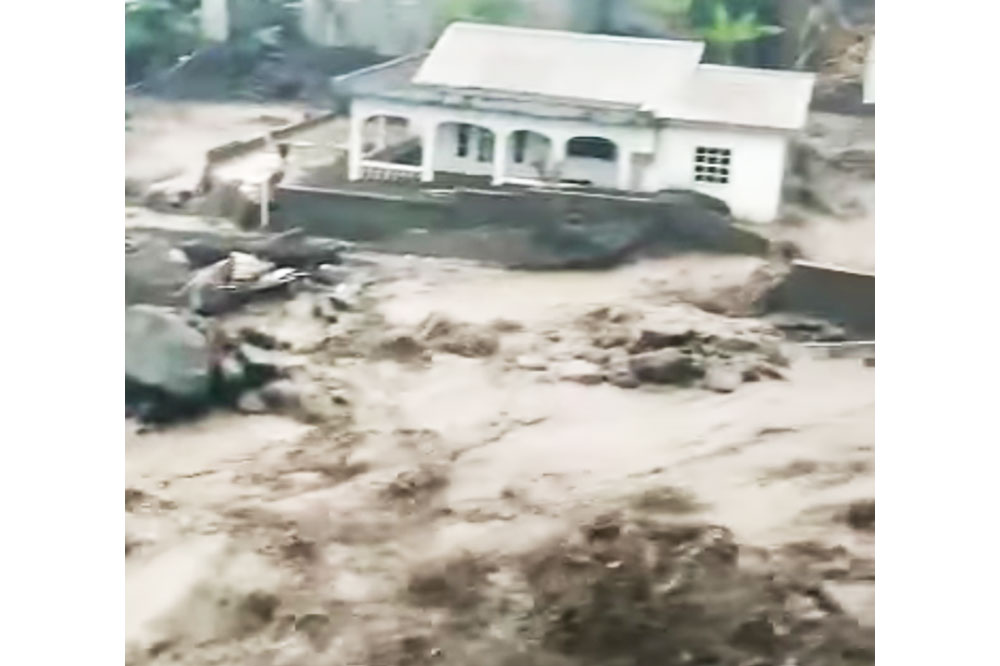 Volcano ravaged villages swamped by heavy rains
VILLAGES ABOVE the Dry River, especially Sandy Bay, were over the weekend affected by floods, fed by heavy rains.
The rains began on Friday June 4, just three days after the start of the Atlantic Hurricane Season, when a tropical wave with winds of between 19 to 25 miles per hour, crossed the island.
On Saturday June 5 through to Sunday June 6, unstable conditions lingered, and the meteorological office for some part of the two days, asked residents and motorists in areas prone to flooding and landslides, as well as those living near to rivers and streams to be vigilant.
Over the weekend, several videos and photos appeared on social media showing heavy flooding in Sandy Bay, with one resident asking for an ease, in reference to the flooding which was adding to the destruction already caused by the explosive eruptions of La Soufriere volcano.
One woman warned that persons who did not have business above the dry river should stay away as the area was being affected by serious flooding.
Last week, acting Prime Minister Montgomery Daniel, urged persons living in St. Vincent and the Grenadines (SVG) to remain vigilant during the 2021 Atlantic Hurricane Season.
It was noted that the effects of heavy rainfall are expected to be worse for SVG in 2021, as the explosive eruptions of La Soufriere volcano from April 9-22, have dumped tons of ash on the country.
Scientists say that heavy rain, added to ash on hillsides can result in lahars, a violent type of mudflow or debris flow composed of a slurry of pyroclastic material, rocky debris and water. The material flows down from a volcano, typically along a river valley.
Lead scientist monitoring the volcano, Lloyd Lynch, said on radio yesterday that 11 lahars were recorded on the eastern and western coasts but it was difficult to pinpoint which valleys they flowed through.
Apart from the volcanic eruption, the country is dealing with the COVID-19 pandemic, and a dengue fever outbreak.
Daniel said at a June 1 press conference that although the volcano has remained relatively quiet, residents must maintain vigilance in the monitoring the volcano as well as preparing for the impact of a storm or hurricane.
The 2021 season has been predicted to be an above average season, with 13 to 20 total named storms.