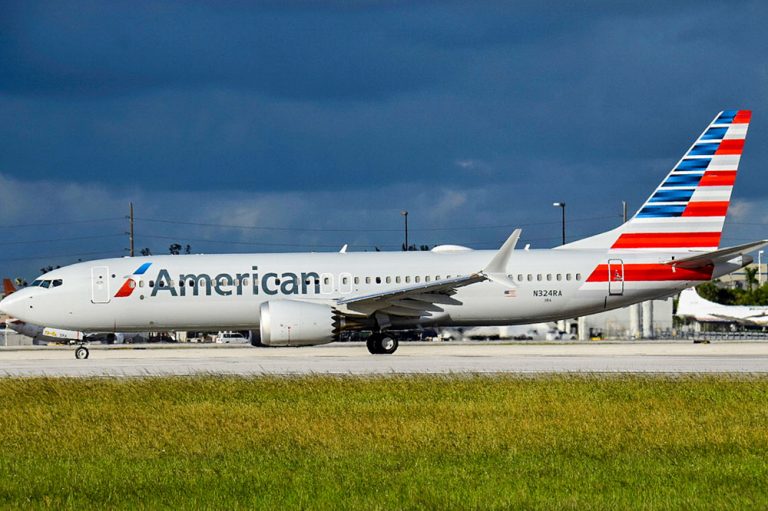 Bird strike forces AA flight to abort takeoff from AIA
A BIRD STRIKE during acceleration forced an American Airlines Boeing 737 MAX 8 to abort takeoff from the Argyle International Airport (AIA) last Saturday, American Airlines (AA) has confirmed.
The aircraft, destined for the Miami International Airport, Florida with 115 passengers and six crew on board was already travelling at a high speed when the crew rejected takeoff and were able to stop the aircraft before the end of the 9000 ft runway.
The aborted takeoff was captured on video by onlookers and passengers on the flight.
Chief Executive Officer of the AIA Corsel Robertson, told SEARCHLIGHT that an "equipment problem" with the aircraft resulted in the cancellation of the AA flight on Saturday, but noted that the passengers were taken out on another aircraft the following day.
"On June 5, American Airlines flight 1427 with service from Saint Vincent and the Grenadines (SVD) to MIA safely returned to the gate prior to take off due to a possible mechanical issue. There were no reported injuries and all passengers were provided with food and hotel accommodations. A replacement aircraft was flown in to complete the flight from SVD to MIA. We appreciate our passengers' patience and apologise for any inconvenience," American Airlines said in response to enquiries by SEARCHLIGHT.
Engineers from AA arrived in St Vincent on Sunday and up to press time yesterday, were carrying out checks on the aircraft which has registration number N339SU.
"Our maintenance team is evaluating the aircraft and will make any needed repairs," the AA spokesperson told SEARCHLIGHT.
This is at least the second major bird strike on an international flight at the AIA. On Wednesday, August 29, 2018, a Caribbean Airlines (CAL) flight bound for New York was forced to turn around and return to the Piarco International Airport in Trinidad following a bird strike on takeoff from the AIA.
CAL confirmed that a bird strike occurred with one of its Boeing 737-800 aircraft operating flight BW 552 bound for JFK International Airport, New York from Argyle International Airport.
In a statement, CAL said the flight crew followed the standard operating procedures and the aircraft returned safely to Piarco International Airport, where it was taken out of service for maintenance by the airline's engineers.