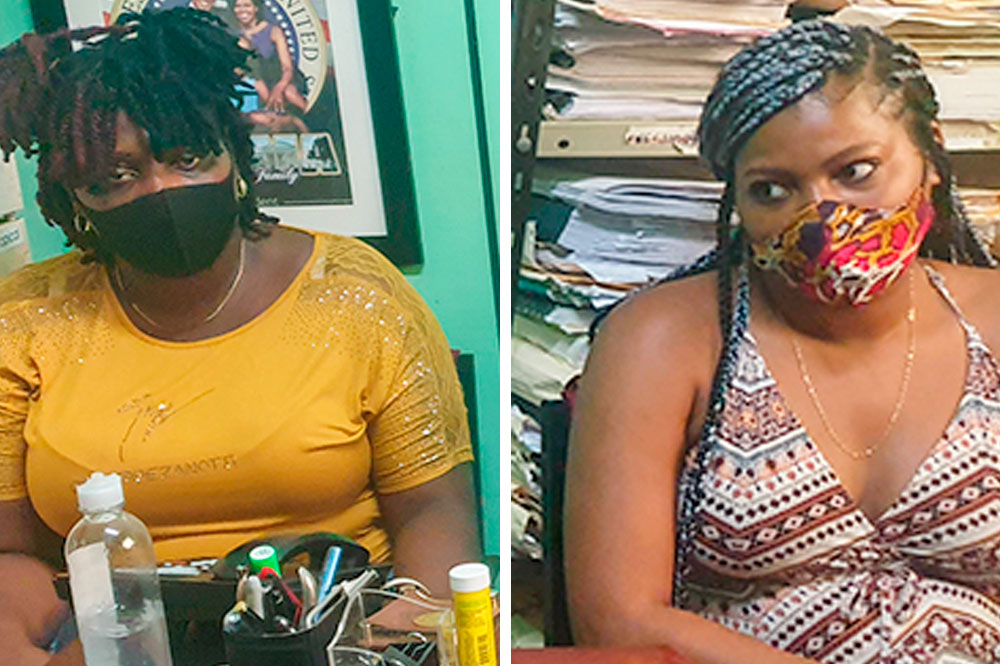 Women claim they were badly beaten by police
Two women from Glen are claiming that last week Friday, May 28, two police officers beat them so badly, that one of them had an asthma attack and it almost led to her asphyxiating.  
"The senator, they say they were protecting her because she was a woman right? So what are we? Are we man?" one of the women Shomorn Haynes, 34, questioned on Tuesday while her sister Asheka Antoine, 27, chimed in, "We are dogs?" 
Shomorn was referencing the incident in which senator Ashelle Morgan is said to be a person of interest in an alleged incident in which Cornelius John, a 62-year-old businessman of Diamond was shot in his leg.  
The sisters told their story to media practitioners on Tuesday during a press conference in Kingstown at the office of their lawyer, Kay Bacchus-Baptiste.  
Shomorn said after the beating which took place at their home around 12.15 p.m., the police officers dropped them in the yard of the clinic at Calliaqua and left her to struggle with her asphyxiating sister to get inside the medical facility for treatment.  
Explaining what happened, Shomorn said they were at home when the dogs began to bark "disturbingly".  
Shomorn looked outside and counted 22 policemen, all with their faces covered and armed with rifles and handguns. The men were in Shomorn's yard as well as on her mother's property next door, while her neighbour's yard was also surrounded.  
Shomorn said she asked one officer what was going on, but he did not answer, so she proceeded to the back of the house where her kids were and approached another officer and asked the same question.  
She said he replied, "aryo go know just now".  
Shomorn recounted that her sister came on to the porch and sat down and also asked officers what was happening, but no one answered.  
At that point, Asheka said she took out her phone to call her mother to inform her of the police's presence, but an officer said she couldn't use her phone and tried to take it from her.  
Asheka refused to give the officer her phone, stating that it was her right to have it, and as the officer kept trying to take it, she pushed the device under her buttocks and sat on it.  
The women claim that after Asheka did this, the officer lifted her from the bench she was sitting on,slammed her on the ground and took the phone from her.  
Shomorn said Asheka asked her if she was observing what was happening and she said yes, and as Shomorn tried to leave the porch, the same officer grabbed Asheka by her throat and started to slap and box her in her face.  
Shomorn said she held on to her sister, as because of the blows she was acting out, and she was scared that one of the policemen might have shot her.  
She said as she was hugging her sister, another police officer came from inside the house, and although he did not see what had transpired before, he started choking Asheka and punching her in her face while saying, "you hit my officer…we fed up of yo. Every time we come here you always have something to say".  
Shomorn said she looked on as punches and slaps rained down on Asheka, and when she commented that her sister did nothing wrong, one of the officers that was beating her sister accused her of pushing her hands in his face and started to slap her also.  
She said the two officers that struck them were the only two that did not have their faces covered.  
"My hand was not in his face so I was surprised…" Shomorn said, adding that what made the situation worse, is that four children ages eight, 11, 13 and 15 were seeing everything.  
"My daughter was scared, so she run to meet me and an officer point a gun at her and say, 'you stay right there'…"
Shomorn said while adding that the officers continued to beat them, and at one point, one of the policemen began beating Asheka in her head with a broomstick.  
Asheka said she is asthmatic and epileptic, while Shomorn said she has a condition where her heart races, she also has anxiety attacks and various complications.  
"I was trying to catch myself from the slap and ears were ringing and it was just out of the world at that point and I heard Asheka ask for her (asthma) pump," Shomorn said.   
Asheka said after the beating, they took her inside the house and one officer said, "don't be afraid to trash the place." 
She said she usually sleeps with her asthma inhaler next to her bed, and she asked one of the officers to hand it to her "because my chest was feeling extra tight and I felt like the walls were closing in on me" but he threw over the table and sent the inhaler flying.  
"He just flick it over, he didn't hand the pump for me, he didn't care. I dropped on the ground. I felt like I was going to die. My heart was beating so fast and I couldn't breathe at all, at all, at all, he didn't really care…" Asheka told reporters.   
She said one point they wanted to handcuff her, saying they were going to charge her for assault, but that changed, and they eventually took both sisters to the clinic in Calliaqua where they left them without knowing if they were safe.  
"When we got to the clinic the nurse was saying that if they brought me in any later I could have gotten brain damage or even died, because I was wheezing so bad on both sides of my chest…they didn't care, they showed no remorse or nothing at all," Asheka said while noting that the person the police was looking for, Lejah Alexander, did not live at their home and has not been living there for over five years.  
The women also claim that the police officers did not show them a warrant to let them know the search was official.
 
Shomorn recalled that during the beating, she told one of the officers that she is a mother and a wife and he was beating her in front her children and he commented, "when you all brother killing and shooting people why you don't ask him why." 
She said Alexander is not related to them, but he has a child with their sister, but that sister does not live with them as she moved out over five years ago with Alexander.  
The women were examined around 1 p.m. by a doctor and have full medical reports that point to numerous injuries.
 
Part of Asheka's medical report says she was tearful and had several hematoma, multiple contusions, abrasions to the cheeks, neck, the anterior chest wall, the entire back, upper limbs, the thighs, and painful swelling and contusions to the general scalp. The report also noted that the beating triggered a seizure and a bronchial asthmatic severe episode, while she was in painful distress with a bruised pelvic and several painful multiple body injuries.  
Shomorn has severe painful stress contusions with significant swellings to the left cheek accompanied by oral inner mucus contusions. She also has several painful ruptured membranes with a severely painful bruised ear.  
Bacchus-Baptiste said she will write to the Commissioner of Police (COP) Collin John, and based on the medical records she will be seeking compensation for her clients.