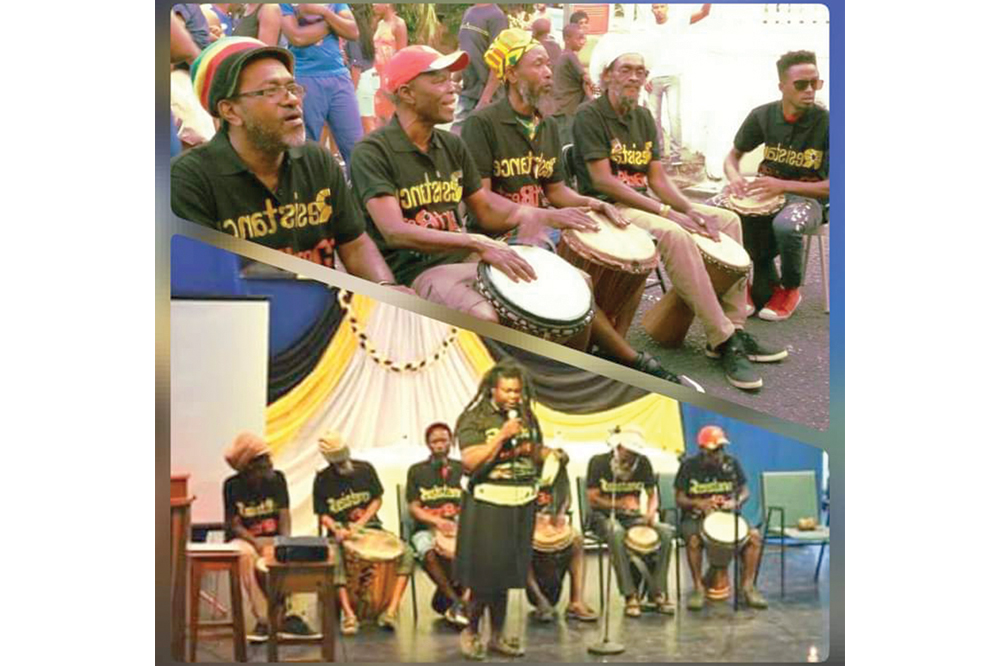 Resistance heartbeat drummers speaking in rhythms for 11 years
The last two years have been very challenging for most groups and organisations. The Corona virus pandemic and the eruptions of La Soufriere volcano made it almost impossible to function. Notwithstanding that fact, RESISTANCE HEARTBEAT DRUMMERS has kept the flame of progressive engagement burning. The group has been able still do some events to keep drumming afloat. Although it was in a limited way, we participated in Nine Mornings and did one notable program with the Belair Primary School and also a few events with the National Cultural Foundation.
Solidarity is one of the main tenets of the group and we have continued giving solidarity to the people of the Bolivarian Republic of Venezuela in their struggles to defend their country against aggression from the USA, and the outright theft of their national treasures by the Bank of England. While Venezuelans face tremendous economic hardship, because of illegal blockades and bullying, hundreds of millions of dollars of their national funds are being held up by the Bank of England. This is unacceptable and RESISTANCE HEARTBEAT DRUMMERS continues the call for the release of funds to the people of Venezuela who are the legitimate owners.
Solidarity was also given to some of the evacuees who had to leave their homes because of the eruptions of La Soufriere volcano. Food and water packages were delivered to some people living in the shelters to make their lives a little more comfortable. 
This endeavour was executed in conjunction with 'Nurtured by Nature' Co-operative. RESISTANCE HEARTBEAT DRUMMERS was instrumental in the establishment of this Co-operative.
Other noticeable activities, in this eleventh anniversary period, are the performance on National Hero's Day at the obelisk at Dorsetshire Hill and  drumming in the short documentary film done in collaboration with the Ministry of Culture. This instructional film featured the music and dance of Garifuna, the Punta, and was presented to the public on television.
Garifuna heritage, history and culture are the foundation of RESISTANCE HEARTBEAT DRUMMERS ,so it was quite rewarding to have been able to do those presentations.
There are mountainous hurdles ahead with the continued threat from the CORONAVIRUS pandemic and the uncertainty surrounding La Soufriere volcano, but with these challenges come opportunities. 
RESISTANCE HEARTBEAT DRUMMERS will continue to exploit these opportunities to continue to show Solidarity with oppressed brothers and sisters throughout the world, as well as doing all within our power to project and promote Garifuna culture!s
Looking forward to the challenge!